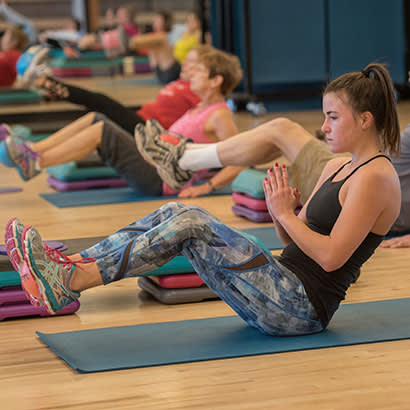 As the health and wellness leaders in their communities, park and recreation staff members work tirelessly to ensure all community members can enjoy the social, physical and emotional benefits of parks and recreation. However, in prioritizing the health of their community, it can be easy for them to sacrifice their own well-being. Between the long hours, physically demanding responsibilities and stress of trying to consistently provide a safe and nurturing environment to all park users, staff can be burdened with limited opportunities for their own exercise, nutrition planning, relaxation and stress management. And, today's emerging challenges only exacerbate these pressures.
In many communities, staff members are confronting the anguishing realities of the opioid epidemic, including cleaning up needles and working with law enforcement and emergency medical services to respond to overdoses in parks. They are also mentors in the community and can be tasked with responding to a host of adverse childhood experiences, traumas, violent and dangerous behaviors, and other challenges beyond the traditional scope of a park and recreation professional.
Leading the Way
The private, nonprofit and governmental sectors are evolving to meet the needs of a working population that seeks better employee wellness offerings and greater work-life balance. Employee well-being is vital to fostering a productive and safe working environment, improving productivity and increasing employee retention. Park and recreation agencies can lead this trend by ensuring their health and wellness priorities are extended to their employees.
Following are some examples of agencies that are leading the way in safeguarding the physical health and emotional well-being of their employees:
West Allis-West Milwaukee Recreation & Community Services Department, Wisconsin
Pais and Kiefert: What are you doing to ensure the physical health and emotional well-being of your employees regarding the opioid epidemic?
Shelly Strasser, Director: Our full-time staff and some part-time staff have participated in mindfulness training to learn techniques for calming and focusing. We are also building a new Recreation and Community Services Center, where staff will receive free memberships to access open gyms and use the walking track. In the summer, we offer a free 30 Days of Yoga program and encourage staff to participate.
All employees have access to our Employee Assistance Program, which offers professional counseling, telephone support and online resources 24 hours/7 days a week. Employees may be referred to short-term counseling at a nearby location. Employees are entitled to up to three in-person sessions, per incident.
Pais and Kiefert: Picking up needles, interacting with users, serving high-risk youth — these can be traumatic experiences for park staff, especially younger staff. What guidance do you offer about these challenging experiences?
Strasser: Treat everyone with respect, offer resources for help if they suspect use, and don't be afraid to contact the local authorities if they are in a situation they cannot control or do not feel is safe.
Be cognizant of the impact that this has on children, families and co-workers. We often think these challenges are someone else's when, in fact, some of our staff might be experiencing this in their personal life.
We also offered our out-of-school-time (OST) site coordinators the opportunity for training in Adverse Childhood Experiences and Trauma-Informed Care/Trauma Sensitive Schools/Afterschool programs.
City of Westminster, Colorado
Pais and Kiefert: What is your Employee Wellness Program?
Nicki Leo, Wellness Coordinator: Our Wellness Program is an integral part of our efforts to provide a quality work environment, with effective employees who are prepared to deliver quality service to our citizens. The city's approach to wellness is strategic, with a focus on cost containment, education and chronic disease management.
We address sky-rocketing healthcare costs with a long-term and strategic approach to the city's benefits package, as well as by driving consumer awareness and personal involvement in healthcare. The city supports a productive cost-containment strategy through The Center for Healthy Living and our on-site employee health clinic, which provides free and convenient healthcare options to those in our self-insured plan: all other employees in the Wellness program utilize the clinic for wellness HRAs and program activities.
The city of Westminster was awarded "Colorado's Healthiest Employer" in 2015 and 2016 by the Denver Business Journal and named the 5th Healthiest Employer in the U.S. by the Healthiest 100 Employers program in 2017 and 2018.
Pais and Kiefert: What was the catalyst for this program? How is it funded?
Leo: The program was inspired by requests for activities that would bring staff together, provide safety information and support a health fair. From there, a wellness committee was formed, and employees were surveyed about what kind of activities they wanted. At this time, the committee members were volunteer staff who represented each department within the city. In 1998, based on the desire to expand the program and begin implementing ROI information, cost/benefit strategies and address increasing health insurance costs, a full-time wellness coordinator was brought into the Human Resources department. The program is a line item in our budget, of approximately $70,000 per year (not including staffing). We are very fortunate to have management support at all levels in the organization — which is one of the reasons it has been so successful.
Pais and Kiefert: Has the program met its intended outcomes?
Leo: Our healthcare cost trend over time, as compared to the Colorado average, remains consistently lower than what other organizations experience. Our six-year average trend in our self-insured plan is 3.5 percent, which is extremely low and why we are able to keep our annual premium increases at nearly half of what others experience, all the while maintaining a quality and financially sustainable plan. We continue to experience an average of 80 percent participation in both the wellness program and on-site clinic.
This program has created an employee-centered culture and resulted in many examples of early diagnosis of life-altering diseases, including cancers, diabetes, coronary artery disease and other chronic conditions.
Cassie Pais is an NRPA Development Officer and Lauren Kiefert is an NRPA Program Specialist.