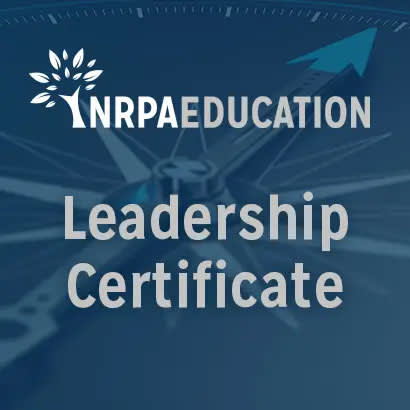 Are you looking for a flexible, convenient way to develop or hone your leadership skills? Look no further than NRPA's Leadership Certificate, designed to provide individuals with practical and applicable methods for transforming themselves and their agency. This online learning opportunity was developed from industry research that identified the most requested and important topics for developing park and recreation professionals. It also complements the current CPRP and CPRE certifications and covers concepts and material presented in the NRPA Directors School curriculum.
The Leadership Certificate helps you navigate through
Strategic thinking
Human capital management
Operational leadership
Diversity and cultural awareness to take you and your agency to the next level. The four courses will help you either to expand on the leadership foundation you have developed as a current senior leader within your organization or to build a foundation for those who are aspiring to leadership roles within park and recreation. Whether you come from a large or small agency, the NRPA Leadership Certificate will prepare you to handle any decision that comes your way.
Register for each course individually, or, for the best deal, purchase all four as a package. Enrolling in the package will provide you with instant access to each course as they become available. For more information, visit www.nrpa.org/leadership-development.