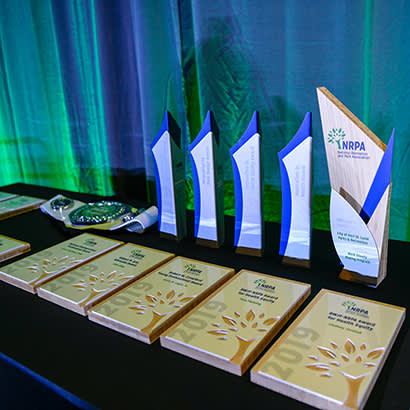 Getting an award not only is a validation of the great work you do, but also can be used to show decision makers and policymakers the intrinsic value of what you do. Starting January 6, 2020, NRPA will begin accepting applications for the 2020 Awards Program, and there are several opportunities to choose from:
The National Gold Medal Award Program (presented by the American Academy for Park and Recreation Administration in partnership with NRPA) honors agencies nationwide that demonstrate excellence in long-range planning, resource management and innovative approaches to delivering superb park and recreation services.
The NRPA Innovation Awards recognize the latest advancements in the field, showcasing the inspiring park and recreation agencies that have improved and empowered their communities through innovative practices in park design, health and wellness, conservation and social equity.
The NRPA Spotlight Awards are presented to individuals, including park and recreation professionals, volunteers, engaged community members and park advocates. These awards honor the professional and personal efforts in the field of parks and recreation.
NRPA Scholarships and Fellowships recipients can attend and explore the operation of the field at the NRPA Annual Conference, where they develop professional contacts with leadership and members from around the country. They receive complimentary NRPA Annual Conference registration, a travel stipend and reimbursement for hotel expenses.
The Robert W. Crawford Recreation and Park Hall of Fame awards honor individuals who have worked to improve the quality of life in America through parks and recreation and who serve as examples for future leaders in continuing the recreation and park movement.
Each award has specific eligibility criteria, and all applicants must be current NRPA members. Visit the NRPA Awards web page for details about each award.