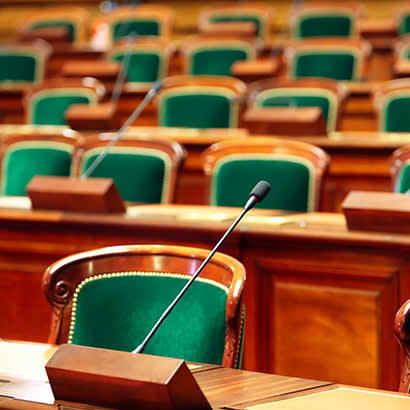 Members of Congress are taking their annual leave from the nation's capital to head back home to their local districts. In our July column, we encouraged you to be a Park Champion and invite them and their staff out to your agencies to see your programs in action. Outside of contacting them to get their support on important pieces of legislation that affect parks and recreation, having them witness how that support on the Hill plays out back home is one of the most impactful things you can do.
Over the years, we've recognized those members who have been outstanding Park Champions. The reality is, however, that we could not accomplish things like the recent reauthorization of the Land and Water Conservation Fund without the support of our congressional members. So, this year, NRPA is introducing the Congressional Park Champion of the Year Award, which recognizes Members of Congress who stepped up this year and helped us to achieve important policy victories.
Four Members of Congress are being recognized with this year's awards: Sen. Richard Burr (R-NC), Sen. Maria Cantwell (D-WA). Rep. Rosa DeLauro (D-CT), and Rep. Virginia Foxx (R-NC), This inaugural class of awardees have been champions of the work NRPA members do daily. They were nominated by NRPA members from across the country and selected by the NRPA Public Policy staff and the NRPA Public Policy Committee.
Our two Park Champions from the Senate, who support our critical reauthorization push for the Land and Water Conservation Fund (LWCF):
Sen. Richard Burr (R-NC)
Sen. Burr is a champion of the Land and Water Conservation Fund (LWCF), and his leadership helped ensure that the John D. Dingell, Jr. Conservation, Management, and Recreation Act, passed earlier this year, included permanent reauthorization of LWCF — NRPA members rely on LWCF for financial support. Sen. Burr played a key role in securing permanent reauthorization of LWCF, a huge victory for NRPA members, and is now part of a bipartisan group of senators who introduced legislation to permanently fund LWCF.
Sen. Maria Cantwell (D-WA)
Sen. Cantwell, who previously served as the Ranking Member of the Senate Energy and Natural Resources Committee, is one of LWCF's greatest champions. She is an ardent supporter of parks and public land issues, and her negotiations led to the inclusion of permanent LWCF reauthorization in the Public Lands Package. Currently, she serves as the Ranking Member on the Senate Commerce Committee.
Our two Park Champions from the House of Representatives, who support NRPA's goals to maintain critical services for children, including healthy meals programs:
Rep. Rosa DeLauro (D-CT)
Rep. DeLauro, Chair of the House Appropriations Subcommittee on Labor, Health and Human Services and Education, is a staunch advocate for the nation's anti-hunger and poverty programs and works to ensure that all children have access to quality education and nutritious meals. Her support for the 21st Century Community Learning Program, which funds out-of-school time enrichment and educational activities, coupled with her support of federal health initiatives, such as the Pool Safely program, demonstrates her commitment to parks and recreation.
Rep. Virginia Foxx (R-NC)
Rep. Foxx, who serves as the Ranking Member of the House Committee on Education and Labor, is a strong advocate for access to meals for school-age children, including federal summer and afterschool nutrition programs that support the out-of-school time programming offered by more than 5,000 park and recreation agencies nationwide. She also supports access to greenways in North Carolina's 5th Congressional District, which she serves. Rep. Foxx believes in the power of education in and outside the classroom and frequently visits Mount Airy Parks and Recreation, where she helps hand out meals to young campers.
"Local parks are cherished and beautiful places in all of our communities, offering a wide range of amenities that bring people together and facilitate active, healthy lifestyles. I'm proud to be recognized as a Park Champion for my work on behalf of these community treasures, but even more proud of the dedicated park and recreation staff and advocates in North Carolina's Fifth District. Without them, these precious spaces would not be as impeccable nor accessible for everyone to enjoy."
Kyle Simpson is NRPA's Senior Government Affairs Manager.