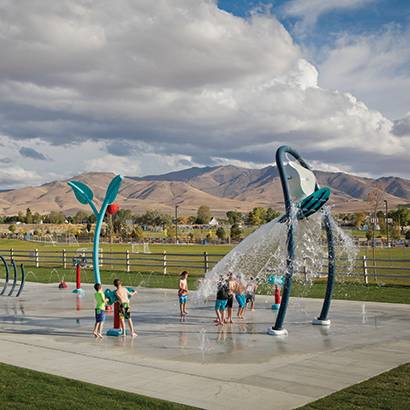 Winnemucca Recreation Complex in Winnemucca, Nevada, was a project collaboration between the city of Winnemucca, Minnesota-based Aquatix by Landscape Structures Inc. and local consultants, ExerPlay, Inc. The recreation complex, designed to be a cooling oasis in the desert of Nevada, includes a splash pad that covers a total of 3,500 square feet and 2,400 square feet of wet play area.
The Vision
Installed in 2018, this splash pad is the first of its kind in the surrounding area. The vision was to create a modern-looking space by incorporating innovative equipment and positioning it to meet the needs of all users. The location also influenced the planning process, as the complex is near a Boys & Girls Club and is surrounded by youth soccer fields and an adult fitness area. Winnemucca Recreation Complex provides a community gathering space with multiple activities for children and families.
In order to be considered a success, the splash pad needed to accommodate community members of all ages. The nearby establishments, such as the adult fitness area and youth soccer fields, meant there was potential for a constant influx and change in the types and ages of people frequenting the splash pad. Designers met this challenge by creating areas that cater to specific age groups. Younger players typically enjoy a gentler water experience, while older kids prefer highly interactive features with high volumes of water.
Designers also needed to consider supervision levels when determining the placement of equipment for different age ranges. They focused on inclusive elements, choosing equipment at various heights — so children of all abilities would be able to reach and engage with their peers — and on incorporating space between equipment so there is adequate room for wheelchair turnaround and passing by. So that children could participate and play together, rather than just alongside each other, an overlap for different ages and abilities was also important. All these factors create an accessible, fully inclusive environment that welcomes all children and their families.
The Elements
Included in the design is a dynamic zone for children ages 7 and older for whom high-volume, highly interactive features are especially important. These players enjoy continual excitement and interaction to keep them busy, so there is a VersoSplash®, which drops 35-gallon buckets of water that splash off the acrylic deflector plate onto the kids below for excitement and the thrill of unexpected water play. A CanopyTrio with Acrylic extends two arms of continuous water showers that splash in different directions, while a third arm slowly fills before pouring the bucket of water onto kids below. The added acrylic panels provide distinctive design while casting cool shadows.
The gentle activity zone includes fun for infants and toddlers, and aids in learning to enjoy texture and water through gentle aqua play. Close to the perimeter of the play area are dry zones from which adults can supervise these younger kids and the kids can easily interact/play with caregivers. A WhirlFlex feature creates a unique archway with six tubular poles of varying heights, each curving inward, projecting multiple fine mist sprays through the passage they create. For little ones to learn more about cause and effect, a WellSpring feature spouts continuous streams of water that can be controlled by little fingers or hands blocking the streams to build pressure in the other streams around the perimeter of the curved post. All ages can explore water play together with the JetStream. Users pull the plunger to fill the chamber and push to release a stream of water, tagging friends both near and far away.
All these pieces work in harmony to provide a space that entertains and cools off entire families who may be visiting from nearby activities or attractions. Those in the planning and design process of their community's splash pad can look to the Winnemucca Recreation Complex, an example of a splash pad with inclusive elements that caters to children of various ages. This modern, user-friendly splash pad design has truly become a destination for families.
Bill Hachmeister, AFO, is the Channel Development Manager for Aquatix by Landscape Structures Inc. @playlsi