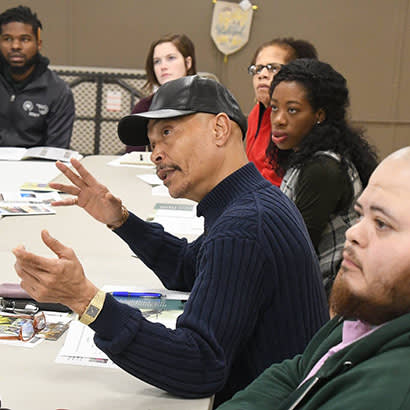 Creating 'cradle-to-career' access to nature and green space for underserved communities
Note: Louisville Parks and Recreation (Louisville Parks) and the Louisville Metropolitan Sewer District (Louisville MSD) are working together to implement green infrastructure improvements within west Louisville's Chickasaw Park — improvements that advance community resiliency goals and support the NRPA Great Urban Parks Campaign. Louisville is committed to being a resilient city, one that creates a culture of equity, compassion and trust to address structures and systems preventing residents from achieving their full human potential. Building on community engagement, Louisville will be a city where every resident has opportunities to thrive, including the opportunity to experience the beauty of vibrant natural spaces.
The Natural Areas Division of Louisville (Kentucky) Parks is increasing equitable access to nature through its Louisville Is Engaging Children Outdoors (Louisville ECHO) initiative. The department is addressing social determinants of health by expanding environmental education and outdoor recreation programming within underserved communities, including communities of color in west Louisville, and the program has expanded steadily since its inception in 2008. "It's become a holistic, multi-partner initiative that's creating "cradle-to-career" access to nature and green space for nearly 2,500 youth through complementary, age-appropriate activities, including nature play, school field trips, out-of-school time outdoor recreational programming and summer youth employment," says T Gonzales, interim director of Louisville Metro's Center for Health Equity, a key partner since 2012 whose health equity data has been instrumental in identifying Louisville ECHO's focus neighborhoods.
Creating a New Generation of Park Users
Louisville ECHO is the programming component of the West Louisville Outdoor Recreation Initiative (WLORI), a conceptual master plan that's guiding expansion of outdoor recreation infrastructure in parks adjoining the Ohio River, including Chickasaw Park. The WLORI includes green infrastructure for improved water quality and educational programming; soft-surface trails for hiking and biking; boating, canoeing and fishing access to neighborhood waterbodies; and areas for nature play. It calls for construction of a regional facility, the Shawnee Outdoor Learning Center in Shawnee Park, to serve as a base for expanding Louisville ECHO programming. The goal is to create a new generation of park users, exploring and advocating for natural spaces in their backyard and beyond.
Since 2016, Louisville has been participating in the Cities Connecting Children to Nature Initiative (CCCN), a multi-city collaborative led by the Children & Nature Network and the National League of Cities. The current scope of Louisville ECHO's programming is the direct result of that participation. Creating equitable access to nature includes issues that extend beyond expanding programming. Critical issues in west Louisville include:
impairment of Chickasaw Pond, west Louisville's only flatwater resource
health disparities in Louisville highlighted by a 12-year life expectancy difference between west Louisville neighborhoods and Louisville's affluent neighborhoods
a lack of safe access for residents to interact with the Ohio River along Chickasaw Park due to a severely eroding riverbank — the result of increasingly frequent and severe flooding
inequitable opportunities for youth of color to gain employment in the field of environmental education and ecological stewardship and implementation of green infrastructure
discharge of Chickasaw Pond and its small watershed into Louisville's combined sewer system
Local agencies, such as Louisville Parks and Louisville MSD, must work collaboratively over a sustained period with residents and other community stakeholders to address historic community issues. Only then will we create neighborhood-level opportunities for families to safely explore nature within parks along the Ohio River.
Establishing Meaningful Partnerships
The support from NRPA's Great Urban Parks Campaign (GUPC) help activate a meaningful partnership with Louisville MSD, which manages the city's stormwater, wastewater and flood protection services; monitors the health of its waterways through an expansive stream monitoring network; and improves the community's water resources. Louisville MSD works to achieve a vision of safe, clean waterways in Louisville Metro. Louisville Parks and Louisville MSD work collaboratively, designing enhancements within Chickasaw Park that will improve water quality, habitat and ecological function. Through robust community involvement, including engagement of residents in decision making, this project will improve public accessibility to a valuable urban water resource and historic Frederick Law Olmsted-designed park.
With input from the project's neighborhood council, Louisville Parks will identify the level of sediment contamination within the pond footprint and Louisville MSD's design team will create engineering and design documentation for a reconfigured pond. Restoration of the pond will eliminate low-level contamination that classifies it as an impaired waterbody that's included on Kentucky Division of Water's Clean Water Act Section 303d list. While reconstruction of the pond is currently not funded, the GUPC grant will move us closer to reactivating Chickasaw Pond for safe community use, including fishing, canoeing instruction and environmental education.
The current project will implement green infrastructure improvements to remediate stormwater drainage at the pond's western end. This discharge will pass through a series of bioswales, and step pools will be sized to treat stormwater discharge from the full project site. Once pond reconstruction is complete, stormwater from the watershed will be disconnected from the combined sewer system. Young adults participating in Louisville ECHO's summer job component will assist in installation and further improve stormwater infiltration through ecological restoration activities. As they assist summer environmental education programming at Chickasaw and other neighborhood parks, these young adults will build their résumés by mentoring children from partnering community centers.
A final project piece involves designs for stabilization of the riverbank within Chickasaw Park. Extreme erosion from frequent and severe flooding events has created hazardous conditions and threatens the integrity of the park infrastructure. Resolving this issue will protect park resources and allow the community to reclaim natural space within the park and provide a place to enjoy the grandeur and serenity of the river.
We look forward to sharing our experiences and learning from others through participation in the Great Urban Parks Campaign. We hope to share our endeavors with the broader park and recreation community at the NRPA Annual Conference in Baltimore in September.
Bennett Knox is Parks Administrator of the Louisville Parks and Recreation Departments Natural Areas Division (@loukyparks, @JMforest). Erin Wagoner is an Engineer and Project Manager with Louisville MSD (@louisvillemsd).