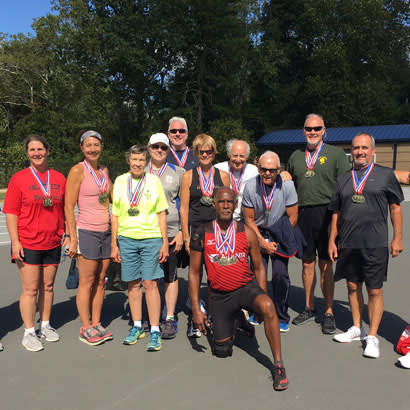 "Let's go to the park!" When you read that line, whose voice comes to mind? Is it a child wanting to go to the playground? Parents planning a picnic? What about programs being offered by parks and recreation? The reality is that most people don't think about older adults when they read this line. This is because of ageism expressed toward and by the older adult population.
When it comes to social equity, we realize that facilities and programs need to be made accessible regardless of income, race and ability. But, what about age? According to the activity theory, older adults have a higher quality of life when they are physically, mentally and socially engaged. Social isolation is known to be devastating to a person's health and overall well-being. However, many older adults sequester themselves in their homes. This desire to hide away is partially due to the ageist ideas presented by younger generations, but, unfortunately, it also arises because of the ageism older adults show themselves. They don't want to be viewed as "old."
By 2025, 1 in 4 people in Spartanburg, South Carolina, will be 65 years of age and older: a pattern that's happening in the rest of the country. When planning activities for older adults, it's important to remember that you're not planning for a narrow age group, like you are with kids and teens. You are planning for people who range in age from 50 to more than 100 years old. That five-decade age range includes people of differing abilities and interests, so you must go beyond bingo, ball toss and potlucks to include activities that do not seem to be age-appropriate, including kayaking and going to amusement parks.
Spartanburg County Parks realizes the importance of social equity for older adults and is working to achieve social equity on all seven dimensions of wellness: social, emotional, spiritual, environmental, occupational, intellectual and physical. We meet these needs through a Day Trippers program and the Spartanburg Council on Aging (SCOA). The Day Trippers consists of trips, clubs, lunch bunch, educational series and more. SCOA offers a minimum of four unique activities each day with lunch. It is free to attend for anyone 60 years of age and older. The only requirement is that participants be assessed by the Appalachian Council of Governments. This is important from a social equity standpoint, since it allows us to identify what needs a person has and thus help them overcome any barriers to living as independently as possible. The Day Trippers and SCOA participants are encouraged to take part in all programs offered by Spartanburg Parks.
Social Well-Being
We offer trips that range from $5 to more than $100. The social clubs include game club, softball, bowling and pickle ball. Bowling is the only activity with a cost, and it is strictly for the cost of shoes. Lunch Bunch is Dutch treat. We try local restaurants located across Spartanburg County that the attendees have recommended. In addition, each month, recreation assistants hold advisory meetings where SCOA participants talk about what activities they want to do. Each site's calendar is specific to the group attending the site.
Emotional and Spiritual Well-Being

Emotional and spiritual well-being is addressed through religious as well as artistic activities. Religious discussions, meditation and yoga classes are offered.
Environmental Well-Being
The Day Trippers meet at a different park or walking trail each month (i.e., city, county or state). This walking group not only encourages participants to be physically active, but also educates them about the wonderful parks and trails available to them at no cost.
Occupational Well-Being
Maslow's Hierarchy of Needs stresses the importance of feeling purposeful. At the SCOA sites, volunteers help serve meals, call bingo and lead activities.
Intellectual Well-Being
An educational series, Seniors Take Charge, allows participants to be armchair tourists as they learn about different cultures and religions. It is free to attend these meetings. For Older Americans Month in May, we had a free, day-long Senior Enrichment Day conference, which offered attendees classes ranging from crafts, CPR/First Aid education, archery and gardening, to outdoor survival training. A health fair ran concurrent to the classes and lunch was provided. There are people with typical and atypical aging and differing cognitive abilities, so programs, such as puzzles and adult coloring, are offered that can be completed at different levels of interest and ability. Also, students at Wofford College come to two of our sites and lead writing workshops and hold discussions.
Physical Well-Being
Physical wellness is arguably the most important dimension for aging adults. Physical activity relates to flexibility, which correlates to overall vitality. A person's mobility often determines how independently they can live. Day Trippers has different exercise programs, from softball and bowling, to pickle ball and walking groups. SCOA is offered at seven locations throughout the county, and the plan is to have at least 10 locations so everyone has a site close to them. Transportation often is a major concern for older adults, but thanks to a partnership with Spartanburg Regional Transportation, we can transport participants to and from the sites at no cost. We have also partnered with Mobile Meals to offer a nutritious meal to individuals who are unable to leave their homes.
While we have achieved social equity in some areas, we still have room for improvement. For example, we offer programs for people 50+, but we don't have many people 50–60 years old participating. Is this because they don't like the "senior" label? Are they still working and, therefore, not available during the day? We also want to reach people from a variety of racial and ethnic backgrounds, as well as more men. We are looking at starting a men's golf club and coffee hour. Social equity is possible for all if older adults can be active, engaged and in charge.
Bates McKinney is the Recreation Coordinator II - 50+ Wellness for Spartanburg County Parks Department.