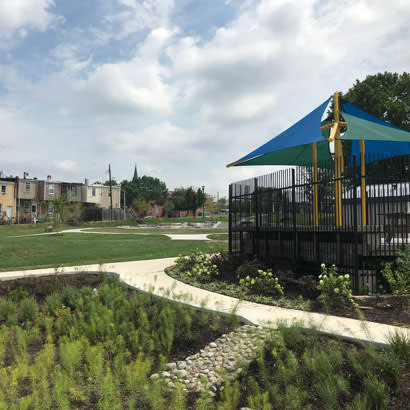 As part of the Great Urban Parks Campaign, NRPA has provided a total of $2 million to 10 agencies to help them implement green stormwater infrastructure projects. This is the second round of funding provided through the campaign — the first round funded four projects in 2016. The new grantees include:
Bernalillo County (Albuquerque, New Mexico)
City of El Paso (El Paso, Texas)
City of Grand Rapids Parks and Recreation Department (Grand Rapids, Michigan)
City of Lake Charles (Lake Charles, Louisiana)
City of Memphis Parks and Neighborhoods Division (Memphis, Tennessee)
Heartland Conservation Alliance (Kansas City, Missouri)
Miami-Dade County Parks, Recreation and Open Spaces Department (Miami, Florida)
Local Government Commission (Salinas, California)
Louisville Parks and Recreation (Louisville, Kentucky)
New York City Department of Parks and Recreation (Brooklyn, New York)
The Great Urban Parks Campaign is NRPA's initiative to bring green stormwater infrastructure projects to parks, with the goal of addressing equity. The campaign specifically highlights the co-benefits these projects bring to communities, including improved community health, access to green space and nature, and opportunities for education and employment.
For the co-benefits of green stormwater infrastructure to be realized, these projects must be supported, and, ideally, driven by the community. Meaningful, early and prolonged community engagement and a collaborative approach are essential to creating parks that are embraced by nearby residents and contribute to the well-being of the communities they serve.
These grants will support community-driven green stormwater infrastructure projects over two years.