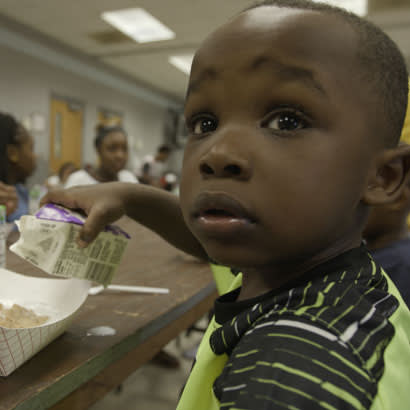 Across the United States, rural communities face their fair share of obstacles. They often struggle with higher poverty rates, lower health literacy levels, unpredictable employment and fewer resources that support access to healthy foods and physical activity — obstacles that can contribute to poor health outcomes among rural residents and a diminished quality of life. Local park and recreation agencies are a critical component of promoting equitable health outcomes in any community, but they may fill an even larger role in rural areas where resources are limited, and residents must overcome substantial challenges to engage in healthy opportunities.
Health Equity in Rural America
The social determinants of health, including the neighborhood and built environment, health and healthcare, social and community context, education and economic stability, are often directly related to health outcomes. When communities consistently face barriers to these social determinants, inequities exist and persist over generations. Public health disparities between rural and nonrural communities are well documented in the research shared in articles, such as "Introduction to Food Security and Healthy Food Access" on the Rural Health Information Hub, which shows that the more rural an area, the higher the rate of food insecurity, obesity, heart disease and diabetes. In addition, the CDC reports that with all health factors accounted for, children in rural areas (57.7 deaths per 100,000) compared to those in large central areas (37.5 deaths per 100,000) experience higher mortality rates among persons 1–24 years of age.
Food access and health literacy play a significant role in these public health disparities. More than 15.5 percent of rural residents live in food insecure households, with financial constraints often cited as the primary reason and food deserts — areas with limited access to affordable and nutritious food — as a secondary concern. Nearly 5.8 percent of rural residents travel 10–20 miles to reach a supermarket and, with a lack of public or oftentimes reliable transportation, that burden becomes much greater. Communities often cite a lack of health literacy as another significant barrier when motivating community members to make positive behavior changes to their poor nutrition habits.
Community Assets That Promote Health
Despite the challenges, there are long-standing community assets, including parks and recreation, that can be leveraged to promote better health and wellness outcomes in rural America. Many residents of rural communities have been integral members of those communities for generations, creating strong, historical bonds that can be seen through lasting industries, town spirit and pride, strong work ethic and a willingness to help each another. These communities also thrive through innovation and creativity, and they can make significant impacts with limited resources.
As trusted entities and established community-based leaders, park and recreation agencies are well-suited to tap into these assets to address the social determinants of health, specifically around access to healthy foods, health literacy and youth development.
Parks and Recreation Promoting Rural Health
With support from the Walmart Foundation, NRPA is working to address these health disparities and the social determinants of health in rural communities. Through the 2018 Healthy Out-of-School Time Grant, NRPA is funding a cohort of 10 rural park and recreation agencies in Colorado, Kansas and Mississippi to increase access to healthy meals and snacks during out-of-school times, provide evidence-based nutrition education to youth and families, and adopt practices and policies that improve healthy eating and physical activity environments.
One of the communities benefiting from the grant is Tunica County, located in the Mississippi Delta. Known as the "gateway to the blues," Tunica County is part of a region that for decades has struggled with persistent poverty, food insecurity and poor health. Thirty-eight percent of its 10,000 residents live in food-insecure homes, and there is only one grocery store in town that covers 481 square miles. Despite these struggles, the Tunica County Parks and Recreation department is working with a variety of partners to promote healthy food access and improve physical, mental and social health outcomes across the community. "We're here to make a difference in the lives of those we serve," says Dr. Billy Willis, director of Tunica County Parks and Recreation. "We have a mission to put into practice enrichment principles that build healthy minds, bodies and spirit for all."
Tunica County leads these efforts by investing in its youth. During summer camp and afterschool programs, park and recreation staff dedicate time each week to nutrition education and physical activity, sending home newsletters, activities and healthy recipes to reinforce these positive behaviors at home. Children can engage with their peers through games, sports and enrichment offerings that teach respect, teamwork and communication skills. Caregivers and children can attend healthy cooking classes at the recreation center or step outside and help themselves to the fruits and vegetables from the community garden. Also, while the children attend these out-of-school time programs and engage in healthy living activities, they can connect with role models, mentors and academic support that keeps them engaged, learning and out of trouble.
"Today's youth will one day be tomorrow's leaders," Willis adds. "If we invest in youth now, one day, they will be ones standing in my shoes, capable of making a difference in our community and the world."
Tunica County Parks and Recreation is also bridging the gap between schools, nonprofit organizations and the faith-based community. Breakfast and lunch are served each day by the Tunica 10-Point Coalition, a nonprofit partner of the park and recreation agency, to kids attending programs at all four recreation centers and the local Boys and Girls Club. In partnership with the American Heart Association, new "hoop house gardens" are being installed at the recreation centers, providing an opportunity for year-round produce and addressing an extreme need in a community where fresh fruits and vegetables are quite limited. In partnership with the Mid-South Food Bank, a backpack meal program runs year-round, sending home six healthy and shelf-stable meals each weekend. Tunica Parks and Recreation leverages these relationships and cross-sector partnerships to make a greater impact across the county.
In Tunica and other rural communities across the country, local park and recreation agencies are a powerful part of a healthy, happy and strong community, dedicated to improving the quality of life for all citizens. As Dr. Willis says, "The strongest asset in Tunica County is the people we serve: the citizens. Without the people we serve, we wouldn't be here."
Allison Colman is an NRPA Senior Program Manager and identifies as She/Her/Hers.