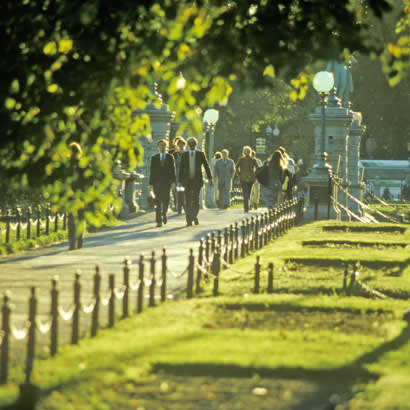 October 10, 2018, marked the first year of the 10-Minute Walk Campaign. Over the past year, 220 mayors across the country have signed on to the bold vision that every person, in every neighborhood, in every city across America has a great park with in a 10-minute walk of home. The campaign celebration was a testament to the ongoing success of the movement and the local plans, policies and funding that's taking shape. Highlights included Richmond, Virginia Mayor Stoney walking to a park with kids; Denver, Colorado Mayor Hancock announcing his support for adding a sales tax for dedicated park funding to the November ballot; Holland, Michigan Mayor DeBoer interviewing her parks and recreation director; Atlanta Mayor Bottoms signing on to the campaign; and Boston Mayor Walsh announcing that through decades of investments and planning, 100 percent of people living in Boston will have access to a park within a 10-minute walk.
NRPA, along with The Trust for Public Land and Urban Land Institute, awarded close to $500,000 in grants, worked in-depth with cities and built a professional network through NRPA's 10-Minute Walk Learning Series. This coming year, we will be more focused on supporting cities to create plans and policies and increase funding through an informed process that incorporates data, community, leadership and equity. Following are some opportunities in the coming year:
Technical assistance and planning grants for 10 additional cities
In-depth resources, including action-oriented park equity planning and community engagement
Professional networking and learning through the 10-Minute Walk Learning Series
Public-private park partnerships and collaborations with ULI members
Enhanced access to park planning tools, such as ParkServe, with new GIS data that is available for public download
Learn more about the 10-Minute Walk Campaign and related grant opportunities.