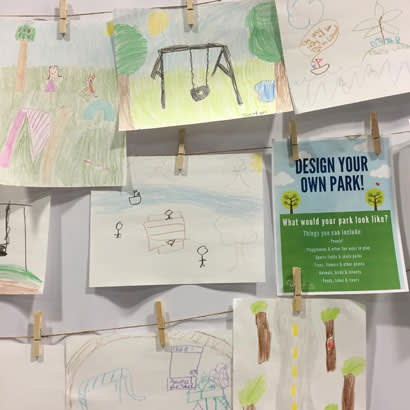 "Where can STEM take you?" The answer to this question was on full display at this year's USA Science and Engineering Festival, the nation's largest STEM (science, technology, engineering and mathematics) show, which took place April 6–8 in Washington, D.C. From more than 3,000 exhibitors and through 30 stage shows, some 350,000 people got a look at the myriad ways science is applied to our lives.
The primary goal of the weekend was to inspire the thousands of children in attendance, who came from across the country. There were hundreds of hands-on activities, including playing games with robots, flight simulators, virtual reality space missions, and our personal favorite here at NRPA, designing your own dream park. Kids clearly love their parks and eagerly took to the opportunity to design their own. Among the standard features of swings and slides, there were some creative designs that included friendly dragons, unicorns, even ice cream airplanes and an elevated park.
This was NRPA's first year exhibiting at the STEM fest, which happens every two years, and our goal was to show festival goers that park and recreation centers are a great place for youth to engage in the variety of STEM programs that are offered at many park and rec agencies across the country.
As park and recreation professionals, we are in a great position to offer programs and activities to inspire the next generation, get them active and keep their creativity and imaginations alive and well. Implementing STEM programs that are both fun and educational is a great start, and the rewards are priceless.
Visit https://usasciencefestival.org to learn more about the USA Science and Engineering Festival.
Click here to listen to NRPA's podcast about attending the STEM fest.