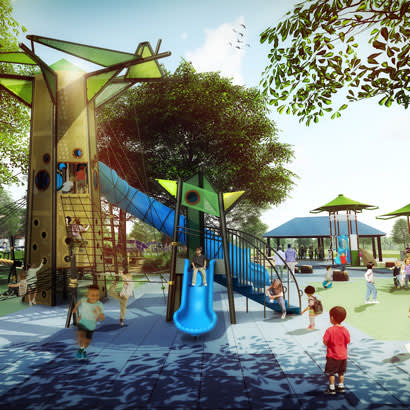 It's something every child engages in — regardless of race, family income or geographical location. It can involve expensive, complicated toys or none at all. Experts around the world know that play is a crucial component to a physically and emotionally healthy child, yet the amount of time children are allowed to play continues to be on the decline and the broader benefits of play are often overlooked.
Play goes beyond sheer entertainment: it provides a framework for developing and expanding a child's learning. Play offers the opportunity for children to use their imagination, to problem solve, and work through a variety of challenges. Through play, children develop the fine and gross motor skills that help them with developmental tasks, and they increase their social skills when working with others.
According to AnneMarie Spencer, corporate vice president of marketing at PlayCore, "Researchers, educators and child experts have emphasized the interrelatedness and interdependence of developmental domains and processes as being linked, not only with each other, but also with factors such as physical health, social relationships, mental health and brain function."
It's no surprise, then, that researchers and educators have found a correlation between play and learning. Academic studies have shown that following an unstructured play break, students are more attentive to their schoolwork. It is suggested that play, mainly pretend play, provides an opportunity to develop reasoning skills. Other studies have shown a link between free play and higher cognitive and linguistic abilities.
Designing Playgrounds to Enrich Youth
The sign of a thriving playground environment is its continual use and relevance over time. To achieve this, proper planning, stakeholder input and creative design must be used to meet the needs of the end users.
"Play variety is important, specifically, having different challenge levels that meet children where they are and challenge them to grow," says Brian D. Johnson, chief marketing officer for BCI Burke. "Having these spaces allow all children to play together. Also, it is important to design with play events that aid in different types of development — physical, cognitive, social, emotional and imaginative. Learning is inherent in play, and play environments should be designed to facilitate learning and help children find the best of themselves through play."
It is also important to understand that children are not the only users of a playground. The majority of the time, those children are visiting the park with a caregiver. Providing amenities for these adults can allow for more extended play times.
Johnson adds: "Having spaces for parents and caregivers to socialize and be comfortable AND that are integrated into the play environment, instead of on the outside, helps children have more time at the playground and enriches the experience by facilitating intergenerational engagement."
This year's NRPA Parks Build Community Project, Sandorf Park in Indianapolis, Indiana, will provide enhanced recreation and play facilities for the local community as well as for the adjacent magnet school, SUPER (Students Understanding through Powerful and Energetic Routines) School 19. Through generous donations from several vendors, this project will incorporate the following features into this play space:
Adventure: Adding adventure into a play environment is not only engaging but results in children developing complex ideas and using their imagination. "Adventure play gives children the opportunity to take age-appropriate risk and learn to fail, in a safer environment and then to get up and keep trying, explains Johnson. "It teaches resiliency and initiative on their own terms. Climbing, a huge component of adventure play, expands children's minds by integrating problem-solving and cognitive planning into play."
Music: We have all heard about the benefits of music to the mind and the links between learning and use of a musical instrument. Music appeals to all ages and all abilities and has been shown to lower stress and anxiety, reduce depression and other physical and mental disorders, while providing a mechanism for self-expression. These benefits can extend beyond the classroom into the outdoor environment using outdoor instruments, such as Freenotes Harmony Park.
These outdoor musical instruments are fun for all ages and encourage activity in a variety of ways. They help people feel successful when playing an instrument, and people can participate by dancing along, singing or simply observing," says Playcore's Spencer. "Children can learn cooperative behavior and turn taking, as well as how to work as a team to create fun, collaborative music and rhythms," she says.
Inclusivity: Providing the most successful playground environment possible requires designing and constructing for all ages and abilities. Many industry experts believe that active play is just as important (perhaps more) for children with disabilities. Often these children are isolated from their peer group and do not have access to engaging physical activities in a social environment.
According to the Kaiser Family Foundation: "Twelve percent of the U.S. population has a severe disability that affects at least one function of daily living. This group of people does not live in a vacuum. They have children, parents, siblings and grandparents who are involved in their daily lives. Therefore, 36 percent of the population, or 1 in 3 people, is touched by severe disability."
"The overall aim [of an inclusive playground]," as stated by Inclusive Play by The Sensory Trust, "is to ensure that all children have access to an equal quality of experience. It is important to note that this doesn't mean that every bit has to be accessible to everyone, but it does mean that it all needs to add up to a great experience for everyone."
"Designing play environments that promote inclusivity and reduce barriers for everyone to play together are hugely important in enriching the lives of everyone at the playground. These spaces teach us about everyone's abilities and teach children to respect and understand differences and similarities of all participants," adds BCI Burke's Johnson.
"Over the last 10 years, we have developed a database that identifies the child development-related factors for each piece of PlayWorld equipment," says Ian Proud, market research and inclusive play manager for PlayWorld.
Sandorf Park Redesign
Sandorf Park, created in the late 1950s, is a 6-acre park located on Indy's near Southside. It serves the recreational needs of the surrounding neighborhood, as well as of SUPER School 19.
Ryan P. Cambridge, planning practice leader at Browning Day Mullins Dierdorf, explains: "Universal accessibility was a critical redesign component, not just ADA accessibility, as the existing park space provided very little of either. [The] goal was to make Sandorf Park exciting, engaging and accessible for the largest population of the community possible, regardless of age or ability. All the main play structures have ADA-transfer points and incorporate additional accessible features.
"[The redesign] also incorporates multiple sensory-based amenities, including a Freenotes Harmony Park music plaza, nature play area and a Cozy Cocoon that is 'fun for all children, but specially designed for those with autism spectrum disorders,'" he adds.
The Sandorf Park grand reopening will take place during the 2018 NRPA Annual Conference this fall. For more information on how you can be involved, email Gina Cohen at gcohen@nrpa.org.
Action-Based Learning
The chairs have been replaced with stability balls and, along with the iconic student desks, every classroom at SUPER School 19 in Indianapolis, Indiana, has an elliptical or exercise bike, a standing desk and room for kids to do a few jumping jacks if they need a brain break. How does this not dissolve into chaos you may wonder? Well, SUPER School 19 is a kinesthetic magnet school, meaning that movement is incorporated into every class — kindergarten through eighth grade. As Principal John McClure says, "We believe that exercise builds brain cells, so the more movement we can incorporate into our classrooms is going to correlate into higher learning, which will lead to higher achievement."
Research shows when students are allowed to move in learning environments, they experience improved blood flow, which helps to deliver more oxygen to the brain and enables it to function at a higher level. At the kindergarten level, it is especially important to provide students with outlets for their extra energy. Doing so, McClure says, calms the students' behaviors and minimizes classroom disruptions. He states. "We encourage [students] to be open with our teachers to say, 'Hey, I need to take a break.' We're like, 'that's OK.' If they need that, we incorporate it into our day."
McClure, a former PE teacher, is a passionate advocate for healthy, active lifestyles and for adding movement to our schools. He points to the importance of programs, like the NFL's Play 60 campaign, which encourages kids to be active for at least 60 minutes a day. "We just weren't seeing enough activity in our schools," he explains. "IPS [Indianapolis Public Schools] is a leader nationally with innovative styles of education, and when the [SUPER] school was developed, it was developed on the idea that we need to have more movement. We need to have action-based learning as part of our school, and it caught on. Students love it, the parents love it, and we're in our fifth year of action-based learning."
Sandorf Park, site of the 2018 Parks Build Community project, sits right next door to SUPER School 19. The school's unique approach to learning, makes it the perfect neighbor to the park. "We're really excited to have the partnership with the parks and really honored to have them build a park next to where we are because of our school and its uniqueness," says McClure.
Before Indianapolis Parks approached the SUPER School with the idea of reinventing Sandorf Park, the playground was in disrepair. Principal McClure describes the playground equipment as "not necessarily safe. We definitely had to block off certain areas because either it was falling apart, it was rusted, it was broken — and it becomes a safety issue. Any time our students are at recess, safety is the No. 1 priority."
A reinvented Sandorf Park will not only be welcomed by the SUPER School 19 students, but also by the surrounding community. Come September when the park officially opens during the 2018 NRPA Annual Conference, the students will once again use it every day during recess, and, McClure believes, they'll want to come back after school and bring their families. "Parks bring people together," he says, "and having the opportunity to add fitness, to add wellness and a social component to this community is going to make everything better. It's going to reunite this community in a way that it hasn't had for many years. And, it fits in perfectly with our model of movement. The more our students and our community can move, the more healthy, active lifestyles we're going to have."
Paula Jacoby-Garrett is a Freelance Writer based in Las Vegas, Nevada.