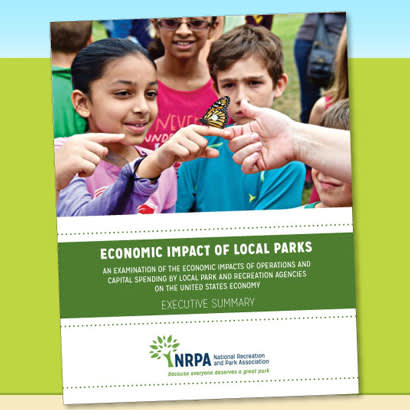 These are challenging times for park and recreation professionals. Eight years into an economic recovery and park and recreation leaders have to fight harder than ever before to keep their already limited funding in place. Last month, these pages featured an article that demonstrated that local park and recreation agency funding in 2013 was 7 percent below that of 2003, after adjusting for inflation. Our nation's population grew 9 percent over the same 10-year period.
While elected and appointed government officials agree parks and recreation is a valuable service, they are likely to view park and recreation agency funding as one of the most discretionary budget lines in their city, town or county. This becomes particularly acute during challenging fiscal times when local government officials target parks and recreation for the greatest budget cuts.
But, there is a tremendous cost to these "savings." Taking dollars away from parks and recreation deprives people of gathering places to meet with friends and family, open spaces to exercise and reconnect with nature or community resources where they can get a nutritious meal. In addition, cutting back on park and recreation budgets harms economic activity in the community.
Several years ago, NRPA published the first-ever nationwide study on the economic benefits of local public park and recreation agency spending. That report found that in 2013 alone, local park and recreation agencies' operations and capital spending were responsible for nearly $140 billion in economic activity and nearly 1 million jobs. This report empowered park and recreation professionals and advocates to speak with authority about the economic benefits of parks and recreation.
NRPA and George Mason University's Center for Regional Analysis joined forces once again to update this landmark study. The new study, included with this issue of Parks & Recreation magazine, finds that local park and recreation agencies were responsible for more than $154 billion in economic activity and just over 1.1 million jobs in 2015. These estimates reflect the direct, indirect and induced effects resulting from $31 billion in operations spending and more than $23 billion in capital expenditures made during the year.
The new report also features similar estimates of economic impact and jobs generated for all 50 states and the District of Columbia. Within many of these states, that impact is rather impressive. For example, operations and capital spending at California's local park and recreation agencies resulted in nearly $16 billion of economic activity and was responsible for more than 118,000 jobs. Following California, the states enjoying the greatest economic benefit from local parks and recreation are Illinois, Texas, Florida and New York.
What makes these estimates even more powerful is that they are conservative and do not reflect many of the other ways that parks and recreation drives economic activity and prosperity in a region. Beyond the impact of local park and recreation agency spending, other critical economic impact contributions from public parks include:
Visitor spending: Many local park and recreation agency amenities spur tourism to their respective locales, generating significant economic activity, including (but not limited to) increased sales at local restaurants/bars and hotels.
Health and wellness: Parks and recreation promotes improved physical and mental health. This not only helps people feel better, but can also help lower medical and insurance costs for the people taking advantage of those facilities and activities.
Conservation and resiliency: Park and recreation agencies' protection of land, water, trees, open spaces and wildlife improves air and water quality in communities. Through effective land management methods and green infrastructure investments, parks and recreation makes communities more resilient to natural disasters, reducing costs associated with disaster recovery and insurance premiums.
Property values: Economic research has demonstrated consistently that homes and properties located near parklands have higher values than those farther away. Higher home values not only benefit the owners of these properties, but also add to the tax base of local governments.
Another way parks and recreation drives economic activity is by its ability to recruit and retain business as it improves the quality of life in communities. A recent NRPA study of public officials finds that economic development is their chief concern, but it also is something to which they typically do not see parks and recreation as being a critical contributor. This represents a perception gap, as quality of life is a key factor for regions in their efforts to recruit and retain both business and high-quality workers. Later this spring, NRPA will be releasing another study conducted by the researchers at George Mason University's Center for Regional Analysis that takes a closer look at how park and recreation agencies and their leaders are playing an active role in their communities' economic development activity.
Policymakers and elected officials at all levels of government should take notice and support greater and more stable taxpayer funding for parks and recreation. Local park and recreation agencies not only help raise the standard of living in our neighborhoods, towns and cities, but they also spark economic activity that can have ripple effects well beyond the initial expenditure by creating jobs and prosperity throughout our nation.
I encourage you to read the full report included with this issue of Parks & Recreation magazine, but do not let it stop there. Share the report with key stakeholders in your city, town or county. It is critical for your local government officials, business leaders, the media and the public to appreciate that parks and recreation not only is a vital resource that improves our communities through health and wellness, conservation and social equity, but also drives economic activity. Your work and that of 370,000 professionals in our industry make these communities flourish for all.
Also, soon the NRPA research team will be able to provide an estimate of a park and recreation agency's economic impact from its spending. With this new tool, park and recreation professionals can share a similar message about their own agency's spending. Look for more information about this new member benefit in an upcoming issue of Parks & Recreation magazine.


Kevin Roth, Ph.D., is NRPA's Vice President of Research.