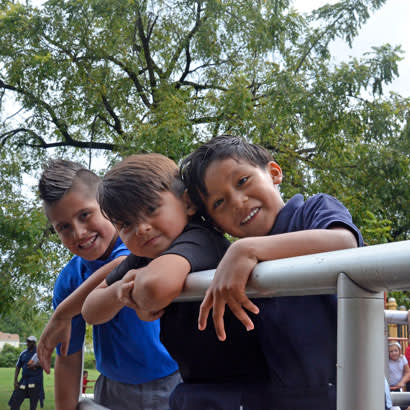 NRPA believes in improving health and wellness through parks and recreation; protecting open space, connecting people to nature and engaging communities in conservation practices; and ensuring all people have access to the benefits of local parks and recreation. Annually, as part of this mission, we revitalize or create a park within the city hosting the NRPA Annual Conference through our Parks Build Community project. This fall, the conference will be held in Indianapolis, Indiana, September 25–27, and we hope you'll come and help celebrate the completion of this project.
The Site
This year's Parks Build Community project, Sandorf Park, is located on the southeast side of Indianapolis. Created in 1959, Sandorf Park has been serving its neighborhood for almost six decades. It was originally a 10-acre park, but was reduced to roughly 6½ acres when a portion of the site was used to house a school. The adjacent community is primarily composed of low- to middle-income, single-family residential homes with some commercial and industrial buildings along the north side of the property. An active rail line also runs along the north end of the park.
On-Site School
"Sandorf Park is a perfect play space for children to run, skip, laugh and explore," says André T. Denman, principal park planner for IndyParks. "The park originally was an open field. Amenities did not appear in the park until the school was developed. Those amenities included a playground, basketball and tennis courts, a parking lot, and backstop for baseball, softball or kickball. The park and Indianapolis Public School (IPS) #19 share a special bond, as the shared space helps promote healthy lifestyles for students and their families. Keeping this in mind, our concept design will not only enhance the current play space, but also encourage the larger community to use the park as the children do every day."
Enrolling students from kindergarten through 8th grade, the IPS SUPER School 19 is an action-based magnet school. The SUPER acronym stands for Students Understanding through Powerful and Energetic Routines. Students are engaged in kinesthetic learning and are encouraged to keep moving throughout the school day. Currently, more than 77 percent of the 488 students receive free or reduced lunch and approximately 75 percent of the student body is a minority.
IPS SUPER School 19 provides daily physical education, fitness and brain breaks, gardening, fitness zones, sports, an action-based learning lab and civil air patrol. The school is also part of the BOKS program (Build Our Kids Success) supported by Reebok. Founder and Executive Director Kathleen Tullie created the program based on studies that showed students achieve higher academic performance if they are physically active before their school day. To date, the BOKS program is active in communities in all 50 states and four countries.
The students' regular movement and exercise are considered key to academic success. "Research shows that the brain slows down in the learning process the longer a child sits. Movement improves blood flow and delivery of oxygen, allowing the brain to function at a higher level. SUPER School embraces the philosophy of learning through movement, music, technology and healthy habits."
Park Needs
As part of the Parks Build Community Initiative process, existing facilities are evaluated for their current relevance and condition, while community needs are assessed to determine future improvements.
"Currently, the park contains a basketball court, tennis court (which students use for soccer), a playground, swing set, open lawn and a shade pavilion. The majority of the existing facilities are in need of substantial updating as a result of their age," says Ryan Cambridge, planning practice leader at Browning Day. "In addition, there are numerous accessibility challenges, which can be improved upon in the new design."
The park renovation project is now in the concept development phase. While nothing has been finalized, initial concept drawings have been produced. Sandorf Park is the only neighborhood park in the area and must meet the needs of the broad and diverse neighborhood residents who may potentially utilize it. Enhancement options are being explored for the existing facilities to save costs and resources, as well as the incorporation of new equipment and structures.
"The park's proximity to downtown Indianapolis also makes Sandorf Park a viable destination for the growing urban populations of Fountain Square and the Market East districts. It will be important to incorporate multiple opportunities within the park space for various types of fitness and exercise activities, not just for the students, but also for the surrounding community," says Cambridge.
Design Scope and Challenges
Sandorf Park is not only an asset to the school, but also to the surrounding neighborhood, so the planning and design team is working to provide a concept and design that meet the needs of both. According to Cambridge: "During the planning process, the project team conducted several community engagement exercises at the IPS SUPER School 19, which included user interviews, interviews with school students and an open public workshop."
As with most park revitalization projects, this one has its share of issues and concerns. "The greatest challenge of this park site is the number of existing site features to work around within the new design. In an effort to maximize value and save construction costs, the existing basketball court and tennis court locations will both be retained and improved upon," Cambridge explains. For example, large shade trees add value to the park and are going to be kept, but they are one of the existing features that must be designed around. The existing playground will get a new surface and current drainage issues will be addressed.
Project Partners
For Cambridge, a registered landscape architect, this project has been "truly collaborative from the start, involving multiple community partners, organizations and vendors."
Planning, design and fundraising partners include:
Get Involved
While the planning and design contributors have already been identified, we are still looking for donors to make this park a reality. All Parks Build Community projects rely on our NRPA community for donations of expertise, equipment and funds for installation. The revitalized Sandorf Park will celebrate its grand opening during the NRPA Annual Conference in September 2018, and we need your help to make this dream a reality for the local community and the students of IPS SUPER School 19. For more information on how you can be involved, please email Gina Cohen.
NRPA's 2018 Parks Build Community Indianapolis Donors
American Ramp Company
BCI Burke
Dero
DOGIPOT
Dumor
Epic Outdoor Cinema
GameTime
Gared
Greenfields Outdoor Fitness
Icon
iZone
Jr. NBA
Kompan
Most Dependable Fountains, Inc.
Musco Lighting
Pilot Rock
PlayCore
PlayWorld
Shade Systems Inc.
Synlawn
Paula Jacoby-Garrett is a Freelance Writer based in Las Vegas, Nevada.