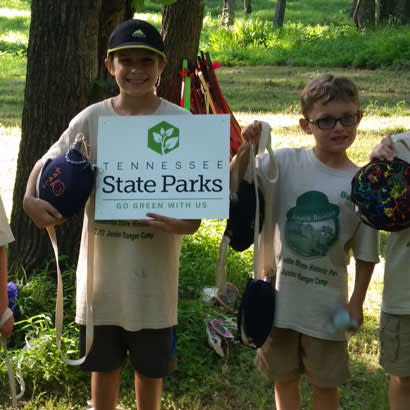 In November 2017, the Tennessee Department of Environment and Conservation (TDEC)'s Go Green Steering Committee launched guidelines for its Go Green With Us program. The program, which began in January 2015 as a recycling initiative within Tennessee State Parks, has grown to encompass all aspects of sustainability. Its mission is "to protect and preserve our State Parks through resource conservation, sustainable operations and recycling." With these guidelines, Tennessee State Parks is not only setting a standard for sustainable practices, but is also working to secure recognition for the many environmentally conscious procedures that its parks already have in place.
The "Go Green With Us Guidelines" provide environmentally friendly practices for both park staff and visitors to implement throughout all park operations. These principles were developed in collaboration with individuals from the Tennessee State Parks, the Office of Sustainable Practices and TDEC to ensure that all aspects of sustainability were captured and targeted. The guidelines are divided into 10 categories, ranging from recycling, energy efficiency and water conservation, to hospitality and maintenance operations, and contain approximately 100 prerequisite actions and 127 recommended actions. There is also a recognition component that will allow the parks to achieve a certification level each year. Parks will be rated and awarded a certification level based on their overall sustainability and how they abide by the guidelines.
Examples of prerequisites within the guidelines include creating an interpretive program to educate the public on a "Go Green" topic, using occupancy motion sensors for indoor lighting, sourcing local food and using Green Seal-certified cleaning products throughout the park. The prerequisites are basic, common-sense sustainability tasks that most parks already perform. The remaining guidelines, or recommendations, are slightly more advanced. These include suggestions, such as using environmentally friendly methods (for example, goats) for clearing invasive species, installing green roofs on appropriate buildings, introducing a rooftop solar installation and composting food waste from restaurants.
The guidelines incorporate other sustainability programs and certifications into the suggestions for certain categories. For example, the parks with golf courses earn and maintain the Audubon Cooperative Sanctuary Program certification. They also participate in the Groundwater Guardian Green program, through which they can minimize the potentially harmful impacts of golf course operations. They do this by using electric mowers and golf carts and with targeted watering and digital irrigation monitoring. Parks with restaurants participate in the Environmental Protection Agency's Food Recovery Challenge, which encourages participants to divert, donate and compost food waste. Parks with marinas are Certified Clean Marinas, which means they implement best management practices that help to prevent and reduce water pollution.
This March, the parks will complete their first electronic application to earn their initial level of Go Green Recognition. The points system is structured like a LEED certification with bronze, silver, gold and platinum tiers of sustainability. Each park will apply to the program with documented completion of each prerequisite and guideline to support its sustainability activities. The applications will be reviewed by Go Green With Us Committee members, a site visit will be conducted to verify their efforts and, following that visit, each park will be awarded the earned level of recognition. Each spring, the parks will be re-evaluated to either maintain or move to their next tier of Go Green Recognition. As the parks implement more Go Green Guidelines over time, they will climb the tiers of sustainability.
Parks that reach a level of sustainability will receive a Go Green With Us certificate to display inside the park office. The certificate, containing a brief description of the statewide program and the park's current level of sustainability achievement, will be mounted in a unique frame made from upcycled or reclaimed materials. This way, all park visitors can see the park's sustainability efforts and, hopefully, be encouraged to do the same while visiting. The Go Green recognition level will also be shared on the Tennessee State Parks' website and the park's individual Go Green webpage, which highlights the park's environmentally friendly measures.
"Our Tennessee State Parks Go Green With Us program was born from a desire to strengthen our efforts to make the park system more green and environmentally sustainable," says Robin Peeler, the Tennessee State Parks Go Green coordinator. "It has been a labor of love to watch the Go Green With Us program grow from mandatory recycling in the parks in 2015 to the Go Green Guidelines that we launched in November 2017. Putting these guidelines in place, as well as the park recognition component, will, hopefully, lessen our impact on the planet and help to educate both visitors and staff about the importance of being environmentally responsible. I am excited to watch the program grow and see how we can continue to improve and protect our natural resources." Some of the benefits already being seen from the program include increased monetary savings, increased visitation rates, greater efficiency of operations and reduced solid waste.
Kelsey Davis is Environmental Scientist 3 for the Tennessee Department of Environment and Conservations Office of Policy and Sustainable Practices.