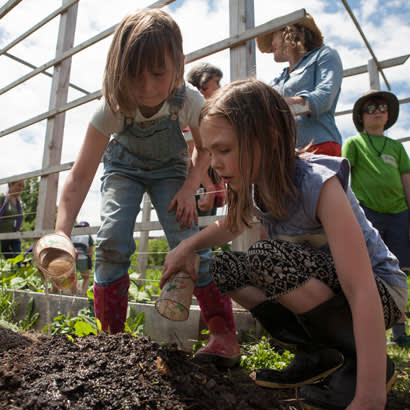 At NRPA, our Commit to Health campaign has created a significant foundation of work in fighting hunger and improving nutrition for our nation's youth. Park and recreation agencies are the second-largest provider of the U.S. Department of Agriculture's (USDA) summer and afterschool meal programs nationwide. But, we've barely tilled the soil (pun intended) on what USDA is best known for — agriculture. We are just starting to assess where we believe collaboration between park and recreation agencies and local agriculture is possible, and we hope to learn more about current projects and initiatives in this space and create new opportunities from a federal level. We want local parks to be part of a system with local farmers, producers and distributors to assist in the execution of a nationwide healthy food pipeline.
Farm Bill Reauthorization: The Role of Parks and Recreation
The reauthorization of the Agricultural Act of 2014 (Farm Bill) is an opportunity for Congress to consider the role local park and recreation agencies can play in creating and enhancing community food systems. Therefore, NRPA supports initiatives and programs authorized by the Farm Bill to support activities in the following areas:
Allow use of public lands by local farmers and producers to grow in park space and develop educational curriculums through gardening.
Increase access to fresh, local foods through the availability of farmer's markets at recreation centers.
Address food insecurity in communities by offering outreach and nutrition education activities available under the Supplemental Nutrition Assistance Program (SNAP).
Specifically, NRPA asks Congress to expand the eligibility of the Farm to School Program so local government and nonprofit organizations operating USDA's summer and afterschool meal sites can apply to receive funding and to increase overall mandatory funding for the program by $10 million. The Farm to School Network supports this expansion and encourages park and recreation agencies to consider the role they can play in connecting their out-of-school time curriculum with their local agriculture industry.
NRPA's public policy team will continue to track opportunities in the upcoming Farm Bill debate to bolster the work of park and recreation agencies in this space, but we need to hear from you!
Do you lease your park land out to local farmers to grow on? Have you been incorporating gardening, composting and related activities into your out-of-school time program? Does your agency work with your local land-grant university or 4-H program to encourage youth in your community to pursue agriscience careers? Do you use farming in your park space as a green infrastructure tool? Email NRPA's senior government affairs manager Kate Clabaugh.
Interested in sharing your #FarmPark story with your members of Congress? Become a Park Champion and advocate that parks have a role to play in the upcoming Farm Bill. Contact NRPA's advocacy and outreach manager, Jayni Rasmussen, to learn more.
Kate Clabaugh, MSW, is NRPA's Senior Government Affairs Manager.


Dear NRPA Members,
Farm to school enriches communities by connecting them with fresh, healthy food and local food producers by changing food purchasing and education practices at schools and early care and education sites. Farm to school empowers children and their families to make informed food choices while strengthening the local economy and contributing to vibrant communities. In this way, NRPA and the National Farm to School Network both prioritize community health, wellness and social equity.
Farm to school implementation differs by location, but always includes one or more of the following:
Procurement: Local foods are purchased, promoted and served in the cafeteria or as a snack or taste-test;
Education: Students participate in education activities related to agriculture, food, health or nutrition; and
School gardens: Students engage in hands-on learning through gardening.
School gardens are one of the three core elements of farm to school, and the benefits of these green spaces are plentiful. Gardens create positive learning environments, increase children's willingness to try new fruits and vegetables, and serve as a valuable tool for engaging students in a number of academic subjects.
Moreover, school gardens can be engaging learning spaces for all students. They function as interdisciplinary classrooms that welcome every type of learner, regardless of age or ability. Unlike traditional classrooms, school gardens help level the playing field for students with physical disabilities, learning and behavior challenges, and other special classroom needs by empowering everyone to contribute to the process of growing food from seed to harvest.
Recognizing the role of NRPA members in their communities, it is prudent that NRPA members understand how farm to school supports and furthers this important role.
First, many schools do not have space for school gardens as learning and nutrition opportunities. Allowing use of park space by schools to develop gardens and corresponding curriculum for students would increase these learning opportunities. Secondly, gardens in park spaces would also provide opportunities for children attending summer or afterschool programs, sometimes held at park and recreational agency facilities and thus continue these learning opportunities outside normal school hours.
Lastly, park and recreation staff and agencies can support advocacy efforts to expand the USDA Farm to School Grant program. While communities have already benefited greatly from this program, demand significantly outweighs current available funding. Congress needs to build on the success of farm to school by strengthening the program's scope and by providing an additional $10 million per year in mandatory funding so that more of these programs can be incubated around the country.
Adoption of the Farm to School Act (S. 1767/H.R. 3687) will accomplish the following goals:
Increase annual mandatory funding from $5 million to $15 million. An increase in funding is essential to build on the USDA Farm to School Grant program's success. Demand for the program is over five times higher than current available funding. In the first four years of the program, USDA received more than 1,600 applications requesting over $100 million, and was able to make only 221 awards from $20 million. Funding the program at $15 million annually will better support the high demand of this important program.
Improve program participation from beginning, veteran and socially disadvantaged farmers and ranchers. By providing technical assistance and research to a broad range of potential applicants, the grant program will encourage increased awareness of and participation in farm to school activities among all agricultural producers.
Fully include summer food service program sites and afterschool programs in the program.
The program's scope must include summer food service program sites and afterschool programs. These provide meals to millions of children in low-income areas, ensuring access to nutritious meals after school lets out.
The National Farm to School Network looks forward to working with NRPA to build healthier communities. For more information on NFSN or to sign up to support the Farm to School Act of 2017, please visit our webpage at farmtoschool.org.
Gratefully,
Maximilian Merrill
Policy Director, National Farm to School Network