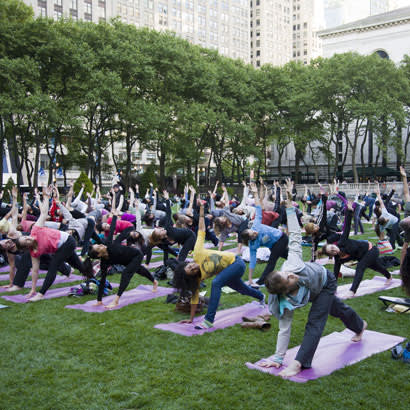 One in four Americans currently has a chronic disease, many of which are preventable. Reducing the incidence of chronic conditions is the key to sustainable healthcare in America, and, as facilitators of activity, park and recreation departments play a critical role in reversing the inactivity trend.
Park and recreation departments provide wonderful opportunities for children and adults to get out and get active, but with many departments facing funding cuts, alternative revenue sources are needed. Park access fees, nominal charges for programs and registration fees for recreational sports have helped bridge the funding gap to keep activity options available in local communities. However, in the same way many public schools are transitioning to pay-to-play policies to meet the shortfall in school resources, creating a financial barrier that prevents some students from participating in school sports, the access fees and program charges can be a barrier to achieving an active lifestyle.
Families and younger generations are the most frequent users of parks, recreational facilities and resources. Unfortunately, they are also the ones facing the greatest financial burdens. It's not surprising that an NRPA poll conducted in March 2017 found that millennials, Gen Xers and families are all overwhelmingly in support of the Personal Health Investment Today (PHIT) Act (S. 482/H.R. 1267) to help make these wonderful opportunities for physical activity more accessible and affordable.
The United States currently spends 18 percent of its gross domestic product on medical expenditures and the government estimates this figure will rise to 20 percent by 2022. Spending $1 out of every $5 our economy generates on healthcare is not a sustainable model. Americans cannot medicate themselves to health. It requires a lifestyle change. Proper diet and exercise are the keys to a healthy life; yet, we have let physical activity slip so far down on our society's priority list that activity funding has been cut at a time when we need it most. The bottom line is that Americans need help with the cost of active lifestyles.
A Win-Win Scenario
The PHIT Act gives consumers a discount on the cost of active lifestyles, while the activity provider receives full price. A win-win scenario for both consumers and providers, such as park and recreation agencies.
There are currently more than 30 million households with pre-tax medical accounts (such as Health Savings Accounts (HSAs), Flexible Spending Accounts (FSAs), etc.), and conservatively, each account serves three family members.* When PHIT becomes law, 90 million Americans will have access to pre-tax funds for physical activity expenses and will be able to receive a 25–40 percent discount on active lifestyle costs. In short, PHIT will move people off the couch and into recreation centers and parks, and onto courts, ball fields, trails, rivers and lakes.
The PHIT Act is extremely popular in Congress, with more than 125 bipartisan cosponsors in the House (70D–60R) and 16 (9R–6D–1I) in the Senate. PHIT is a tax bill, as it would modify the tax code, and half of the members on the top congressional tax committee, the House Ways and Means Committee, support the PHIT Act (11 R–9 D). It has more cosponsors than any other healthcare-related tax bill and support continues to grow.
Improving Healthcare in America
So why hasn't PHIT passed already? Short answer is "politics." It was a new concept when it was first introduced, and it was not part of the Affordable Care Act (ACA). The implementation of the ACA led to the contentious battle to repeal "Obamacare," which provided no opportunity for a bipartisan effort to improve the system. The "repeal & replace" effort ultimately failed, but there are still some who continue to fight the battle (even though Republicans only have a 51:49 majority in the Senate). This slimmest of majorities makes it virtually impossible to pass a repeal bill: Senate rules require 60 votes to end debate and vote on legislation.
With the repeal & replace effort all but dead, Congress has begun to explore ways to improve the current healthcare model, without gutting it completely. Any revisions to healthcare will require the support of Democrats in the Senate to reach the 60-vote mark needed to bring bills up for an official vote. A powerful group of national organizations, including the U.S. Chamber of Commerce, The Business Roundtable, America's Health Insurance Plans and the American Benefits Council are promoting a package of bipartisan changes to HSAs, including PHIT, to improve healthcare in America. The effort paid off as Congressmen Mike Kelly (R-Pa.) and Earl Blumenauer (D-Ore.) introduced the Bipartisan HSA Improvement Act of 2018 on March 1, to make these pre-tax accounts more consumer friendly.
Congress has come around on understanding that physical activity is a crucial component of a healthy lifestyle and the central role it plays in preventing chronic conditions. Most importantly, wellness and prevention are a primary focus of Congress as it seeks to improve our current healthcare model. Diet and exercise are the foundations of a more sustainable healthcare system, and we must do all we can to promote activity to create a healthier culture in America.
Reach out to your members of Congress and ask them to #passPHIT.
*Because of implementation of the Affordable Care Act (ACA), enrollment in HSAs has significantly increased over the past few years, and the median household income for a family enrolled in an HSA is $57,000 per year. While this legislation will not benefit families with incomes below that threshold or families that do not have access to an HSA, NRPA is committed to ensuring that the financial barriers to physical activity are eliminated for low-income children and families. NRPA will continue to advocate for PHIT and PHIT-like opportunities for all. Questions? Email NRPA's senior government affairs manager, Kate Clabaugh.
Bill Sells is Senior Vice President for Government and Public Affairs for the Sports & Fitness Industry Association.