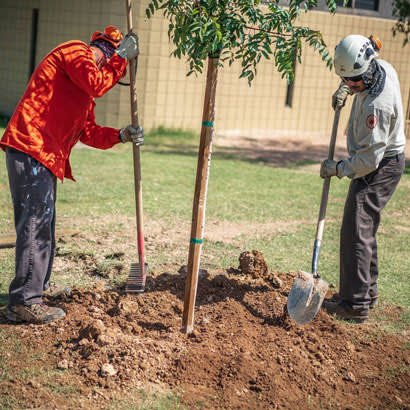 On sunny days, millions of people across the country flock to their local park to play, picnic, exercise and simply soak up the sun. However, research suggests that because of the increasing potency of the sun's ultraviolet radiation (UVR), sun exposure can have detrimental health impacts.
When it comes to sun safety, there is no one-size-fits-all solution. In fact, sun safety proponents recommend layering multiple sun safety solutions, such as both lathering on sunscreen AND covering up with sun-safe clothing and hats, to help protect from the dangers of excessive sun exposure. However, these protective measures are not the only solutions to protect park users from the harmful rays of the sun — there are also community and systems-level solutions to sun safety that parks can champion.
One solution that is receiving increased attention is the use of urban forests. Phoenix, Los Angeles, Houston, New York and Chicago are among the major U.S. cities that have implemented urban forest initiatives to increase their tree canopies. As communities across the country follow their example and consider urban forest strategies to "green" their public areas, sun safety should also be recognized as an additional benefit of increased shade these urban forests offer park users.
Why Trees?
Tree canopies are a natural, affordable and sustainable shade solution for parks and other public spaces. On sunny days, trees offer a natural screen to shield individuals from the dangers of UVR exposure. This is especially true in park and recreation facilities. As park and recreation professionals, we know that children rarely demonstrate "shade-seeking behavior." In out-of-school time, children often spend hours playing in direct sunlight — usually between 10 a.m. and 4 p.m. when the rate of UVR exposure is highest. By increasing tree cover around playgrounds, sports fields and throughout parks, communities can significantly reduce the risk of excessive sun exposure for children and ensure that healthy play opportunities are available all summer long.
Trees are a prime example of a solution multiplier and a low-cost, high-yield investment. While there are other shade canopy solutions, such as engineered shade structures, trees offer countless additional environmental, economic and social benefits. According to the Environmental Protection Agency (EPA), strategically planted trees and vegetation reduce surface and air temperatures through evapotranspiration and shading. Shade from trees has been found to reduce energy use, particularly when used to shade buildings, as well as delay the deterioration of street pavement and required street/sidewalk maintenance.
Studies by the EPA, United States Department of Agriculture (USDA) and other sources have demonstrated a strong return on investment for tree planting and urban forests, with net annual benefits, ranging from approximately $30 to $90 per tree. The return on investment for urban forests is so reliable that businesses and investors across the world are catching on and investing in trees. Moreover, trees and other natural shade options have been found to decrease physical and emotional stress, and even reduce violence during periods of surging temperatures.
Support for urban forests is on the rise throughout the United States. By leveraging the momentum around urban forests, communities can simultaneously enjoy their economic and environmental benefits and increase shade cover to ensure all residents have protection from the sun while enjoying the countless benefits of parks and recreation.
Phoenix Parks and Recreation: Setting the Example
Sun safety has long been a serious challenge for the city of Phoenix. Between the growing population of more than 1.5 million citizens and approximately 100 days of temperatures above 100 degrees annually, the desert city faces serious challenges around public health, increased energy costs and increased water consumption. As Phoenix considered the various multifaceted and long-term solutions to address this problem, one solution stood above the rest: trees!
The city of Phoenix implemented the Tree and Shade Master Plan in 2010, to improve the city's overall health, prosperity and feasibility. This road map lays out an ambitious goal to achieve an average 25 percent tree canopy coverage by 2030. Phoenix has made extensive progress, including completing a citywide tree inventory, urban forest resource assessment and designing a citywide canopy map. As of 2018, the city's Parks and Recreation Department has upheld its commitment to plant 1,500 trees per year in city parks until 2030. In heavy urbanized areas with minimal space or poor soil resources, the city uses complementary engineered shade structures to provide equitable protection from the sun.
This critical initiative was developed and driven by the Phoenix Parks and Recreation Department. Using existing staff and resources, the department developed and implemented the Tree and Shade Master Plan in-house. The department also created the Tree and Shade Task Force and mobilized community members, businesses and volunteers to support implementation and tree planting. Through a combination of educational programming in the community, videos, informational brochures, presentations and workshops, the city found it easy to garner community support for this long-term and large-scope investment. The city also developed an online tree-
inventory application for residents to increase community engagement.
While notable progress has been made, there is growing awareness in Phoenix that a substantial increase is needed in the number of trees planted annually to reach the citywide goal. And, not just by the city's Parks and Recreation Department; participation is needed from all city departments, and the broader community, to cool the city. This is particularly true in the city's most transit-dependent neighborhoods, where the current tree canopy is limited. Neighborhoods with vulnerable populations are in need of additional trees to mitigate the effects of the urban heat island.
Replication
While much work remains to be done, the Phoenix Parks and Recreation Department and the city of Phoenix have enjoyed success with this internationally recognized initiative — and the great news is that your department can enjoy this too. With an understanding of environmental awareness and design and a commitment to sustainable development, Phoenix Parks and Recreation Department believes this framework is replicable and sustainable.
As with any new initiative, the department encountered challenges to implementation, including limited staff resources, burdensome procurement procedures and collaboration with the various stakeholders. While urban forests and shade canopies have a strong return on investment, these initiatives do come with added expenses. To finance the initiative, it added a new budget line item for the purchase of trees and notes that replication of this model requires a commitment to both best maintenance practices and allocation of budgetary resources. The EPA's studies of urban forestry programs suggest that pruning is often the greatest expenditure, followed by administration and inspection expenses. Tree planting is one of the lowest costs, accounting for only 2–15 percent of total annual urban forestry expenditures.
As communities across the country grapple with rising temperatures and worsening UVR exposure, trees are a relatively simple, high-impact solution to promote community health and offer protection from the sun. As Phoenix Parks and Recreation Department points out, "a little care and maintenance can last a lifetime."
To learn more about the Phoenix Parks and Recreation Department's Tree and Shade Master Plan, click here.
Do you have other examples of natural and/or creative shade structures to share? Please contact Cassie Pais.
Cassie Pais is NRPA's Development Officer