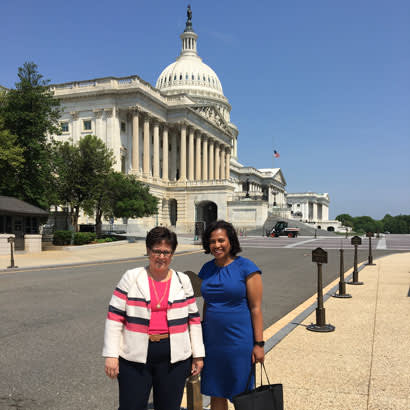 NRPA's public policy team has been hard at work on Capitol Hill, making the case that park and recreation agencies have a role to play in some of the hottest debates happening right now in Congress.
NRPA spearheaded an effort with our partners at the US Water Alliance and the National League of Cities to host a congressional briefing on green infrastructure as part of Infrastructure Week. The event, "Water, Parks, and Cities: Partners in Green Infrastructure," brought Kathryn Ott Lovell, Philadelphia's commissioner of parks and recreation; Kishia Powell, commissioner of the city of Atlanta's Department of Watershed Management; and Cynthia Pratt, deputy mayor of Lacey, Washington, to Washington, D.C., to discuss green infrastructure. The panel, aimed at congressional staff, was NRPA's first event as an affiliate of Infrastructure Week. All three panelists talked extensively about opportunities for park agencies and water utilities to work together to implement green infrastructure at scale.
Atlanta and Philadelphia exemplify how overcoming political, institutional and financial challenges to build strong relationships between water utility and park departments can transform neighborhoods and cities. From the Historic Fourth Ward Park in Atlanta to the dozens of water/parks partnerships throughout the city of Philadelphia, examples abound of multifunctional green infrastructure projects that provide huge benefits to the respective cities.
On the health and wellness front, NRPA has been advocating alongside key out-of-school-time partners, including the Afterschool Alliance, Boys & Girls Clubs of America and the National 4-H Council, to raise the profile of quality summer and afterschool programs as a critical strategy in combatting the nation's opioid epidemic. Montgomery County (Maryland) Recreation was invited by the Senate Afterschool Caucus to present on its Excel Beyond the Bell (EBB) program as part of a Capitol Hill briefing, titled "Afterschool & Summer Learning Programs: Key Partners in Prevention & Response to the Substance Abuse Crisis," (check out this Afterschool Alliance blog about our briefing.
EBB aims to keep young people healthy, productive and connected during out-of-school time. It is the ideal example of how park and recreation agencies are redefining substance use prevention among youth. With a proven track record for increasing resilience, supporting positive youth development and preventing substance use, EBB has shown how investing in afterschool and summer learning programs is a cost-effective way for Congress to help build and enhance an integrated trauma-informed system that supports children, youth and families impacted by the substance misuse crisis in this country.
A few other key events on Capitol Hill are already in the works for this summer as the public policy team continues the fight for the federal dollars used by park and recreation agencies nationwide — stay tuned!
Photo caption: Philadelphia Parks & Recreation's Kathryn Ott Lovell (left) and City of Atlanta Department of Watershed Management's Kishia Powell participated in the recently held green infrastructure briefing on Capitol Hill.
Kate Clabaugh, MSW, and Kyle Simpson, NRPA's Senior Government Affairs Managers