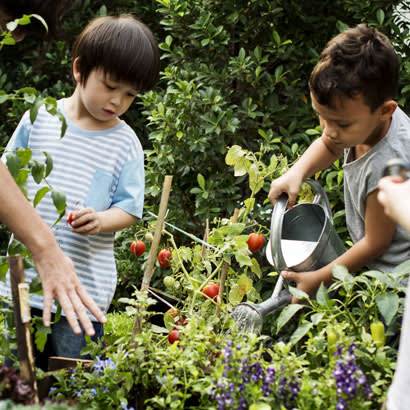 Mecklenburg County proves recreation has a role to play in agriculture
From gardening programs to a program that has a red barn as a logo, Mecklenburg County Park and Recreation is "ag-vocating" for the field of agriculture and the role it plays in the community. Traditional gardening programs, long offered at recreation centers to teach people how to garden, are placing a new emphasis on teaching them how to grow their own food and the benefits of doing so.
Gardening programs are addressing topics from childhood obesity to food deserts. Preschoolers are learning where their food comes from, while teenagers are being given the chance to participate in an urban agriculture entrepreneurship program. In Mecklenburg County, agriculture is now in the field of recreation.
How It All Began
Prior to receiving a Meet Me at the Park grant in 2017, only a few of the county's recreation centers had gardens. Receiving the grant allowed for new gardens to be created at 10 recreation centers and some new garden amenities to be added to existing sites. This garden initiative has since grown and is now beginning to incorporate garden amenities of different sizes at all the recreation centers. Many recreation centers are also offering gardening programs that include gardening clubs.
In addition, the Mecklenburg County Park and Recreation Department works with the Mecklenburg County Cooperative Extension Department, which is ideal for staff to be able to use 4-H curricula in programming as well as to draw on the extension department's staff's expertise. Staff members have also been using Master Gardener curricula in their programs and, starting soon, will be working with the Mecklenburg "Extension Master Gardeners" in the county, as they can share their knowledge and help with gardening fundamentals.
Gardening is a component of the department's new initiative, Connecting Communities 2 Nature (CC2N). In addition, to further stress the importance of gardening, a new program, Plant 4 Change, was just launched. This program encourages people to plant for the change they want to see in themselves, their family, their community and their county, and a bean is leading the charge. Green bean seeds are being distributed in peat cups at various events staffed by the park department, along with all the information needed to grow the bushing bean variety in a pot.
The number of bean seeds distributed throughout the county is being tracked, and participants are encouraged to share their bean plant growth and harvests! Other aspects of this program include sharing information about gardening to create habitats for wildlife, such as pollinators. The inaugural group to participate in this program was one of the Little Tykes gardening classes for preschoolers. The children, along with their guardians, learned about food deserts and how they could help in the Plant 4 Change initiative by sharing what they learned and by helping people grow their own food.
The Little Tykes Farm Adventures Program
"Got to Be NC" is the slogan that is stressed each month in the Little Tykes Farm Adventures program at the Mallard Creek Recreation Center. Since last fall, Little Tykes (preschoolers) in this program have been learning how products grown or produced in North Carolina get from the farm to their table. By studying the product, the children also learn about the role it plays in North Carolina agriculture. The program includes a trip to a pretend farmers market, set up by staff in the recreation center's lobby, to teach the children about purchasing from farmers: a sampling of the products is often part of the experience.
Preschoolers also participate monthly in Little Tykes gardening classes at Mallard Creek. While this program has been going on for many years, last year's fall growing season debuted four preschool-sized garden tables, perfect for the preschoolers to dig in! Each class features seasonal planting and harvesting of vegetable varieties that can be grown in containers or small spaces and don't require a traditional in-ground garden. Children always receive seeds or plants to take home from the class to plant in their own gardens and also get to eat the vegetables they have helped to grow.
All the produce grown at Mallard Creek Recreation Center is either used in the programs or given away to preschoolers or senior citizens, who also participate in facility programs. Within programs such as Little Tykes Gardening, summer camp, or even the center's Senior Nutrition Program, the produce is used to expose participants to new vegetables and healthy ways to eat them. This is the third year Mallard Creek has quantified what it grows, measuring either the weight of what is produced or, in the case of greens, such as lettuce or spinach, the amount of quart-size bags produced and given to the community. To date, 144 pounds of vegetables and 210 quart-size bags of assorted greens have been produced, all grown in either raised table beds, containers or a hydroponics unit.
The B.A.A.R.N Program
Bringing Accessible Agriculture Recreationally Now (B.A.A.R.N), the program with the red barn for a logo, was created in 2017 to expose youth to market vegetable production in an urban setting. Participants are required to complete a business plan that includes a mission statement, logo, marketing plan and a budget. They also must research agriculture topics and careers in the field. The youth tour both urban and rural farms, as well as farmers markets, can volunteer at the county's farmers market, as well as make presentations to other youth, including 75 of their peers at their high school. At the county's Farm City Week Celebration in November, the program was represented as a poster presentation. This year, the opportunity to participate in program was offered to four teens.
The seeds of agriculture are just being planted within the Mecklenburg County Park and Recreation Department, but with the addition of these programs and initiatives, the future is looking green! Youth are learning where their food comes from, while county residents of all ages are learning how they can supplement their food needs by growing their own food.
Stephanie Frisbee is the Facility Manager for the Mallard Creek Recreation Center