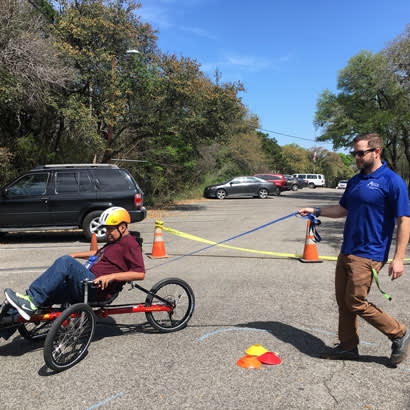 Community members in Austin, Texas, who have cognitive and physical disabilities, have a new way to stay healthy and active, with the addition of a Learn to Ride Adaptive program.
In 2017, thanks to a $1,000 microgrant from NRPA and the Lakeshore Foundation, the city's McBeth Recreation Center purchased an adaptive, recumbent tricycle to create this inclusive program.
The idea for the Learn to Ride Adaptive program originated from the goal to keep individuals with disabilities healthy and active. The program addresses two major barriers for learning how to ride adaptive cycles — a lack of local adaptive cycling resources and the cost of this equipment.
Now, Austin residents, regardless of socio-economic status, previous cycling experience and/or knowledge of adaptive equipment, have low-cost access to this adaptive equipment, not only at McBeth Recreation Center, but also at Zilker Park, The Ann and Roy Butler Hike and Bike Trail and other local Austin trails.
Using the recumbent trike, participants can build their confidence, strength and endurance in a safe and accessible environment. For most of them, it is their first successful experience on a cycle. The recumbent trike will be available to participants in the McBeth Adult Day Program, community members through drop-in reservation times and for outreach events, learn-to-ride clinics and social ride opportunities.
McBeth Recreation Center is one of four local agencies that received a $1,000 microgrant to create an innovative, inclusive feature or program, which is in line with the mission of NRPA's Parks for Inclusion initiative.
Click here for more information on Parks for Inclusion and the other micrograntees.

Maureen Acquino is NRPA's Program Specialist