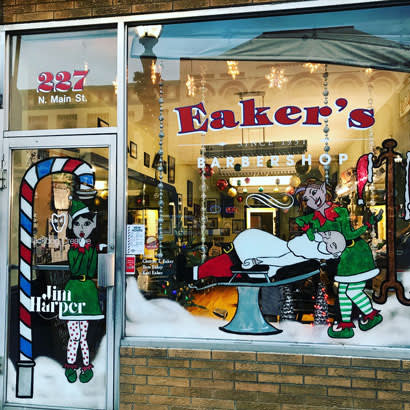 There's nothing quite like taking a stroll in your community's downtown area during the holiday season and feeling like a kid again as you bask in the glow of the lights and decorations. Since 2012, the Edwardsville [Illinois] Parks and Recreation Department has been hosting its "Downtown in December" to draw people in the community downtown to take in the holiday festivities, do some shopping and patronize the restaurants.
A popular part of the festivities is the annual Holiday Window Decorating Contest, which offers the city's downtown merchants the opportunity to decorate their store windows. They then can send a photo of their decorations to the Edwardsville Parks and Recreation Department to post on its Facebook page, in the hopes of gaining the most "likes" to win the contest.
"There really isn't a prize. It's just kind of bragging rights that they won the contest for the year," says Hayley Verheyen, recreational activities supervisor for the Edwardsville Parks and Recreation Department. "I think it's awesome that the businesses are so involved in this."
This year's bragging rights went to Eaker's Family Barbershop, which has been a Main Street business in Edwardsville since 1961. Its window decoration garnered 351 likes.
Not only does this contest provide no-cost advertising for the city's downtown businesses and generate traffic for them, but it also brings awareness to programs offered by the Edwardsville Parks and Recreation Department when people are viewing the Facebook page and casting their votes.
"It's a win-win situation for everyone," says Verheyen. "I just think about back in the day when businesses would decorate their windows, and it was a big deal to go downtown and see the displays. We wanted to bring that kind of feeling back to our downtown."
— Cort Jones, Associate Editor for Parks & Recreation magazine