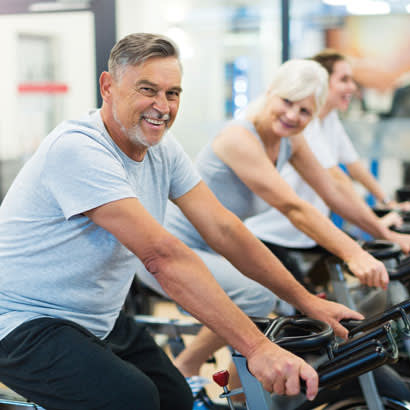 Cities are facing the dilemma of how best to provide services and facilities to resident older adults. Administrators and city councils recognize that as their residents age, the need for both active and passive recreation opportunities for older adults becomes more important, and the question then becomes how to deliver these services efficiently and cost effectively.
What is so challenging in dealing with the older adult population is the range of ages within this group. With older adults being defined from as young as 50, it is easy to see how there can be conflicts when you consider there could be a 40-year difference within an this age group. Something as simple as scheduling a band for a dance or a field trip will see vastly different requests from participants in their 50s or 60s, compared to those in their 70s or 80s.
A Standalone Center vs. Incorporating into an Existing Facility
Perhaps the one older adult issue that is more apparent than any other is when a decision must be made on whether a city should sponsor a standalone senior center or incorporate it into an existing community center. For many cities, this issue was already settled years ago when senior centers were the norm. These facilities often were housed in former school buildings that were donated or sold to cities and converted for senior use. Initially they were well-attended and used, but as time went on, many had to open their "memberships" to non-residents in order to survive. These older buildings were expensive to maintain and staff, but they provided rooms for classes, a cafeteria for snacks and lunches, and a gym and stage for senior dances.
As these older centers began to fail and become more expensive to operate, cities began considering either new facilities or incorporating the senior center into an existing facility — oftentimes, a recreation/community center.
Any new senior center under consideration today must be versatile to justify its use. Since older adults will use the facility mostly during weekdays, it can be rented for other uses, be it family events, such as showers or birthday parties, or by outside organizations, including independent classes such as yoga or dance instructions. These new facilities are significantly smaller than the former school buildings and much more efficient to operate. The issue then becomes — what is a city willing and able to afford.
The other alternative in this scenario is to add on to an existing community center or just incorporate older adult activities into the community center. There are several advantages to this. Many baby boomers shy away from the designation of "senior center." They consider themselves to be active adults and prefer to use the pools, tracks, gyms and exercise rooms. However, there's still a need for passive recreation so the need remains to offer classes, instructions and social activities. A bit of creative scheduling is required to accommodate everyone, but since most older adult use is during the weekday morning to afternoon time, it does have less of an impact on total members.
Community centers often offer special senior discount memberships and small fees for activities — the Silver Sneaker program has been a great impetus for older adults to join community/recreation centers. There is also a feeling of belonging to the community as older adults interact with their peers and other community members. And, this interaction highlights a key concept — social interaction is a vital part of the older adult experience, no matter the age. For older adults, seeing, being seen and interacting with children and families create a wonderful synergy.
Those cities that collaborated with school systems on a community center face a different dynamic. Having students use the facility during the school day creates some challenges with sharing of spaces and equipment with the older adults. Here again, a bit of creative scheduling and supervision is needed, and cities considering such a collaboration must be aware of this dynamic.
Whether the decision is to maintain a current facility, build a new one or incorporate a senior center into an existing community center, the important thing to remember is that this segment of the population is only going to continue to grow and will continue to provide challenges around how and where their services will be provided.
Carl Guarnieri is a Member of the Ohio Parks and Recreation Association and a Retired Recreation Director for the City of Middleburg Heights, Ohio.