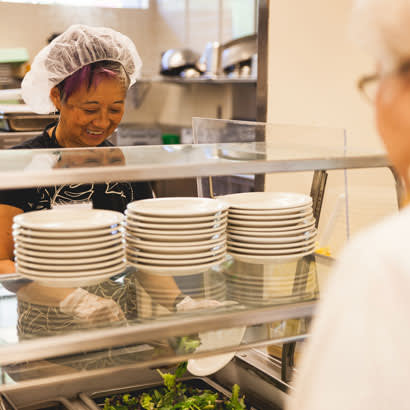 How often do you think about where your only hot and nutritious meal for the day will come from? For more than 15.8 percent (10.2 million) older Americans, this is increasingly a reality, which often forces difficult choices between healthy foods, paying utility bills and paying for medicine. Food insecurity — the inconsistent access to a sufficient quantity of affordable and nutritious foods for active, healthy living (U.S. Department of Agriculture) — is a growing crisis among all Americans, but has increased by more than 65 percent among older adults in the past 20 years. Currently, 1 in 6 older Americans are food insecure!
Research shows that older adults are at an even greater risk of food insecurity if they fall into any or all of the following categories:
Live alone
Lack transportation
Are widowed, divorced or separated
Have a form of disability
Are African-American or Hispanic/Latino
Have lower incomes
Live in Southern and Southwestern states and other areas referred to as "food deserts," where there is little to no access to fresh fruits, vegetables and other healthful whole foods
Having reliable access to healthy foods is an important determinant of healthy aging. Like the role of an active lifestyle, healthy eating improves psychological function, helps older adults maintain a healthy weight and reduces their risk of developing chronic conditions, such as diabetes, heart disease, stroke and hypertension.
How is parks and recreation part of the solution to combat food insecurity among older adults?
To combat food insecurity among older Americans, local park and recreation agencies across the country, like the City of Lincoln Parks and Recreation in Lincoln, Nebraska, which served more than 38,000 meals during the 2016/2017 fiscal year, have been offering a range of older adult nutrition programs. Many of these nutrition programs are offered five days a week, are either available at centers or through home-delivered services and may be funded through partnerships, the federal government, private donations or fundraising efforts. But more than just a healthy meal is offered, programs are a means for social engagement and volunteerism for older adults.
Through the City of Philadelphia Parks and Recreation, six older adult centers offer free lunches and nutrition education to approximately 800 older adults per day. "Our meals are funded by the Philadelphia Corporation for Aging and are prepared by a local catering company," says Barbara Gillette, director of older adult services in Philadelphia, Pennsylvania. "Our older adults appreciate that they are guaranteed a hot meal every day. Some have stated that this is their only hot meal for the day, as they are unable to prepare hot meals for themselves."
The City of Moraine Parks and Recreation, which serves a rural community in Moraine, Ohio, also offers a nutrition program, Mondays through Fridays, at the Gerhardt Civic Center, where 15–20 older adults are served each day. According to Program Coordinator Tiffany Osgood, "For most, this is their only meal choice." Meal prepping classes are also offered where local chefs demonstrate easy ways to prepare healthy meals.
Many agencies, like the City of Tualatin Parks and Recreation's Community Services Department in Tualatin, Oregon, also partner with their local Meals on Wheels People (MOWP), American Red Cross and other organizations to provide nutrition services. "I think the best part of my job is knowing I'm meeting a need, whether it is for a meal or just a conversation. It makes it all worth it," says Julio Lopez, center manager for MOWP at the Juanita Pohl Center. Through these partnerships, the Juanita Pohl Center serves more than 1,600 older adults per month at the center itself or through home-delivered services.
How can your agency get involved or expand current nutrition program services?
Following are a several ways to get your agency involved in or to expand your current nutrition program services:
Learn more about the Supplemental Nutrition Assistance Program (SNAP) Enrollment Initiative, a national program offered through the National Council on Aging, supports community-based organizations to assist older adults 60 years and older in applying for and enrolling in SNAP. While SNAP is the largest federal nutrition program, helping 4.8 million low-income older Americans access food and improve economic security and health, only 42 percent of those eligible participate in the program. Agencies can become enrollment centers through this initiative or simply provide educational materials about SNAP and its benefits. Click here for more information.
Apply to receive meal reimbursement through the Child and Adult Care Food Program (CACFP). This federally funded program, administered by the U.S. Department of Agriculture, provides meal reimbursement to qualifying organizations that serve nutritious meals to children in child care and afterschool programs, and to older adults participating in adult day care centers, like senior and community centers. While the prevalence of organizations and schools utilizing the child care component of CACFP for meal reimbursement is increasing every year, the adult day care component of the program is highly underutilized.
Learn more about the National Resource Center on Nutrition and Aging, hosted by Meals on Wheels America. The center is available to assist in the administration of the nutrition programs available through the U.S. Department of Health and Human Services. The center also provides training, technical assistance, as well as tools and resources that improve the service quality and sustainability of nutrition programs.
Partner with a local Meals on Wheels America provider. Meals on Wheels America is a national organization supporting more than 5,000 community-based older adult nutrition programs across the country. Local providers deliver nutritious meals, socialize with and perform safety checks on the older adults they serve. Find a provider near you.
For a comparison of the various nutrition programs your agency may be eligible to offer, click here.
Cheers to Healthy Aging in Parks, NRPA's campaign to improve and maintain the health and well-being of older adults by increasing opportunities for physical activity through parks and recreation.
References:
AARP Foundation (2015). Food insecurity among older adults.
Food Research and Action Center (FRAC). (2014). Combating food insecurity: Tools for helping older adults access SNAP.
National Council on Aging. (2017). SNAP and senior hunger facts.
United States Department of Agriculture (USDA). (2016). Household Food insecurity in the United States 2016.
Lesha Spencer-Brown, MPH, CPH, is NRPA's Health and Wellness Program Manager.