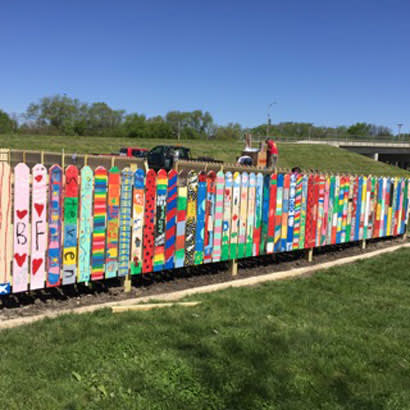 The Mega-10 Park, located in the center of Marshalltown, Iowa, was slated for a playground upgrade in 2017. The park sits directly on the 7-mile Linn Creek Recreational Trail and is adjacent to a Family Aquatic Center, a YMCA/YWCA, a softball complex and a skate park. It is also near downtown shopping and the Fisher Community Art Center.
In April 2016, I was hired as the park and recreation director and set about making the centrally located Mega-10 Park a showplace and destination park for Marshalltown. I wanted it to be engaging to local and out-of-town visitors who would come to spend time biking, hiking, using the skate park, playing on the new state-of-the-art playground equipment, discovering enchanting gardens and swimming at the aquatic center. We have since achieved that goal, and Mega-10 Park was recently selected by the Marshalltown Times-Republican newspaper as one of the town's best places to visit.
Marshall County is ranked 88 out of 99 counties for health overall in Iowa, and obesity and a lack of exercise, resulting in elevated levels of cardiovascular disease and diabetes, particularly observed in children, have been identified as two of its most pressing issues. The main challenge is to find a way to engage our diverse population in fun, inexpensive health and fitness options that they can do on their own or with friends. Our goal is to influence and empower people of all ages, abilities and demographics in Marshalltown and Marshall County to choose healthier lifestyles.
Marshalltown has a long association with the railroad industry, so a train theme was selected for the upgraded and new playground equipment. The new equipment includes a 130-foot-long seated gravity rail zipline (the first in Iowa); slides, climbers and activity stations; a small climbing wall; and a children's fitness area with numerous stations for physical activity. Also included is Biba, a mobile game system that blends digital play with active outdoor play and imaginative fun, prompting kids to do the physical activities available at this playground.
Kristin Titus, the city horticulturist, designed a Children's Discovery Garden for the park that not only includes activities for children, but also has plants in various areas to emphasize the five senses, a reading nook and little library, and a pergola with benches for reading or viewing the garden. A colorful fence that consists of almost 400 pickets, hand-painted by students at the Woodbury School, surrounds the garden. Anel Garza, the principal of Woodbury School and a park and recreation advisory board member, was kind enough to allow her students, under the direction of art teacher Maggie Parks, to design and paint the pickets for the fence. The "Paint a Picket Day" turned into a several weeks project as students added new colors and layers of paint.
A new garden was also planted around the historic caboose located in the park. Local National Association of Veteran and Retired Railway (NAVRR) workers collaborated with Strands, a local paint company, to select the appropriate colors to restore the luster of the beautiful old railroad car.
The Iowa Valley Leadership class of 2017 chose the Mega-10 Park upgrade as its class project for the year, and the 28 class participants raised funds, did the marketing, hosted a trivia night fundraiser and helped install the children's garden. Other fundraising included a $150,000 grant from the Martha Ellen Tye Foundation, City of Marshalltown CIP funding and $15,000 from the Mega-10 Park board of directors. The fundraising also included the sale of tan-colored pickets for $100 each. These pickets had wood-routed letters with a name or business on them, painted in green. There were more than 100 monetary donors for this project. Bench plaques and publicity in the local Chamber News brochure were provided for those who donated more than $1,000; donation board members got butterfly-shaped plaques. The huge outpouring of support for this project was astounding! In addition to the Woodbury School children, more than 400 people volunteered their time for this amazing upgrade to Mega-10 Park.
Anne Selness is the Director for Marshalltown Parks and Recreation.