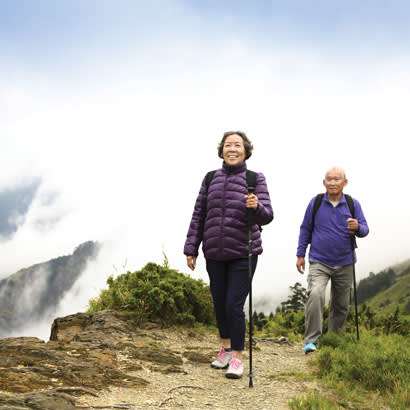 Overall, most older adults in the United States seem to be pretty upbeat about the prospect of aging in place in their respective communities. According to a report, titled "The United States of Aging," the majority of older adults plan to "age in place" (approximately 90 percent) and "of those individuals, 85 percent are confident in their abilities to do so without having to make significant modifications to their homes." This report was generated from a survey of some 2,250 older Americans, 60 years and older, that was conducted in 2012 by Penn Schoen Berland on behalf of the National Council on Aging, USA Today, WPBT2.org and United Healthcare.
However, there is a level of concern about the long-term outlook for their physical and financial health. According to the survey, "15 percent of seniors…say they are not confident their finances will last through their retirement years" and "one-third…feel financially unprepared for the costs of long-term care." In addition, "more than 25 percent of seniors in their 60s are not confident their communities will have the resources and services they need to lead a healthy and independent life…." This by no means is a monolithic group, and nearly two in 10 of those ages 70 and older believe they will be able to live independently without assistance from caregivers or community resources. The concern, across all the ages, is that their communities will not have the resources or services that are necessary for them to lead healthy, independent lives.
By 2030, the U.S. Census Bureau estimates that more than 20 percent of U.S. residents will be 65 or older. A Health Services Research paper, titled "The 2030 Problem: Caring for Aging Baby Boomers," published by the National Center for Biotechnology Information, states the following:
The real challenges of caring for the elderly in 2030 will involve: (1) making sure society develops payment and insurance systems for long-term care that work better than existing ones, (2) taking advantage of advances in medicine and behavioral health to keep the elderly as healthy and active as possible, (3) changing the way society organizes community services so that care is more accessible, and (4) altering the cultural view of aging to make sure all ages are integrated into the fabric of community life.
All this information points to some very real opportunities for parks and recreation. We are community hubs and connection points for our citizens who need services. In fact, the results from a recent "Healthy Aging in Parks & Recreation" survey, conducted by NRPA, show that parks and recreation is already a leading provider of services to this segment of the U.S. population, but there's room to do more. Based on the responses from 524 park and recreation professionals, the survey also shows that "the typical park and recreation agency devotes only 5 percent of its annual operating budget to older adult programming and outreach."
As is evident from the preceding data, keeping older Americans as healthy and active as possible as they age and ensuring the community services they need are organized in a centralized and accessible way are two elements critical for them to successfully age in place.
The Henderson, Nevada, Approach to Older Adult Care
In Henderson, Nevada, we love our older adults, and we have found that many partners in our community love them as well. Those familiar with the demographic know that older adults are interested in a wide variety of services, but many do not know where to turn for information or assistance. In response, the city of Henderson has focused the effort in its senior facility on providing personal and advanced information and referral support to the community.
Henderson's Heritage Park Senior Facility is a 29,667-square-foot facility, and among its many unique amenities is a separate, private office that was specifically created as a place to connect seniors with community services. The emphasis on and privacy of this separate space allows seniors of any circumstance to talk with a skilled employee or volunteer about their specific needs. During the conversation, staff assesses the needs of the older adult and evaluates support resources in the community. Examples of our referral opportunities include State of Nevada Health Insurance Assistance Program, Medicare Prescription Drug Plan Costs, senior housing assistance and utility assistance.
In addition to referrals, this center strives to be a place of community where needs are met through the following services:
Congregate meals — Lunch is provided daily to seniors through state and federally funded grants coordinated by the State of Nevada's Aging and Disability Services Division federal grants.
Homebound Meals on Wheels — Seven meals, funded through the aforementioned program, are provided five times per week to homebound seniors.
Meals on Wheels for Pets — Community support provides pet food supplies for homebound seniors who have pets. Prior to the program, many who were receiving meals were sharing those meals with their pets.
Meals on Wheels Book Buddies — In collaboration with the Henderson District Public Libraries and local nonprofit, the Henderson Seniors' Auxiliary, volunteers are connected with homebound seniors. These volunteers check out books for the seniors. This increases the human connection and provides those who are homebound with mentally stimulating outlets to stay sharp, engaged and entertained.
Commodity Supplemental Food Program — Seniors who qualify receive food items once per month. While these are not complete meals, they do include foods that provide nutrients typically lacking in the diets of many seniors.
Mini Mart — This is a miniaturized version of the local market that is available at our senior center, and is provided by the Henderson Seniors' Auxiliary, local 501c3 nonprofit. Volunteers find coupons and deals and pass the savings along to seniors in need. Many of the seniors are able to access food staples for a fraction of the cost at the corner market.
By exploring ways to partner with other organizations and agencies that already cater to older adults, the city of Henderson has been able to offer up its facility and services and, essentially, become a clearinghouse for our older adult population.
If you haven't already begun to do so, I hope you will consider how your agency can become a centralized connection point for older adults. In Henderson, Nevada, the parks and rec department has been fortunate to have the highest caliber part-time staff and volunteers who have made this service their personal commitment to excellence.
Refrences:
1. The United States of Aging survey
2. The 2030 Problem: Caring for Aging Baby Boomers
3. An Aging Nation: The Older Population in the United States Population Estimates and Projections
Corey Clark is the Recreation Manager for the City of Henderson, Public Works - Parks and Recreation Department.