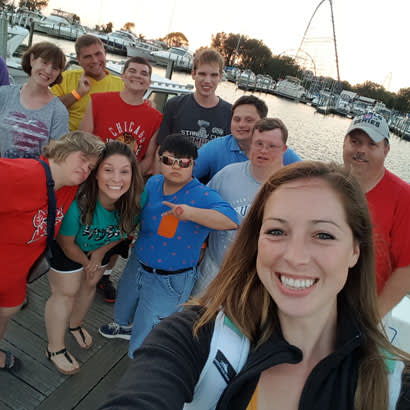 It's 3 a.m. and the only visible light is coming from overhead parking lot lights. But, the smiles in the faces of the 18 individuals standing in that lot could light up the entire early-morning sky. The air hums with excitement as old friends, and new ones, greet each other. It's the start of a seven-day/six-night spring break adventure! This could be any trip offered by any park and recreation agency. However, it is one of the six trips for adults with intellectual and/or physical disabilities that's offered annually by the Western DuPage Special Recreation Association (WDSRA).
Lisa Barski, a seasoned traveler with almost two-dozen WDSRA trips under her belt, has been to several vacation destinations, including the Bahamas and Jamaica, Nashville, South Padre Island and Disney World. She is a frequent flyer, has been on road trips and has even cruised the high seas. Her parents joke that she has traveled more than they have. Lisa is a 36-year-old adult with intellectual disabilities.
For Lisa, and others like her, these trips are more than a vacation. They are an opportunity to connect to the world around them and share in the same type of leisure experiences that you and I enjoy. They can also be the catalyst that moves them into the next stage of their development. By bolstering confidence and decision-making skills, an adult with cognitive and physical disabilities can often realize an increase to their level of independence. In addition, a weeklong trip can spur developments in growth that lead to success in other areas of their lives.
Grant Camper's mom, Joan, attributes part of Grant's ability to land a job with UPS this past fall to his frequent 'tripping' with WDSRA. "I see Grant make significant progress after every trip," says Camper. Grant, who is 24 years old and on the autism spectrum, has also been on more than two-dozen WDSRA trips.
Encouraging Growth and Independence
Just like for you and me, traveling can take us on new and exciting journeys. There are new cultures to learn about, foods to try as well as history and adventures to be discovered. It could be learning about family traditions in Mexico, tasting jerk chicken or curry goat in Jamaica, or swimming with the dolphins in the Caribbean.
"For adults with intellectual and/or physical disabilities, it's more than a vacation," explains Jorie Meyer, WDSRA program manager, who oversees every trip. "Trips offer a unique opportunity for growth and independence. It means learning to communicate with a roommate who wants to stay up later than you; dealing with disappointment when the restaurant chosen isn't your choice; managing your schedule so you are on time and not holding up the group. It means speaking up when things are making you uncomfortable; trying something new because your 'favorites' aren't available; and being part of the group instead of sitting on the sidelines. Family members are not there to negotiate for them so they have to work things out for themselves," Meyer continues.
Trained staff help travelers deal with these situations by offering encouragement on how to work through each new situation and offer solutions broken down to each person's ability level. Over time, each new problem they learn to solve gives them the tools they need to do the same in other parts of their lives.
Many individuals with cognitive and physical disabilities struggle with changes in their routine. Meyer says, "The very nature of being on a trip means that the routine they have come to depend on is going to be upset. Learning to work with changes to their routine encourages flexibility." Like many of us who like our routines, sometimes it is easier to deal with the changes when on vacation because of the exciting distractions. Participants learn that a change in routine is OK. This lesson can also carry over when they get home and possibly into a job where routines are consistently changing.
Ditching the Comfort Zone
One of the most comforting aspects of a WDSRA trip for families is that staff members are already familiar with everyone. They have gotten to know the individuals in other programs, are familiar with their physical and cognitive abilities, and have even built up personal relationships.
To give everyone the successful adventure they sign up for, staff plan the necessary individual accommodations. They look at the physical demands. For instance, an adult with cerebral palsy may need a shorter day than the rest of the group. They look at the cognitive abilities. Grouping higher- and lower-functioning individuals separately allows both groups to enjoy their time at their own ability level.
Then, there is the delicate balance of behavior management and encouragement. These are perhaps the two most important keys in making the trip enjoyable and successful for everyone. Be cause staff know each individual, they can watch for and manage the various behaviors that can arise among a group of 18. They also want to encourage everyone to participate in the activities. Knowing what type of encouragement each person responds to best and how far to push him or her outside of his or her comfort zones only comes because of those relationships.
"One of the highlights of our Caribbean trip was to swim with stingrays," recalls Meyer. "One participant was adamant about not doing it. After watching her friends and the fun they were having, staff were able to coax her into the water. She eventually found herself among the stingrays, laughing and smiling the entire time. It was the highlight of her trip!"
The ability to be a little more adventurous is a huge benefit Meyer sees participants come back with. "They learn to try something new and find out they don't have to stick to their routine all the time. They begin to experience another level of success that they can take with them in everything else they do. They also realize that they don't always need their parents nearby to be successful. The accomplishments they have on the trip are theirs alone," she explains.
Relishing Family Respite
Another important aspect to each trip is the impact it can have on the family. Family members are often "on duty 24/7" as caregivers. They are the family chauffeur, cook, teacher, playmate, etc., and respite comes in short, brief bursts. But, when their adult traveler can go on an overnight, three-day or seven-day trip, it offers a much-needed break for everyone.
Camper looks forward to each trip Grant takes because it is the only time she is "off duty." She doesn't have to manage Grant's schedule or drive him to programs or work. For a few wonderful days, she can enjoy time to herself. Nada and Chris, Lisa's parents, are planning to enjoy a vacation of their own while Lisa is on her next trip. It will be the first time in a long time they have been able to do that.
Getting Started
Can you offer a trips program to your residents with cognitive and physical disabilities? If social equity and inclusion for all your residents is a goal, then moving toward these types of offerings can make a huge difference in the way community members with cognitive and physical disabilities are able to recreate. While not as easy as simply adding another trip to your program calendar, it can be done with a few considerations.
Hiring Knowledgeable Staff – Hiring a seasoned staff member with an extensive background in working with people with a wide range of intellectual and/or physical disabilities in a community setting is a must. They should be comfortable with the day-to-day operations of vacationing with people with cognitive and physical disabilities, know how to manage a range of behaviors and be experienced in handling any medical situation that may arise. They will need to evaluate and prepare accommodations for each person with the goal of giving everyone the same exceptional experience.
Building the Trust Factor – How can parents come to entrust their loved one on your trip like they do with WDSRA? Start by offering smaller programs. It could be anything you are currently offering now but with accommodations made for people with cognitive and physical disabilities. The benefit is two-fold. First, you will gain the knowledge and experience in programming for this segment of the community. Give yourself time to understand and learn what families need and expect so you can deliver the same quality programming you are already delivering to other residents. Second, you will begin to develop a relationship with your residents with cognitive and physical disabilities. It may take some time, but you can reach residents not currently being served and turn them into lifelong customers.
Adapting Planning and Logistics – When beginning to plan your first trip for adults with cognitive and physical disabilities, be sure to reach out to experienced professionals like those at WDSRA. They can help you navigate some of the challenges that come with selecting transportation, lodging and excursion options. For instance, how to negotiate early boarding and sitting as a group because it may take longer than usual to get everyone situated; coordinating separate security clearances since waiting in a TSA line can be extremely difficult for some participants; and making sure lodging management understands the needs of your group and are amenable to hosting a group with a range of disabilities.
When researching excursions, experienced professionals can help you keep safety and ability issues top of mind. For instance, excursions can be troublesome because some travelers may not be able to successfully wait for any length of time. They can guide you in negotiating a way to bypass long lines or "no backpack" rules because of the varying medications to be distributed during the day and paperwork that always needs to be at hand. They can also lend guidance on how to manage the abundance of meal restrictions and make sure accessibility is never an issue.
"Start small — maybe with a local overnight trip," suggests Meyer. This can make it easier for your planning, your first-time "trippers" and the family entrusting their loved one to you for the first time."
If you would like to explore the possibility of offering programs for your residents with cognitive and physical disabilities, contact Jorie Meyer at 630.681.0962.
SIDEBAR
Special Recreation Associations Funding
Special Recreation Associations can provide more programs with a greater range of services to individuals with disabilities than a single community. By pooling residents and funding, more programs that meet the needs of unique individuals can be offered. This includes the ability to provide programs for target age groups and ability levels.
In Illinois in the early 1970s, legislation passed that allowed the creation of Special Recreation Associations. With its large number of separate taxing districts, including separate park, fire, library, township and counties, just to name a few, Illinois is unique in this type of funding.
This funding structure allowed communities and park districts to develop a joint agreement or cooperative to serve individuals with cognitive and physical disabilities. Funding for these cooperatives comes from taxes levied by its member agencies.
Special Recreation Associations also help individuals take part in their local agency programs. Qualified staff assess the resident's abilities and either provide staff training, adaptive equipment, or a one-on-one assistance. The goal is to give every resident the choice in how to participate, thereby giving every individual the best recreation experience possible.
Currently, there are 33 Special Recreation Associations in Illinois, serving 210 communities.
Sherry Manschot is the Marketing/PR Manager at the Western DuPage Special Recreation Association.