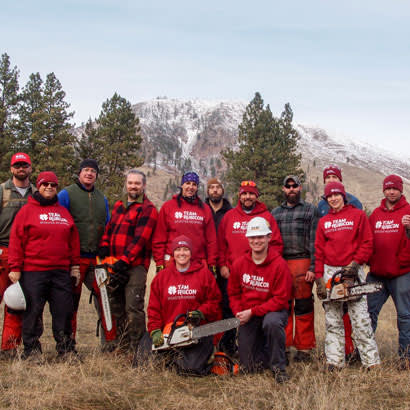 American stories, novels and folklore contain many tales of soldiers returning home to the land. The literary devices, descriptions and metaphors in these tales symbolize the land as a place of healing, a sentiment shared across cultures. Land trusts too paint their public lands as places of healing, livelihoods and a tribute to the men and women who have served in the military.
Here are two stories that demonstrate how land trusts are using their mission of land conservation to serve and engage veterans in a way that is meaningful to them and that builds long-term relationships.
Forest Management and Skill Building
Partnering with veterans groups, Team Red, White & Blue (RWB) and Team Rubicon, the accredited Five Valleys Land Trust in Montana tackles a variety of forest management work on conserved lands. Team RWB enriches the lives of America's veterans by connecting them to their community through physical and social activity. Team Rubicon unites the skills and experiences of military veterans with first responders to rapidly deploy emergency response teams.
These veterans groups help Five Valleys Land Trust complete its stewardship goals, while connecting the veterans to the land, to each other and to the community. Team RWB hand-piled all the brush from felled trees to reduce forest fire danger, and Team Rubicon cleared downed trees and thinned standing timber to improve forest health.
"Partnering with veterans groups has been a win-win for everybody. Conservation lands provide the perfect space for veterans to apply their skills while completing much-needed stewardship work on the land," says Amber Sherrill, executive director of Five Valleys Land Trust.
This stewardship work provides crews with the opportunity to improve their chainsaw techniques through their Emergency Response Saw Training programs. The experience allows for training needed to effectively respond to natural disasters around the country. Beyond disaster relief, partnerships with veterans can help them find a renewed sense of purpose when they return to civilian life.
John Lind of Team Rubicon adds: "Working with the land gives many veterans a purpose. They can be part of their community."
Anderson Woods Nature Preserve
When the Anderson Woods Nature Preserve opened near Lake Michigan in 2015, the dedication ceremony was a perfect reflection of the project and the community. Families walked through glades lush with blueberry and wintergreen. People with mobility and vision challenges navigated the universal access trail through the towering oak and white pine forest.
From the outset, the Land Conservancy of West Michigan was interested in creating a universal access trail. The fact that the site was entirely flat meant the idea could work. Staff members met with the Fruitland Township Parks and Recreation Commission, and they learned that very few recreational opportunities existed in the area for people with disabilities. The Anderson property could provide a much-needed solution.
When first exploring the idea, the Land Conservancy called Disability Network West Michigan, a statewide organization that was thrilled to participate. "This was a unique project — different from other Americans with Disabilities Act (ADA) trail projects — because we got the veterans involved in designing the trail so that it met their needs," says Vaughn Maatman, the Land Conservancy's former director.
Steven Knox, adjutant for the Disabled American Veterans, Chapter 11 in Muskegon and veterans' counselor at Disability Network West Michigan, wanted to get veterans involved with trail construction. "Once we had begun discussions, I realized this was something veterans could do. If they were going out to walk, they could go out to work. And, because of what I do, I had a lot of people at my disposal." Indeed, Knox had a group of about 20 veterans with disabilities who he tapped to mark off trails, clear brush and help in a variety of other ways.
Synergistic Learning
Collaborating with members of the disabled community to connect with the land is something that land trusts could do more of that fits within their current missions. Veterans will likely embrace such a partnership. According to Knox, "There are a multitude of veterans who would help with ADA trail-building projects, especially to help out other veterans."
The Anderson Woods project illustrates the kind of synergistic learning that occurs when different organizations come together around a shared goal. As the groups brainstormed about how to build the trail, the veterans suggested calling an asphalt company to create a smooth, paved surface. Land conservancy staff explained that a petroleum-based surface could not be put down in an ecologically sensitive area. The solution was a substance called "crusher fines": crushed rock or limestone screenings that compact well and provide good drainage. This material is suitable for wheelchairs and strollers on an outdoor trail. This kind of teamwork taught the veterans about conservation, and it taught the land conservancy about the disability community and its needs.
"It was a learning project," Maatman says. "We were engaging with folks who had a whole different perspective than we had ever thought about before, a perspective that included accommodating ambulatory challenges, vision impairments and families with children in strollers."
One of Maatman's favorite memories from the Anderson Woods Nature Preserve dedication day is encountering a couple of veterans in their motorcycle garb, standing by a bench that they had helped build in a garage. They were explaining to trail users how and why the bench had been constructed and who did the work. "It was a contribution they brought to the project, and they were proud of it." Maatman shares. "It was the result of a few vets thinking about what they wanted so they and their friends could enjoy that trail. The Land Conservancy's vision needed to be shaped by the veterans' vision and excitement. We needed to make room for their contribution," he says.
Land trusts nationwide are working with and serving the veterans in their communities. They are forming partnerships that benefit the land, the land trust, veterans and their communities. "The Anderson Woods project happened and was successful because some people came together around an idea that animated them, and they were willing to learn from each other," says Maatman.
Rob Aldrich is the Community Conservation Director for the Land Trust Alliance.