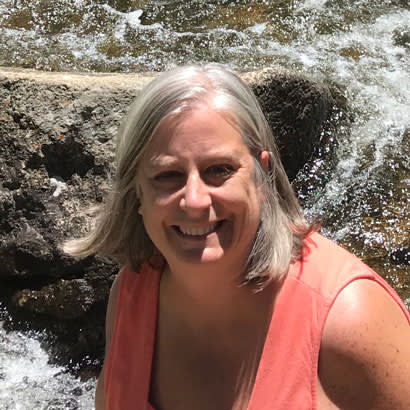 During her childhood, Patricia Polzin didn't mind being called a tomboy. The Illinois native grew up the youngest of eight children in a neighborhood where she and her siblings would head outside in the morning and would not return home until their mom called them inside for dinner. After the meal, they would, often, go back outside to catch fireflies or play a variety of games.
"We spent our days playing in local parks, neighboring fields and our yards. I fell in love with the outdoors, a variety of sports and nature at a very early age," recalls Polzin. "I actively played volleyball and softball, but basketball was my real love — and I played it every day I could."
Parks & Recreation magazine recently spoke with Polzin, executive director of Crete Park District in Illinois, to learn what drives her passion for parks and recreation, how her agency uses partnerships to offer indoor fitness programs, and what she does to stay fit.
Parks & Recreation: How did you come to choose parks and recreation as your career path?
Patricia Polzin: In 1984, when I entered Western Illinois University, I said, 'Parks and recreation: that's where I want to go.' So, I declared it as my major; however, I switched after the first semester to physical education, with an emphasis in athletic training. I felt at the time, athletic training would be my career.
After graduating with a Bachelor of Science in Physical Education in 1988, I taught for four years in the private school system in the south suburbs of Chicago. I soon realized that I wanted to do more than teach physical education; it was my desire to provide recreation activities to all ages, including adults and seniors. In parks and recreation, people are signing up for the programs because they want to participate, want to learn new things and want to experience everything that parks and rec has to offer.
In 1992, I was hired as a recreation superintendent for Dolton Park District in Dolton, Illinois. This launched my career in parks and recreation, and in 1993, I became executive director of Dolton Park District. I relied on many mentors in the field to help me with this transition to executive director. In July of 1998, I became the executive director of Crete Park District in Crete, Illinois, a village that my husband and I would call home and raise our sons for many years. I am blessed to have a fantastic board of commissioners and wonderful, hardworking staff.
One of the wonderful aspects of this field is that others love to share experiences, and they are there to help each other succeed. I could call other directors for advice and guidance, and they would gladly take time out of their day to help me. Now, I have young professionals calling me for advice, and I enjoy that — as they will become the new leaders in our industry.
P&R: How does your agency promote indoor fitness within the community?
Polzin: The Crete Park District does not have a recreation or fitness center; however, we do have a cooperative agreement with our local school district and Governor's State University in University Park, to offer a walking club and indoor swimming classes in the evening. This created an environment for individuals to walk, swim and socialize; at the same time, swimming is fantastic fitness for all ages plus a life-safety skill. I am proud to offer both activities to our community, utilizing facilities that are already existing.
What's more, we purchased a storefront, called Creek Park on Main, for a dance studio because interest in our ballet program has soared in our community. We have more than 150 students taking lessons and learning the fine art of ballet. We are also able to provide yoga, tai chi, karate, Zumba, qigong and gymnastics classes in our multipurpose room, along with sports classes that are offered in our local schools. Our agency promotes family fun and community togetherness.
P&R: How do you make sure that your programs appeal to all age groups?
Polzin: Programming for all age groups is always a challenge in parks and recreation. It seems easier to program for children from ages 5–12. This is when the world is opened up to all activities in their minds, and it's the introduction time to explore sports, arts and crafts. Parents want their children to have a variety of options, and the local park district is a perfect place to explore all options. Classes or activities are usually the first exposure some have to individual sports or classes.
The challenge is to find programs for teenagers that they will participate in without being over-supervised but still being engaging and fun. We offer programs for this age group, such as unplug challenges and scavenger hunts. The teenage group wants to be heard, and we have even had teen panels formed to help find programs that appeal to them. The seniors are our fastest-growing population that we need to program for, and they want to remain or re-achieve their health and fitness.
Offering exercise classes with qualified instructors is a must. Offering new classes, such as pickle ball and athletics, is also key to keeping our adults/seniors active. Without proper facilities, we do face challenges with all age categories; however, we keep trying and keep offering programming — sometimes, we hit just the right activity that everyone loves. And, sometimes, we offer the same programs at different times of the day or week until we find the right fit.
P&R: What activities do you enjoy doing to maintain your own health and well-being?
Polzin: In my own spare time, my first love is my family. I have been married to my best friend, Mike, for 29-plus years and we have two sons, Tom and Mike — both of whom I am very proud. In my perfect world, I would have a fishing pole in the water sitting in a boat or on a shoreline, enjoying the sounds of the waves splashing against a bank or a stream flowing over rocks. Maintaining my own health is always the battle of eating healthy and getting exercise, which I typically get in the pool doing laps or water fitness.
I also enjoy traveling, hiking and exploring new areas. My other guilty pleasure is in Orlando, Florida, where Mickey Mouse and I have become very close friends. To be honest, it's Eeyore who really steals my heart. When asked to do this interview, I was humbled and honored at the same time. As Eeyore would say, "Thanks for noticing me."
Vitisia Paynich is a Freelance Writer for Parks & Recreation magazine