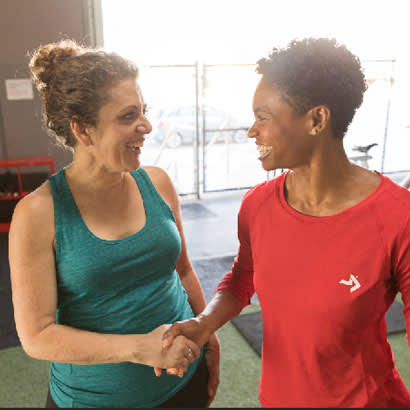 Over the past three decades, the United States has seen overweight, obesity and chronic disease rates reach record highs. We know that nutrition and physical activity are two major factors that can be utilized to help treat, reduce and prevent these numbers from rising and, ultimately, will play a key role in reversing the trends. Yet, current data confirms that physical inactivity has been on the rise for several years.
Research shows that the number of children who participate in at least one hour of physical activity per day has dropped to 26 percent and only 45 percent of adults are getting the amount of daily physical activity needed to achieve the associated health benefits. In addition, when surveyed, 23 percent of adults reported they had not taken part in any physical activity or exercise aside from their regular job in the past 30 days.
Local park and recreation agencies have become critical providers of health and wellness activities, serving a wide variety of demographics throughout the nation. They offer myriad opportunities for residents to engage in physical activity, ranging from individual use of amenities like trails, swimming pools and tennis courts, to structured programming, such as group exercise classes, youth and adult sports leagues and martial arts classes. They also are focusing on improving access to healthy foods and promoting healthy eating for their community members, teaching new generations to enjoy and protect nature and working to ensure that children have access to healthy and active out-of-school-time programs, regardless of their economic status.
Community Fitness Programming
Recreation and park agencies have a long history of employing exercise professionals in a variety of ways. Most agencies offer group exercise classes as part of their programming palette and, in recent years, have begun offering the services of personal trainers. Most often this service is offered at department fitness centers, but agencies without such facilities can still offer their residents the opportunity to work with personal trainers in other settings.
Health coaches work face-to-face with individuals in a wide variety of settings, including at fitness and community centers. They also often incorporate technology in the form of either delayed or real-time communication; for example, using the phone, internet, email, video conferencing and social media.
While these exercise professionals are instrumental to recreation and park programming, there is a "new kid on the block" — health coaches. Health coaches are individuals who are passionate about health and wellness who actively collaborate with individuals and groups, assisting them in unlocking their full potential to live healthy lifestyles. From managing stress and setting goals, to eating healthy and regularly engaging in physical activity, the health coach serves the unique role of empowering people to take ownership of their own health and to discover their own motivation for lasting behavior change. These professionals can help recreation and park agencies continue to grow their health and wellness programming and increase opportunities for community members to have easy access to behavior-change expertise around developing healthy lifestyles.
In the face of increasing lifestyle-related diseases, health coaching has the potential to have a great impact. Research shows that adopting sustainable healthy behavior patterns, including regular physical activity and sound nutrition, is key to addressing the obesity epidemic and other lifestyle-related medical conditions. Health coaches are uniquely poised to serve as guides for that sustainable change, because of their knowledge and skills in helping individuals to preserve and/or restore their health and enhance their overall wellness.
With expertise in delivering individualized treatment based on a non-judgmental, personal relationship, coupled with expertise in behavior change, fitness and nutrition, health coaches can serve as invaluable members of a healthcare team, supporting both physicians and patients in increasing quality of care while decreasing costs. "People don't just need an exercise program or a diet plan. They need an expert who can guide and empower them. They need someone who can connect with them in a way that makes them believe they have the ability to make meaningful and lasting changes," says Cedric Bryant, president and chief science officer at the American Council on Exercise.
Professional Credibility for an Evolving Field
One of the most important decisions a park and recreation agency must make when offering health coaching services is what credentials they will require for their coaches. Currently, there is no regulation for health coaches, but several certifications are available, ranging in title from health coach to wellness coach. The reality, though, is that not all offer the same level of professional credibility that is imperative in this evolving field.
Professional certifications should obtain third-party validation from an independent organization that explicitly accredits certification programs. The American Council on Exercise (ACE), along with other leaders in the health and fitness industry (including other fitness certification organizations), believes that individuals who are compensated in their role as a coach should attain a nationally accredited professional certification. This can include a health or wellness certification accredited by the National Commission for Certifying Agencies (NCCA) or the International Coach Federation (ICF).
The NCCA has reviewed and accredited certifications for most allied healthcare professions, including credentials for registered dietitians, athletic trainers, nurse practitioners, and pharmacists, among many others.
Hiring health coaches whose certifications demonstrate the highest standard of competence for a coaching professional can help the park and recreation agency ensure coaches have mastered the foundational principles necessary to empower people for positive, long-term, healthy change.
Sheila Franklin is Director of Government Relations for the American Council on Exercise.
References
Mitchell, Nia et al. "Obesity: Overview of an Epidemic." The Psychiatric Clinics of North America 34.4 (2011): 717–732. PMC. Web.
National Center for Chronic Disease Prevention and Health Promotion, Division of Diabetes Translation. "Diabetes Data and Statistics." Centers for Disease Control and Prevention. (2018.) Web.
Trust for Americas Health. State of Obesity: Better Policies for a Healthier America 2017. Trust for Americas Health website. Published August 2017. Accessed July 18, 2018.
The partnership to fight chronic disease (2009). Almanac of Chronic Disease. Retrieved February 2, 2015.
Wolever, R.Q. et al. (2010). Integrative health coaching for patients with type 2 diabetes: A randomized clinical trial. The Diabetes Educator, 36, 4, 629–639.