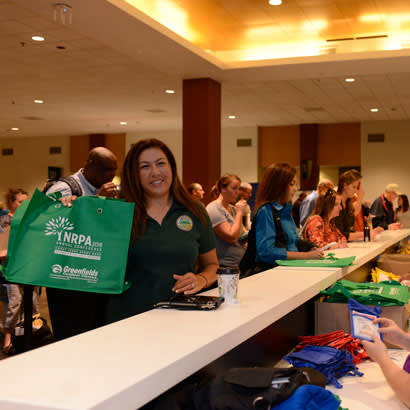 Whether you are looking for advice on financial decisions or which Netflix series to binge watch next, tips from an experienced insider can make all the difference. That's why we have pulled together these insider tips to help you have an amazing experience at the 2018 NRPA Annual Conference, taking place September 25–27 in Indianapolis, Indiana.
It Pays to Be Early
With 8,000 people in attendance, it's inevitable that lines will form and rooms will fill. To avoid these traffic jams, make sure you get to the most popular events early. You can pick up your attendee badge and materials on Sunday from noon to 5 p.m. and Monday from 7:30 a.m. to 5 p.m. to avoid the lines on Tuesday morning. The Opening General Session fills up fast, so make sure you get to your seat early. This year, the first 1,500 people to enter the exhibit hall when it opens on Tuesday and Wednesday, will receive a special giveaway. The Speed Sessions are very popular and the rooms can fill fast. Make sure you have your schedule planned ahead of time to make it easy to get to all of these early.
Stay Active and Healthy
Traveling can make it difficult to stay on your regular exercise schedule, but during your time in Indy, you will have plenty of opportunities to get active and energized. This year, you can run or walk in the popular 5K race, paddle through Indy's Downtown Central Canal, attend an adventure outing at the Eagle Creek canopy course, play in the annual golf tournament, or sign up for a mobile workshop to get out of the classroom and follow a speaker on an educational journey. So, don't forget to bring your athletic gear — you have no excuses to not get active.
No Need to Get Hangry
A hungry conference attendee is not a happy conference attendee. That's why there will be plenty of opportunities to eat during your time at the conference. Indianapolis-inspired food and drinks will be served at the Opening Reception on Tuesday, September 25. At the Exhibit Hall Luncheon on Wednesday, September 26, you can grab lunch while you explore all the amazing vendors. Multiple concession stands will be open in the exhibit hall each day. Indianapolis prides itself on walkability, with more than 250 dining options located in downtown near the convention center.
Navigate the Conference Like a Pro
The best way to prepare for the conference is with the NRPA Conference Mobile app. Browse the sessions and speakers, create your custom itinerary, start connecting with other attendees, mark the exhibitors you want to visit and read all the conference highlights — all in the palm of your hand. Every year, attendees rank the NRPA app as a highly valuable resource for navigating the conference. This year, it will be better than ever.
Stay Charged
Don't forget a portable phone charger so you have enough juice to use the app all day long!