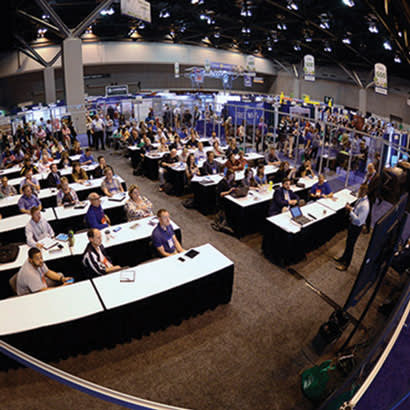 Park and recreation directors and leaders have to stay at the top of their game and provide their staff and community with innovative solutions. As a leader, you are aware of how important that is and how hard it can be to find the inspirational resources you need to stay ahead of the curve. So, for the 2018 NRPA Annual Conference, we've brought together some of the top minds in the industry and beyond to engage participants in discussion and exploration of some cutting-edge issues and challenges facing agencies throughout the country. With plenty of opportunity for conversation, these sessions are designed to get the entire room involved. Following are descriptions of a few of the close to a dozen sessions that will be offered:
Parks for Inclusion: Working Toward Health Equity for Our Most Vulnerable Populations
NRPA's Parks for Inclusion initiative was launched one year ago with the goal of improving health-and-wellness opportunities for our most vulnerable populations. With an emphasis on reaching racial and ethnic minorities, those who identify as LGBTQ, individuals and caregivers of persons with a disability and New Americans (refugees and immigrants), NRPA is working to reach 1 million individuals by September 2020. With a health equity lens, many agencies are already leading the way toward increased inclusive efforts, engaging community members from all walks of life to reach those most vulnerable, and addressing significant health disparities and the social determinants of health. Hear from agencies and organizations that are using their park and recreation services to establish more inclusive, equitable and just communities through policy, programming, leadership and engagement.
Speakers: Art Hendricks, Portland Parks & Recreation; Autumn Saxton-Ross, Ph.D. (Moderator), NatureBridge; James Rimmer, Ph.D., Lakeshore Foundation - UAB; and Jules Posadas, Seattle Parks and Recreation Department
Tackling Substance Use in Parks for the Safety of Staff, Youth and the Community as a Whole
As the substance misuse crisis in this country worsens, we are finding that in some communities, park and recreation staff are acting as first responders to individuals using and overdosing in parks. Agencies are needing to create a safe and effective process for removing and disposing of needles and other drug paraphernalia found in their parks and may also be providing support services at their recreation centers for families impacted by addiction. Join us for a candid conversation among park directors as to the role we feel park and recreation agencies can and should be playing in tackling substance use in parks, while also taking into consideration the very serious concerns of liability and safety for everyone involved. We will also be discussing recent policy decisions being made in cities across the country that impact how substance use in public spaces will be handled.
Speakers: Mark Focht, Julien Scott, Brian Zimmerman
Continuing Education Units (CEUs) will be offered as part of the Directors' Corner and attendance will be limited to 120 people, available on a first-come, first-served basis. Visit the NRPA Annual Conference site for a complete listing of and schedule for the Director's Corner education sessions.