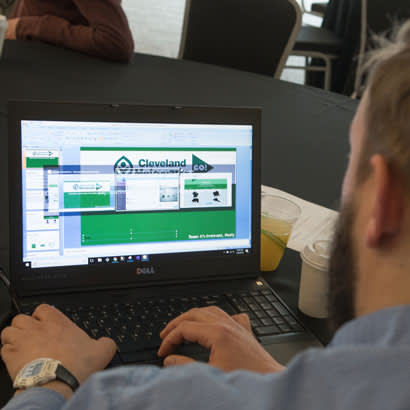 During a hackathon, the collective brain power and creativity of technologically oriented minds are applied against challenges that traditional partners and vendors find difficult or cost-prohibitive to remedy. With that in mind, this past April, Cleveland Metroparks formed a Hackathon committee and reached out to local schools, colleges, coding boot camps, informal tech clubs and other community organizations to find participants, who could either register as a team or individually, for its inaugural hackathon.
Hackathon participants are usually tech/science students, who form teams, normally of four people, to solve one or more problems provided by the host organization. Solutions may range from websites and mobile apps to drones or smart devices.
Outreach was done with a variety of methods, which included targeted emails to college professors in science or info-tech fields, flyers posted at schools and making phone calls, attending tech meet-up groups around the city and working with local partners, such as IT organizations and specific city and county departments. Traditionally, hackathons take place over a weekend with participants sleeping overnight at the location. However, the Cleveland Metroparks Hackathon schedule provided teams with several weeks to work on their projects. The kickoff event was held at the Watershed Stewardship Center on Friday, April 6, and the presentation and awards ceremony was held on Sunday, April 29 at the Cleveland Metroparks Zoo.
The members of the Cleveland Metroparks Hackathon committee included resident experts in natural resources, education and health, and other key staff. These individuals defined specific problem statements aligned to the organization's strategic plan and created four mission-related tracks — conservation, nature education, health & fitness and an open track challenges — from which the Hackathon teams could choose. A mentor or subject-matter expert from Cleveland Metroparks was assigned to each track to assist the teams in their brainstorming and development processes.
At the April 29 ceremony, each team was required to provide a one-page executive summary about its project and a 5- to 10-minute presentation. The judges — including the Cuyahoga County's chief transformation officer, the director of the Cleveland Water Alliance, sponsors and Cleveland Metroparks employees — used a weighted scoring system to identify the winner. The projects presented at the awards ceremony were quite varied, but all were complementary to Cleveland Metroparks' mission. They included:
an Alexa-enabled "Ask A Naturalist" mobile app to help patrons identify plants and animals they might encounter in the parks by connecting to a naturalist at a Nature Center
a low-cost sensor that collects soil and moisture data to analyze water flow and erosion, and relays that data back to a dashboard
a scavenger hunt mobile app
an interactive map that provides telemetry regarding migratory bird paths
The winning project was a website, where panoramic images are linked to a virtual trail tour that highlights historical and natural resource information. It includes video, images and other graphical data for education, information and wayfinding.
Some projects were so promising that Cleveland Metroparks reached out to two of the teams to discuss making their prototypes into fully finished applications. Click here to see some of Cleveland Metroparks' technological projects, a few of which have been completed, such as the 3D Hologram, while others are ongoing or are in various stages of development and production.
An added benefit of hosting a hackathon is that it helps increase community awareness about the ways park and rec organizations use technology to enhance their mission-based work. An unexpected bonus was that hackathon participants are a new demographic, with several identifying as non-park users. Their participation in the event piqued their interest in parks and recreation, and they appreciated the opportunity to participate in the event with a goal to directly impact local environmental causes.
The hackathon format harnesses the power of intelligent, motivated people who are deeply interested in applied technology. The more participants, the greater the benefits. Cleveland Metroparks hopes to expand the hackathon format regionally and nationally, working with other agencies to help provide technological solutions to park and recreation challenges across the country.
Anthony M. Joy is the Chief Information Officer for Cleveland Metroparks