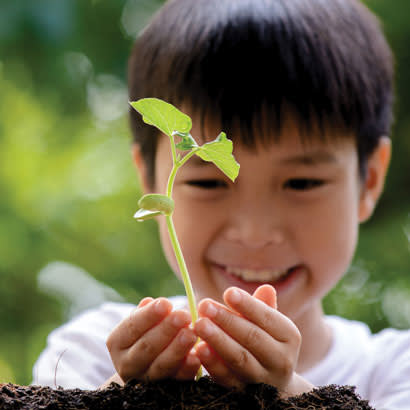 The focus of this month's issue of Parks & Recreation magazine is on conservation and how local park and recreation agencies positively impact the environment and make communities more resilient to natural disasters. Local park and recreation agencies are typically among the largest owners and managers of open space in our cities, towns and counties and, as such, make a mark on the environment in many ways. This includes serving as a natural way for communities to better manage stormwater, cultivation of shaded tree canopies that provide a needed respite from hot weather, and being the place where wildlife and native vegetation are protected and allowed to thrive. In addition, in its role as the place where the public reconnects with nature, parks and recreation plays a significant part in educating communities to help them better understand how they impact the environment and how they can make a meaningful, positive change.
Americans agree that parks and recreation is an important service delivered by their local government, placing it nearly as high as public safety, education and transportation. NRPA's research data demonstrate that a key reason for this broad support is the conservation activities of local agencies.
For example, four in five respondents to the 2017 NRPA Americans' Engagement with Park survey agree that it is "extremely" or "very" important for their local park and recreation agency to devote resources to conservation, including for the protection of open spaces and the engagement of their communities in conservation practices. The support for the NRPA Conservation Pillar has backing from nearly every segment of the U.S. population, but is particularly robust among millennials and parents of school-age children.
More telling, however, is that the support crosses the political spectrum. Eighty-two percent of survey respondents who identify themselves as Democrats see it as "extremely" or "very" important for their local park and recreation agency to devote resources to conservation, just above the 76 percent of Republicans who share the same view. This crucial takeaway can be easily lost in today's highly charged political environment, where the political fringes often speak the loudest and frequently are the only ones heard. But, once you cut through the noise, you see that an overwhelming majority of the public supports public parks' role in being a steward of the environment.
So, how does the public view what should be their local agency's role in conservation? Respondents to the Engagement survey agree that the two conservation-oriented tactics — conserving the natural environment and protecting open space — should be important considerations for park and recreation agencies as they design, fund and deliver their services. Eighty-three percent say it is "extremely" or "very" important that agencies work to conserve the natural environment, while 79 percent agree that agencies need to protect open space.
Similarly, survey respondents adamantly believe that safeguarding the environment is a vital function of their local government. Ninety-five percent of Americans agree that it is important their local government acts to protect the natural environment. In fact, just under half of survey respondents would characterize the acquisition, construction and maintenance of local parks, trails and green spaces to be "extremely important." The agreement that protection of the natural environment is a key local government role is so strong that there are few differences in this support across key demographic groups, including by generation, race, ethnicity, household formation and political affiliation.
Most Americans are concerned about how well their local community can withstand or recover quickly from a natural disaster. These disasters can vary greatly by region but include flooding, earthquakes, severe thunderstorms, tonadoes, hurricanes, blizzards, droughts, extreme temperatures (both hot and cold) and wildfires.
As a result, 87 percent of Americans want their local government, including their local park and recreation agency, to make critical infrastructure investments that would improve their community's ability to withstand or recover quickly from natural disasters. A few examples of these opportunities include placing parks near waterways so they may double as flood- control areas, selecting vegetation in open spaces that mitigate pollution from stormwater runoff, cultivating tree canopies in urban areas that help lessen heat-island effects and planting drought-resistant plants.
Beyond our annual Engagement survey, other NRPA research data highlight Americans' ardent desire for their agencies to serve as a conservation leader in their communities. This includes the following three recent NRPA Park Pulse poll results:
February 2017: Eighty-two percent of Americans agree it is imperative their local government set aside land for the sheer purpose of preserving the natural landscape. Two in 3 people — including 7 in 10 millennials — believe that setting aside land for the sheer purpose of preserving the natural environment is very or extremely important.
April 2017: An overwhelming majority (83 percent) of Americans say it is important their local government prioritize environmental initiatives, including sustainable or green practices, such as water-quality monitoring, green-space assessment, environmentally friendly buildings and lawn upkeep. The strongest support for these initiatives is found among millennials, 63 percent of whom say it is extremely or very important.
In this issue of Parks & Recreation magazine, we learn that Americans strongly support efforts, including those of many park and recreation agencies, that promote pollinator health. Activities include protecting against the decline and death of pollinators, such as honey bees and other insects, and increasing their habitat. In all, 94 percent of poll respondents support these activities, which include the installation and cultivation of milkweed plants.
Overall, NRPA research data consistently demonstrate the public's broad-based support for parks and recreation's crucial role as an environmental steward. In fact, the data suggest that the public actually expects and demands that their local governments, and, more precisely, their local park and recreation agency leads their community in this area. Spearheading the protection of the environment is just one way Americans view their local agency as an essential offering of their local government.
Kevin Roth, Ph.D., is NRPA's Vice President of Research.