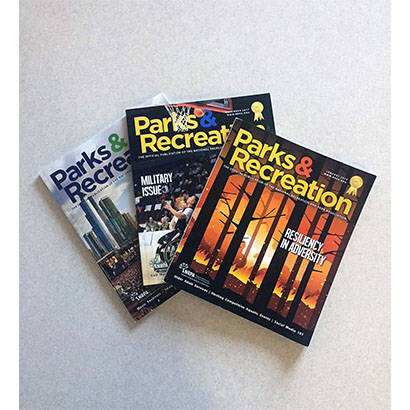 NRPA's Marketing and Communication's team experienced its own March Madness this year, securing several awards for marketing campaigns and Parks & Recreation magazine last month.
At the beginning of the month, NRPA was honored with two gold and four silver awards in Association TRENDS' 2017 All-Media Contest, where our work was selected from among nearly 300 entries in the association publications contest.
The TRENDS All Media Contest is an annual competition, held exclusively for associations, recognizing the most creative and effective communication vehicles developed in the industry over the prior year. Out of a possible 23 categories, each of which is judged by a panel of experts, NRPA received the following awards:
Membership Promotion Campaign – Gold Award
Conference Promotion Package – Gold Award
Monthly Trade Association Magazine – Silver Award
Social Media – Silver Award
eLearning & Live Training – Silver Award
Best New App­ – Silver Award
Next up was the PR News 2018 CSR & Nonprofit Awards, honoring the best corporate social responsibility and nonprofit communications initiatives. The winners are judged on the impact of the communications campaigns they've led in the past 18 months and on the positive influence they've had on society at large. NRPA received the 2018 PRNews Nonprofit Award for Digital PR and Marketing for the Meet Me at the Park Earth Month campaign.
"NRPA is so pleased to be in the winners' circle this year, as we have been for the past three years. We're proud of the great work our staff has put into media and communicating with our members, and we look forward to building on our success in the coming year," says Gina Mullin-Cohen, NRPA vice president of marketing, communications and publishing.