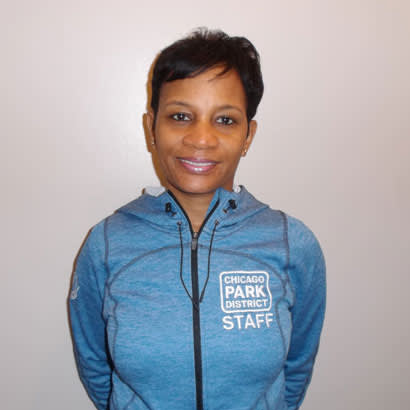 It's probably safe to say that Sabrina Steward has parks and recreation in her genes. More specifically, she and her family have had a direct connection to the Chicago Park District for nearly 50 years.

"My mother was a P.E. teacher and later chose a career path in sports and recreation and ended up working for the Chicago Park District for 25 years," explains Steward. "Being around my mom helped to mold me and develop this love I have for parks and recreation."
Following in her mom's footsteps, Steward now serves as south region area manager for the Chicago Park District. Parks & Recreation magazine recently sat down with her to learn why she chose this career, how local teens are making an important difference, and what challenges young people on the south side of Chicago face today.
Parks & Recreation: How did you come to choose parks and recreation as your career path?
Sabrina Steward: As a child, I participated in many Chicago Park District activities: swimming, dancing, gymnastics, seasonal sports and day camp every summer. Once I became of age, I worked as a seasonal recreational leader for the Chicago Park District, and I did this through my high school and college years. After graduating from college, like my mom, I taught physical education for five years. But it was during that time, I realized how much I missed working for the Chicago Park District and how my passion was being in the park and recreation world. So, I resigned as a P.E. teacher and took an entry-level position as an hourly physical instructor for the Chicago Park District. And over the course of my 23 years, I'd worked my way up to my current position as an area manager. Most importantly, I couldn't have pursued my career in parks and recreation without the support of my loving husband, son and parents.

P&R: Tell us about your role as south region area manager.
Steward: As an area manager for the Chicago Park District, I oversee and manage day-to-day operations for 14 staffed park locations and a multitude of play lots on the south side of Chicago. As for my team and me, we focus on the district's core mission of providing high-quality leisure services and recreation activities to our Chicago residents and visitors.

P&R: I understand you are spearheading some new teen initiatives. Can you elaborate on those initiatives?
Steward: Under my title, I hold an additional title of lead committee person for a program called, Teen Leadership Connection, that's for teens and led by teens. Teen Leadership Connection applies to all the teens from the south side of Chicago, who participate in their local neighborhood parks.
[Each] month, we come together and these teens plan, implement and give us new, innovative ideas to keep our teen programs flourishing in the Chicago Park District. Teen Leadership Connection consists of 17 parks within the south region, and we have approximately 210 participants who are very involved in civic engagement, participate in park and rec activities, and do outreach. In addition, there's a teen council that advises park staff on how to [enhance] teen programs — not just at a local level, but also on a citywide level.
These teens are very committed, and they have engaged in things, such as raising over $4,000 for charity: water, which helped build a well in Ethiopia. They collected 321 bags full of donated clothing for the organization, SAVERS; they collected over 1,800 pairs of used shoes for a charity called, Sole to Soul. Through their work, they have been recognized by WE Day and by an organization called, Doing Something Good in the Hood.

P&R: What are some of the main challenges you currently face regarding teen engagement?
Steward: As staff at parks and rec, we have to be very appreciative in providing positive and untraditional opportunities for these teens to be engaged, because as times change, we have to stay current to our young people. One of the challenges, I would say, is competing with the streets. So again, I have teens who work with me through Teen Leadership Connection in bringing new, innovative ideas to the program that promote healthy development and will, hopefully, carry over into adulthood. We do this through sports competition, and we try to do cross-generational competition — staff vs. teens. We have self-care workshops, where we bring professionals in. These are partners of the Chicago Park District who engage teens in art. Also, we have our own internal wellness department where we teach them about maintaining their health, as well as keeping up their appearance. We also introduce to our teens educational seminars and keep them in touch with city colleges throughout Chicago, as well as give them a chance to attend year-end college tours to out-of-state universities. Another challenge we face with trying to keep them engaged is street violence. Their participation in our programs can be affected by what's going on in their neighborhoods, because they have to get from point A to point B. So, that can be challenging at times, but we try to be creative. At times, we offer a multitude of special programs just to keep them off the streets.
P&R: What makes your job the most rewarding?
Steward: It's most rewarding when our young people participate in our programs and then go on to share their success stories. And, I'd like to think that I played a role in their success. Parks and recreation allows for more than just sports and recreational activity. It gives you a start in life; it allows you to use your skills in your everyday life and not just in the recreational world.
— Vitisia Paynich, Freelance Writer for Parks & Recreation magazine