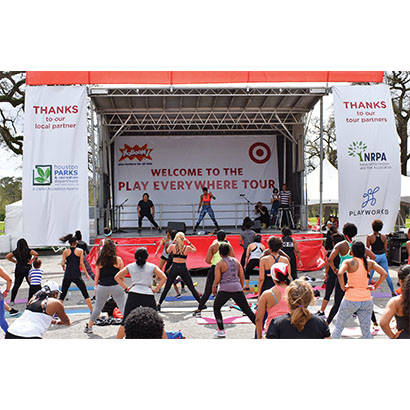 "Go outside and play." For many in the generations prior to the millennials, as children this was music to our ears. It marked the beginning of hours of unstructured and unsupervised play in the neighborhood with our friends, depending on the day of week and time of day. And, often, it meant not having to be back home until dinner time or until the street lights came on, which ever came first. Even though the play was unstructured, there was a sense that it took place under the watchful eye of the adults in the neighborhood.
For most of today's children, free play is a rarity. Life for them, and by extension their parents, is a skillfully choreographed schedule of events: school balanced with involvement in some type of organized sports or extracurricular activity, with the remaining time spent on electronic devices. We know that free play, and play in general, is important to a child's development. As Karla Cisneros, city council member for District H in Houston, points out: "It's not just their physical health, but their emotional and mental health that come from being outside and playing too." For many families, it's difficult to fit one more thing into already overscheduled lives.
The recent Play Everywhere Tour, powered by Target, NRPA, KaBOOM! and Playworks, showed just how easy it can be to help increase physical activity opportunities for kids and families in communities across the country. At each of four stops on the Play Everywhere Tour — Atlanta, Dallas, Houston and Miami — families and kids came out to enjoy a free, fun-filled family play day in their local park. The day included opportunities for the nearly 10,500 participating adults and kids to connect with local health and wellness providers, design their own innovative play-spaces, participate in the Play Everywhere obstacle course, and dance and exercise with local performers, Zumba instructors and fitness influencer, and celebrity fitness trainer, Massy Arias.
Dallas Park and Recreation brought some celebrities to the stage as well by organizing a performance by youth dancers from the hit Lifetime channel show, "Bring It!" Dallas Park and Recreation staff also organized fun competitions throughout the day for everyone to take part in, including jump rope challenges, with a prize for the participant who jumped for the longest amount of time.
In Atlanta, attendees could check out great activities from the Atlanta Parks and Recreation Department's Play Mobile, a recreation center on wheels. The Play Mobile and park and rec staff were on hand with free activities and games for children, including non-traditional sports, games, oversized board games and much more. Attendees in Atlanta also got to watch a smoothie bike in action on the stage. Peddling the bike powered the blender, creating a delicious, healthy smoothie.
In each of the cities, a group of local Play Everywhere Challenge winners was announced. Collectively, these winners will share in $720,000 to support innovative projects that encourage play in unexpected places: on sidewalks, in vacant lots, at bus stops and in open streets.
"Play gives families the opportunity to engage with one another outside the home, to get out and enjoy nature, meet their neighbors and take a break from everyday life," says Monica Prothro, art program manager with the City of Atlanta Mayor's Office for Cultural Affairs. Yet, even amid the mundane, like paying a bill at the tax office, waiting at a bus stop or simply walking to school, play is possible.
For example, at Atlanta's DeKalb County's Tax Commissioner and Drivers Services Offices, the DeKalb County Department of Recreation, Parks and Cultural Affairs, a Play Everywhere winner, will transform the entrance to these offices into a pedestrian-based, outdoor musical walkway called, the "DeKalb Music Lab." Or, at Buckner Terrace in Dallas, Texas, where a Sidewalk Sportscape project will transform sidewalks in the community near Skyline High School and Guzick Elementary into interactive sports-themed play areas.
These are just a few of the creative ways the Play Everywhere Challenge winners will use the funds they'll receive to provide their communities with opportunities for play. Visit https://kaboom.org/playability/play_everywhere/challenge to see the 39 projects and learn about the unique ways kids will play! You're sure to be inspired.
Thank you to Houston Parks and Recreation Department, City of Dallas Parks and Recreation, City of Atlanta Department of Parks and Recreation and City of Miami Parks & Recreation Department for hosting these events.