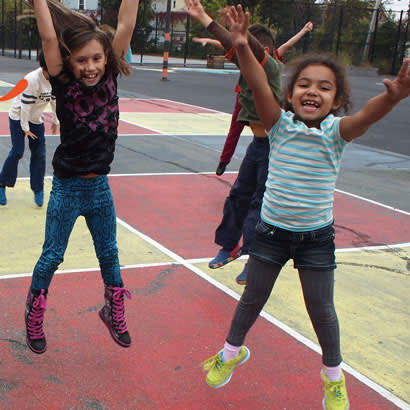 Spending more time connecting with nature can help kids and families become more fit, more focused and better able to cope with stress. But, can technology — often seen as a barrier to children spending time in nature — get kids off the couch and out of the house?
Increasingly, the answer seems to be yes! According to the NRPA's member survey, Connecting Youth to Nature, nearly half of park and recreation agencies are using technology to reconnect youth to nature, including using mobile apps that "gamify" outdoor exploration and cultivate curiosity about the natural world. These efforts are also supported by parents. The NRPA Park Pulse Survey, published in July 2018, reports that nearly 77 percent of parents believe that providing tech opportunities in nature will encourage kids to go outside. Parks are no longer debating the pros and cons of using technology to get kids and families outdoors — they are actively exploring how to creatively incorporate technology in their outdoor programming.
PLUM LANDING
PLUM LANDING, the innovative PBS KIDS multimedia project that encourages 6- to 9-year-olds to explore the outdoors, makes it easy to do just that. WGBH, a leader in developing educational media for children, created PLUM LANDING to help kids learn about the environment and inspire them to become caretakers of the planet. The project features Plum, a curious nature-loving alien, and her five Earthling friends, as they embark on epic explorations of Planet Earth, such as investigating peregrine falcons nesting in a North American shipyard or shrinking down to the size of ants to learn about insect life in a city park. Through animated and live-action videos, online games, hands-on science activities and mobile apps, the project uses the power of media to encourage kids to investigate nature in their own lives.
Recently inspired by the growth of the "outdoor prescription" movement, in which medical professionals write prescriptions that encourage kids to get active outdoors, the creators of PLUM LANDING developed the "Explore Outdoors Toolkit". This new set of family-focused activities and media is intended to help kids and families in urban environments get outside, get moving and get into nature. Available for free on the PLUM LANDING website, the toolkit was funded by the National Science Foundation, and researched and developed by WGBH and Education Development Center, in partnership with outdoor health and education programs across the country.
Not only does this collection of resources deliver the message that nature is everywhere — even in the city — and that spending time outside can improve physical and mental health, it also provides easily accessible, hands-on activities for urban families to experience nature easily and effectively. The discovery that outdoor science activities can be conducted with little preparation, in a short period and within walking distance of home, can be highly motivating.
The 'Explore Outdoors Toolkit'
The toolkit can be used in a variety of settings: in afterschool sessions or vacation camps, for weekly family programming or for self-guided family fun. Since the activities are modular, parents and park staff can choose activities based on the available time, outdoor space and seasonal or weather conditions. Although the resources can be integrated into existing programming, a comprehensive guide for starting a complete PLUM LANDING Explore Outdoors program is also provided, with tips and advice as well as promotional support materials.
Based on four environmental themes (water, weather, plants and animals), the toolkit features:
Hands-on activities that blend fun, science learning and physical fitness, customized for use in three settings: afterschool programs for kids, outdoor family events and families exploring on their own.
12 new animated webisodes featuring the PLUM LANDING characters that can be used to get kids excited and introduce them to the hands-on activities.
Outdoor Family Fun with Plum, a free app (available for iOS, Android and Amazon devices) that helps families build the habit of active, outdoor nature exploration.
Outdoor Adventures, an online feature that asks families to complete and document real-life outdoor missions to receive digital badges.
Wild City Search, an online game that complements and extends the science learning from the hands-on activities.
Parent videos, hosted by Rue Mapp of Outdoor Afro and José González of Latino Outdoors, that offer parents tips and inspiration on getting the most out of their time outside with their kids.
Educator videos, hosted by Jessie Scott, a veteran outdoor educator with the U.S. Forest Service's Urban Connections program, which provide guidance in leading outdoor activities in urban settings.
Successful pilot-testing results underscored that, when designed carefully, digital media can harness the unique power of technology to inspire, teach, foster engagement and motivate users toward outdoor learning experiences. Researchers found that PLUM LANDING's digital resources captured children's attention, provided opportunities for learning and got families excited about being outdoors and in nature. Examples of the successful use of technology included:
videos to spark children's interest and prepare them for outdoor learning
encouraging children to play online games to reinforce learning from a hands-on outdoor activity
incorporating common features of mobile phones (e.g., stopwatches, compasses and cameras) into hands-on activities to support outdoor science exploration
using digital apps to give families ideas and rewards for investigating nature, as well as tools to help them record and reflect on their experiences
Of course, challenges still remain. Research also showed that educators and parents are sometimes wary about using technology outdoors. In addition, some programs and/or families have limited access to technology or data plans. However, there is no doubt that despite the obstacles, technology can be an exciting new way to get kids and families involved in outdoor science learning and play.
Karen Barss is the former Director of the WGBH Educational Outreach Department