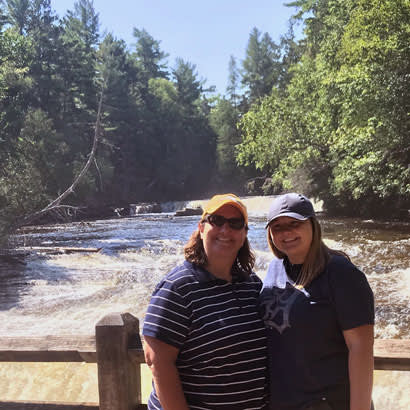 Nancy Winzer has always loved working with kids and playing sports. So, it seemed only natural that she would pursue a teaching career. However, a chance encounter with a friend would eventually steer her decision toward parks and recreation. Winzer joined the City of Port Huron Recreation Department as a coordinator in 1993, advancing to supervisor five years later. In 2010, she earned another promotion to recreation director of the park and recreation department, which includes oversight of 23 parks, two beaches and the McMorran Place Sports & Entertainment Center.
However, Winzer isn't the only person in her family to catch the parks and rec bug. Her daughter, Taylor, a student at Michigan Tech University, also joined the agency as a junior recreation coordinator. Parks & Recreation magazine recently spoke with the pair to find out what makes their work fulfilling, what it's like working with a family member and some things that the younger Winzer might not know about her mom.
Parks & Recreation: What makes your job the most fulfilling?
Nancy Winzer: The most fulfilling thing for me is just watching kids playing outside and having a good time. I also like going to a concert at McMorran Place and seeing everyone loving the show — that's the biggest thrill for me.
P&R: How do you feel about Taylor following in your footsteps?
NW: I think it's cool, and I feel that she has a knack for it. I believe she enjoys parks and rec because it's been in my blood, and I think it's in hers, too. It's just fun because I know what a great job it is. I truly love what I do, and I'm glad she's having new experiences.
P&R: When did you know you wanted to pursue a job in parks and recreation?
Taylor Winzer: Probably since I was little. The recreation department was like my second home, and I participated in and helped with the events. I remember helping with the time cards and entering them into the books and whatnot. So, my sister and I have always grown up around recreation. I started as a lifeguard, and now I have stepped into that coordinator position. I love working with the kids and organizing the [programming].
P&R: Taylor, tell us about your position at the agency.
TW: My position now is junior recreation coordinator. I oversee our middle school volunteer program for kids between the ages of 12 and 15, who are in that awkward middle spot. They're not really kids anymore, but they are not able to have a job quite yet. They can volunteer 30 hours or more during the summer, and they get a free trip to Cedar Point at the end of the year. I'm in charge of each of the kids and making sure that everything stays on track so that they can get the best job experience before they get a paying job.
P&R: Nancy, what is one thing about yourself that your daughter would be surprised to learn about you?
NW: You know those times when you're trying to keep your troops calm at work and you tell them not to panic? Well, sometimes on the inside, I'm panicking as well. Another thing that Taylor doesn't know about me is that I am so proud of the work she does at the recreation department with the kids and how much she does for our community — every day she is making kids' lives better.
Vitisia Paynich is a Freelance Writer for Parks & Recreation magazine