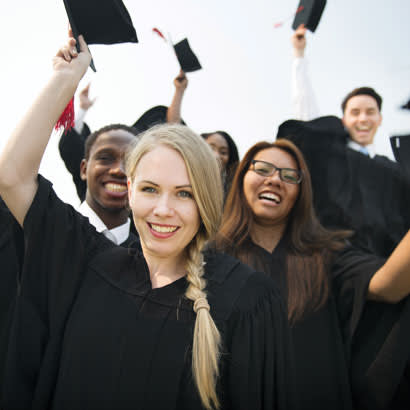 While this might not be the question, it is certainly a unique question I have heard recently. Two summers ago, I made the decision to return to school, part-time, and began a Doctor of Philosophy program. I have since been approached by many young professionals who convey their curiosity or interest in pursuing a Ph.D. as well. The answer to the question, "To Ph.D. or not to Ph.D.?" is complicated and only appropriate for each individual to personally answer. I write this article for those young professionals struggling with the same question, and it brings me to the first question a young professional must ask before going to back to school:
Is a Ph.D. necessary to obtain my career goals as a park and recreation professional?
In the current field of public parks and recreation, the answer is "no." Advanced degrees, certifications and years of service are often prerequisites for executive-level positions; however, I have yet to see a job announcement that requires, or even prefers, a Ph.D.
Ph.D. programs generally are not designed for those wishing to remain practitioners. Instead, they seek to prepare individuals to conduct research and teach. It's my opinion that professional achievements, years of service and an advanced degree will continue to be the standard for the foreseeable future. I offer this statement with caution, as it would be unfair for me to say that professional preferences will not change.
What if I want to teach at a university? Do I need a Ph.D.?
This is the second question I often hear. If your career goals are to enter the field of academia and pursue a tenured faculty position, a Ph.D. is necessary. However, a Ph.D. is usually not required to serve as a lecturer or adjunct professor. Most universities contract with practitioners who hold a master's degree to serve as faculty members, educating students in their subject-matter expertise. I currently serve as an adjunct professor, without a Ph.D., at Indiana State University — a situation that's commonplace for many other park and recreation professionals across the county.
Is obtaining a Ph.D. worth the personal resources you must commit?
I'm often asked this question as a retort to the previous two questions. Pursuing a Ph.D. while serving as a full-time professional will require time, money and often your sanity. If you determine that earning a Ph.D. is a worthy investment, you will sacrifice all three and will struggle to maintain a personal/professional/academic balance. Fortunately, this is a finite commitment that will end with the hopeful outcome of earning a doctoral degree.
For me, determining the necessity of obtaining a Ph.D. did not come as a matter of necessity, but rather as a matter of personal pursuit and desire. Below are some of the factors that contributed to my decision:
Undoubtedly, I love to learn, but I also really, really love school and the academic environment. I know many people who love to learn: to grow their base of knowledge and discover new viewpoints within their field of practice. I would argue that loving to learn and loving school are not necessarily the same. I made the personal decision to go back to school, to learn in a professional academic environment.
I have a personal goal to contribute to the body of knowledge in parks and recreation through research. Completing my dissertation and conducting subsequent research, as well as seeking publication in a peer-reviewed journal will be possible and aided with the academic training of a doctoral program.
Could this be a possible second profession?
I'm not sure that I would ever have interest in trading the world of public administration for the world of academia. Would I have interest when I graduate…in 10 years…once I retire from public service? I do not know the answer today. I do know that I love the classroom, I love sharing real-time professional practices and situations with the students, and I love preparing students to serve as my peers in the profession. The possibility that I could pursue a second career at any time is appealing.
I would like to clarify that all of these things are possible without a Ph.D. as well. A commitment to learning and a commitment to professional development is a pursuit common in all successful park and recreation professionals. This commitment does not require an advanced degree, only an interest and willingness to engage. We constantly learn from our peers, through conferences, from reading publications and research, and through mentorships. For those wanting to contribute, peer-reviewed research is certainly not the only vehicle. Professionals can contribute to the body of knowledge that serves our field by serving on committees, boards and in various leadership roles. And finally, there are multiple career paths park and recreation professionals are highly qualified to obtain if they choose to leave the direct provision of park and recreation services.
My decision to pursue a Ph.D. was extremely personal, and yours will need to be as well. What I have found to be the common thread of current practitioners who hold Ph.Ds. is that their personal responses were like mine. They enjoy and choose to serve as practicing professionals, but they also feel called to be a part of the academic thread that propels our profession forward.
Kara Kish, MPA, CPRE, CPSI, is the Superintendent of the Vigo County Parks and Recreation Department, and an Adjunct Professor and Ph.D. student at Indiana State University.