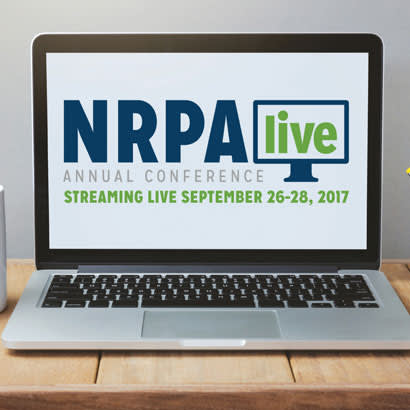 Over the past several years, NRPA has developed a growing virtual conference experience that provides the opportunity for live and continued access to a curated set of conference education sessions. While the NRPA Annual Conference is the largest gathering of park and recreation professionals in the world, we understand that it is not possible for many to attend in person. This opportunity allows for a broader audience to either participate live or continue to experience the engaging educational content that we deliver each year and to obtain CEU credit for each session.
For 2017, NRPA Live is proud to bring a set of 11 streamed sessions just as if you were attending in person in New Orleans. Participants have the option to register for the entire three days, register for an individual day or even register for individual sessions that are of interest. When attending live, each session allows the virtual audience to chat in questions that will be relayed to the speaker live. The session recordings also remain accessible for 180 days following the event along with all shared resources.
Here is a look at the sessions that we are offering live this year:
Tuesday, September 26:
How to Handle a Parks and Recreation PR Communications Crisis
Conservation Partnerships for Parks and Recreation
Using Health Data to Power Results
Wednesday, September 27:
"Get Your Play On" NRPA 2017 Conference Speed Sessions
City of New Orleans: Strategic Urban Water Management and Recreation Opportunities
5 Things Parks Can Do About Climate Change that Make a Difference
Thursday, September 28:
A Value Proposition: What's My Park Worth?
Ditch Your Marketing Plan: Growth Hack Instead
Creating Meaningful Arts Programs Designed to Engage the Community
Leading Change: Innovation from the Inside Out
Public-Private Park Partnerships to Achieve Healthy Equity
After the live conference is over, we continue to provide access to register for and view these archived sessions, as well as the opportunity to register for an additional 11 recorded sessions. This is a total of 22 sessions that are captured from this year's New Orleans conference for continued professional development and up to 2.2 CEUs! The recorded sessions include:
How to Portray the Value of Trails in Your Community
Build a 21st Century Diverse Workforce and Inclusive Work Environment at Your Agency Today!
Inclusive Outreach for Equitable Results
Innovation! NRPA 2017 Conference Speed Sessions
Making Creativity Part of Your DNA
Designing and Implementing Evidence-Based, Family-Based Programming for Health
VOTE! How to Plan a Successful Bond Program
The Ecological Age: Ushering a New Age for Parks in the Face of Climate Change
Water Wisdom: Planning, Designing and Maintaining Water Play Destinations
Innovative Strategies to Connect Communities to Nature
The Be Attitudes of Influence and Persuasion
Learn more about NRPA Online Learning and NRPA Live.