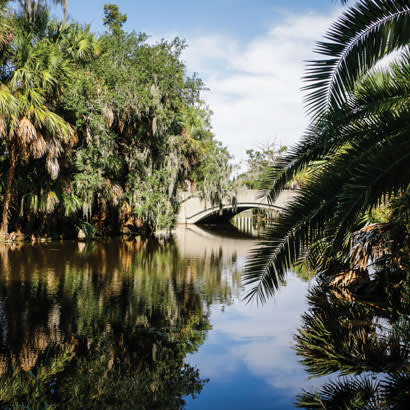 The Festival Capital of the World, New Orleans is one of the most fascinating cities — a truly unique melting pot of food, culture and music.
You are hereby invited to come on down and experience New Orleans, one of America's most culturally and historically rich and diverse destinations.
This year's designated Local Host Committee is excited to showcase the people, places and programs that contribute to the high quality of life experienced by Southern Louisiana's residents.
Professionals from BREC, the Audubon Society, City Park, the Trust for Public Land, the NOCCI, the Parks and Recreation Departments of Thibodaux, Gretna and Covington have come together with members of the New Orleans Recreation Development Commission to sponsor this upcoming NRPA Annual Conference and to welcome attendees to the city of New Orleans and to an unprecedentedly well-attended conference.
New Orleans and its surrounding cities welcome you!
Laissez les bon temps roullez! (Let the good times roll!)
Audubon Nature Institute – New Orleans
Audubon Nature Institute operates a family of 10 museums and parks in New Orleans, including Audubon Zoo and Park, Audubon Aquarium of the Americas and the Freeport-McMoRan Audubon Species Survival Center. Through its mission to celebrate the wonders of nature, it hosts more than 1.8 million visitors annually and serve our community an educational resource, an environmental guardian, a leader in economic development, and a venue for family entertainment.
Thibodaux Splash Pad – City of Thibodaux
The Thibodaux Splash Pad brings more than 2,500 square feet of fun with 24 separate water features, including sprinklers and fountains, synchronized to perform a show-like experience. The water area is also close to picnic areas, umbrella seating and the newly renovated swimming pool, making it a great summertime draw for families.
Gretna BMX Track – City of Gretna
The Gretna BMX Track is home to the only USA BMX-sanctioned track in the New Orleans Metro area. With practices and races held on Tuesdays, Fridays and Saturdays, riders ages 2 to 82 are welcome to come out and join in! Gretna BMX has become a destination for families time after time! Find it on Facebook at TheGretnaBMX.
Lafitte Greenway – New Orleans
The Lafitte Greenway is a 2.6-mile bicycle and pedestrian trail and green corridor, connecting neighborhoods from Armstrong Park to City Park. The city of New Orleans broke ground on the $9.1 million project in March of 2014, and opened the Greenway in November of 2015. The Lafitte Greenway transforms one of the city's most historic transportation corridors — originally a canal connecting Bayou St. John to the edge of the French Quarter, and later a railroad right-of-way that has sat vacant since the mid-20th century — into a multiuse transportation corridor and linear park.
Blue Bayou Water Park & Dixie Landin' — City of Baton Rouge
Located on 80 acres at I-10 and Highland Road in Baton Rouge, right next to Blue Bayou Water Park, is Dixie Landin', an amusement park designed for the entire family!
Dixie Landin' contains 29 rides, including four roller coasters, 10 games and much, much more. It has retail shops with souvenir T-shirts, hats, cups and many more items to bring home. Dixie also has a large variety of food items.
Blue Bayou Water Park has more than 20 water attractions like the High Water Slide, a triple seven-story, serpentine slide. And, there's nothing like the twin eight-story speed slide, the Ragin' Cajun! See the six-story Mad Moccasin water slide, which twists and turns in complete darkness. Ride CONJA', the world's largest in-line water slide, and try out Racers, the tallest and fastest water racer in the world!
Covington Recreation Complex – City of Covington
The City of Covington's Department of Parks, Recreation & Cultural Affairs is revitalizing our Covington Recreation Complex. Improvements to its four baseball fields are well underway, and work has begun on its new practice football field. In addition to sound infrastructure, the complex is undergoing a complete facelift! Flags are flying high over the backstops at every field, the pond is stocked for fishing and an aerator fountain is on order for installation. In addition to children's playground equipment, an adult outdoor fitness area will be under construction soon. The Covington Recreation Complex is well on its way to providing an exceptional recreational and healthy lifestyle venue for the entire family!
New Orleans City Park – New Orleans
New Orleans City Park is distinguished by its large menu of sports and recreational activities, attractions for children and its natural beauty. City Park has a special place in the hearts of generations of New Orleanians and is a must-visit for visitors to the city. As a popular place to picnic, play a favorite sport, wander through its gardens or take a boat ride — the park receives millions of visitors each year. It is located in the heart of the city and is the largest recreation area for the entire metropolitan area. Attractions include the New Orleans Botanical Garden, Storyland fairytale playground, Carousel Gardens Amusement Park, City Putt and numerous athletic venues. The 1,300 acres of parkland provide enjoyment for young children playing on its playgrounds and walkers, joggers, and bicyclists winding through its streets and trails.
Jackson Square — New Orleans
Set in the heart of the French Quarter overlooking the Mississippi River, Jackson Square is one of New Orleans' most recognizable landmarks. Also known as the Place d'Armes, Jackson Square occupies 2.5 acres and is visited by more than 2 million tourists and locals each year. It received National Landmark status in 1960. In 2012, it was chosen by the American Planning Association as one of its "Great Places in America" for beauty, accessibility and being a "place where people want to be." Having hosted more than 300 weddings in 2012, Jackson Square is one of Parks and Parkways' most popular spaces for a wedding and for staging formal photography.
The area surrounding Jackson Square contains a mix of commercial and residential property. The Cabildo, the Presbytere (on the opposite side of the Cathedral), and one of the apartment townhouses of the Lower Pontalba Apartments are now state museums. The lower floors of the apartment buildings contain shops and restaurants, while the second and third floors are residential apartments.
Jackson Square is also the location of an open-air artist colony, where artists display their work on the outside of the iron fence. Visitors can see the artists at work and even have their portrait drawn by one of the many talents who use Jackson Square as their studio.
Grab coffee and beignets from Cafe du Monde and enjoy breakfast while people-watching in the square.
Jackson Square has been featured in numerous movies, live television network broadcasts and the New Year's Eve celebration.
To reach the square from the Convention Center, ride the Riverfront Streetcar to the Jackson Square stop. If you are located in other parts of the city, just head for the French Quarter.
The New Orleans Local Host Committee
Elizabeth Adams, Services Manager, New Orleans Convention & Visitors Bureau
Bob Becker, CEO of New Orleans City Park
Dottie Belletto, President and CEO, NOCCI
James L. Butler III, Recreation Programming Assistant, NORD
Kevin R. Clement, Recreation Director, City of Thibodaux
Desiree Dotey, Director, Hammond Recreation
Kathy Foley, Director, Rec. Dist. #1, Pelican Park
L. Ronald (Ron) Forman, President & Chief Executive Officer, Audubon Nature Institute, Inc.
Sophie Harris, Executive Director, Friends of Lafitte Greenway
Amie L. Hebert, Director, Parks & Recreation Department, City of Gretna
Ernest Johnson, Lemann Booster Club President
Stephanie Joseph, School Programs and Youth Development Manager, Audubon Nature Institute
Pam Keller, Director of Recreation for Covington LA
Kia Knight, Assistant Director, Rec. Dist. #1, Pelican Park
Maria Kohls, Volunteer & Intern Supervisor, Audubon Nature Institute
Julie Lacour, Director of Special Events/Celebration in the Oaks, New Orleans City Park
Katie Landry, Director, Iberia Recreation
Tara Letort, Director of Group PR, NOCVB
Ann E. Macdonald, Director of City of New Orleans Parks & Parkways
Kenneth Marroccoli, Director, City of Kenner, Department of Parks and Recreation
Carolyn McKnight, Superintendent, BREC
Erin Murphy, Operations Manager, NOCCI
Dr. David Niebuhr, Managing Director (Interim) Audubon Zoo & Park Vice President for Education, Audubon Nature Institute
Sarah Olivier, Trust for Public Land
Traci Plaisance, Recreation Supervisor, Rec. Dist. #1, Pelican Park
Victor N. Richard III, CEO, NORD
Karla Rivera, Chief of Staff, NORD
Shonnda Smith, Chief Program Officer, NORD
Gillian Stagg, VP of Internal Operations and Senior Operations Manager, NOCCI
Julie Stempel, Recreation Supervisor, Rec. Dist. #1, Pelican Park
Brett Weinberger, Assistant Director Recreation, Athletics, Aquatics and Outdoor Adventures, BREC
Natalie Weiss, Special Events Manager, New Orleans City Park
Maya Wyche, Chief Operating Officer, NORD