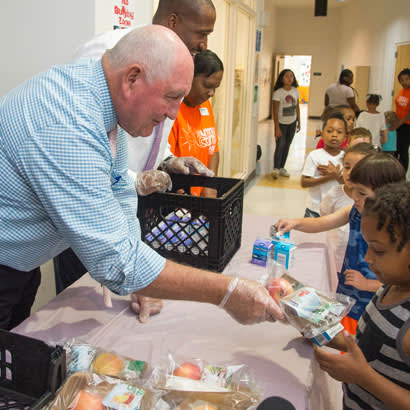 NRPA's Public Policy team was hard at work this summer inviting politically appointed cabinet members of the new administration and members of Congress to visit park and recreation programs and see firsthand the critical impact parks have on local communities throughout the country. Of significance were the visits by the new Secretary of the United States Department of Agriculture (USDA) and former Governor of Georgia, Sonny Perdue, and the newly appointed Chairwoman of the House Committee on Education and the Workforce, Rep. Virginia Foxx of North Carolina.
NRPA and the D.C. Department of Parks and Recreation (DPR) were honored to host Secretary Perdue at Turkey Thicket Recreation Center in Washington, D.C., on Thursday, July 20, to see summer meals in action. The secretary, a big fan of breakfast, helped serve a healthy breakfast of yogurt, granola and fruit to the Young Explorers (ages 3–5) of Turkey Thicket's summer camp. Turkey Thicket is just one example of sites across D.C., and the nation, that offer free breakfast and lunch to children either enrolled in their camps or coming to simply play at their rec centers this summer. These meals are made possible by the USDA's Summer Food Service Program (SFSP).
In Congress, the House Committee on Education and the Workforce has jurisdiction over the USDA's child nutrition programs. NRPA and Mount Airy Parks & Recreation were thrilled to be joined by Rep. Foxx, on Thursday, August 3, for "Hero Day," a Park Champion event at Riverside Park in Mount Airy, North Carolina. Hero Day highlighted the role of the local police, fire department and recycling department, among others, to the participating children, in addition to several interactive activities. Chairwoman Foxx then assisted in handing out free summer lunches to the children and remarked on the value of children having access to activities and to meals over the summer months.
Nationally, local park and recreation agencies are one of the top providers of out-of-school time programming in the United States. In fact, according to the NRPA Out-of-School Time Survey results, nine in 10 agencies offer at least one out-of-school time program. Moreover, park and recreation agencies are the second largest provider of out-of-school time meals. Fifty-seven percent of park and recreation agencies provide meals through the USDA meal programs, including SFSP, the Child and Adult Care Food Program (CACFP), and the National School Lunch Program (NSLP).
Since 2010, with support from the Walmart Foundation, NRPA has provided $9 million in private grant funding to the park and recreation field supporting federal programs; served 76,878,790 meals through SFSP, CACFP and NSLP at park and recreation sites; impacted 4,185,238 youth at park and recreation sites; and served 273 communities. In addition, agencies leverage their role as meal providers to create healthier environments that provide access to nutritious foods and physical activity opportunities through NRPA's Commit to Health initiative. Since 2014, 1,550 park and recreation sites across the country have committed to implementing the evidence-based Healthy Eating and Physical Activity (HEPA) standards at their sites, impacting more than 280,000 youth. Through Commit to Health, children in summer camps at park and recreation sites report a 20 percent increase in fruit and vegetable knowledge, and child and adult healthy eating behaviors are improved. Children, adults and park and recreation staff report increases in consumption of fruits, vegetables, whole grains and water, as well as decreases in sugary beverage intake.
It is vital for the new administration and Congress to understand the critical role that out-of-school time meals and programming play in the lives of millions of children and families across the country during the summer and after the school day ends during the school year. Park and recreation agencies are at the forefront of this work, keeping kids safe, active and learning, while also serving up healthy, nutritious meals.
However, the role parks and recreation plays in the out-of-school time space is just one example of what can be highlighted for the new administration and Congress. We are proud to serve communities in a variety of ways and through our three Pillars: Health and Wellness, Conservation and Social Equity. Our hope is to leverage the work being done locally, now, perhaps more than ever before, to ensure that our work is understood and valued by the administration and Congress and that the federal resources we utilize to support our work is protected.
The administration and your members of Congress need to hear from you to better understand the impact of park and recreation programs in your community. You can have your voice heard by reaching out to your elected officials through our Advocacy Action Center or by inviting them to see the great work you're doing firsthand. NRPA's Public Policy team is dedicated to assisting you in building these relationships through the Park Champion initiative. Sign up as a Park Champion and access our step-by-step guide to inviting officials to your community.
Kate Sims is NRPA's Government Affairs Manager.