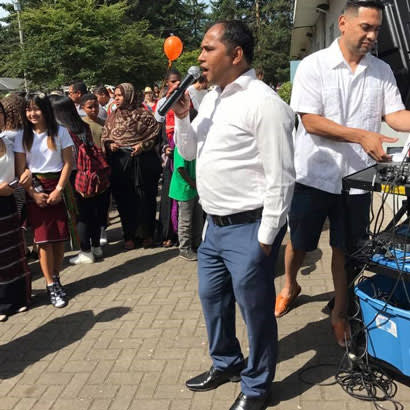 Each year, NRPA recognizes Park Champion initiative participants with the Park Champion of the Year Award. The recipient of this award, chosen by the NRPA Public Policy Committee, is recognized at NRPA's Annual Conference and receives round-trip lodging and airfare for two in their agency to travel to Washington, D.C., to advocate for parks and recreation on Capitol Hill.
Park Champion Som Subedi is welcoming new immigrants and refugees into the Portland community through Parks for New Portlanders. An initiative of Portland Parks & Recreation (PP&R), Parks for New Portlanders works with community partners and local leaders to create programs that ensure park and recreational opportunities are welcoming and accessible to communities of color, immigrants and refugees.
On August 20, 2017, thousands of Portlanders, including refugees, immigrants, and city and elected leaders, were joined by staff from U.S. Senator Ron Wyden's office in participating in the WALK with Refugees and Immigrants. The mile walk in support of a compassionate, generous and welcoming Portland for all who live there was followed by cultural celebrations and performances. Subedi organized the event in partnership with approximately 30 local organizations and Portland's Sunday Parkways — a series of free events that promote healthy living, hosted in public spaces. The WALK celebrated immigrants and refugees, affirmed their rights, and honored organizational leaders and advocates. Subedi also organized community donations of school supplies for more than 125 children.
"[Subedi] has a charisma and compassion for others that is exceptional," marvels Portland Parks & Recreation Director Mike Abbaté. "Not everyone can come to a new country and then have so many connections with different communities."
The WALK with Refugees and Immigrants was an event Subedi had already planned, but, a dedicated advocate for parks and recreation, he turned the walk into a Park Champion event by inviting Portland's congressional representatives. The Park Champion initiative, NRPA's grassroots advocacy program, provides members like Subedi with the tools and resources they need to have their voices heard by their elected federal officials. The Park Champion initiative is an innovative show-and-tell advocacy model that empowers park and recreation agencies to engage their members of Congress with on-site visits and participation in planned events and milestones. Inviting members of Congress to events like the WALK creates meaningful, memorable experiences for elected officials and helps demonstrate the importance of investing in parks and recreation.
"The Park Champion award is one Som richly deserves," says PP&R Equity & Inclusion Manager Art Hendricks. "We at Portland Parks & Recreation are grateful that the NRPA has given him the recognition he does not seek, but has so clearly earned."
Subedi, a former refugee from Bhutan who spent almost 20 years living in a refugee camp in Nepal, understands the isolation and challenges that come with resettling in a new country. As a community advocate, he planned, organized and hosted the now-annual Portland World Cup Soccer Tournament. The cultural tradition of soccer is a universal language, Subedi points out; it unifies and fosters a sense of community for new refugees and immigrants — no matter their origin. City officials noted the power of the event in giving new community members a sense of belonging and purpose in their new home.
Subedi continued coordinating events that celebrate Portland's newcomers, which ultimately became Portland's Parks for New Portlanders program. As a PP&R employee, Subedi continues to work tirelessly to integrate new refugees and immigrants into the broader Portland community. He's been equally dedicated to showing elected officials the importance of investing in parks and recreation. Since becoming a Park Champion two years ago, he's hosted Portland's members of Congress at no less than 10 Park Champion events.
"The Park Champions initiative helps us to understand the needs of our community, build trust with community member, and connect citizens to government services. It helps us bridge the gap between the local and federal level. It is a win-win for all sides," Subedi adds.
Portland Parks Commissioner, Amanda Fritz, stressed the importance of the Park Champions initiative in bringing together members of Congress, state and local officials and the community. "Like many cities," she explains, "Portland has competing budget priorities. Attending these events and working with people like Som and his team are testaments to the positive impact of parks and recreational opportunities; they are powerful reminders that led our city to secure funds for parks and recreation amid budget cuts."
"In this era of economic challenges, it is rare that park and recreation budgets rise to the top of anyone's budget priorities," says PP&R Director Abbaté. "The Park Champion initiative allows PP&R officials to engage decision makers in a way that shines a spotlight in communities and gets attention in ways standard lobbying may not."
Congratulations to the 2017 Park Champion of the Year, Som Subedi!
Jayni Rasmussen is NRPA's Advocacy and Outreach Manager. Chelsea Hodgkins is NRPA's Government Affairs Intern.