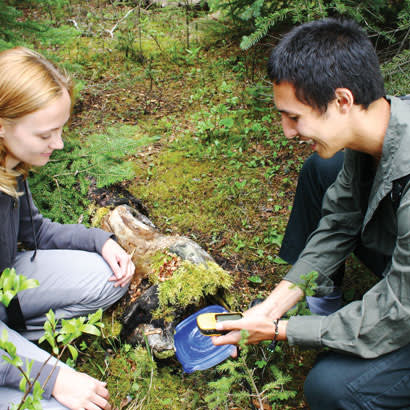 If you're looking for creative ways to engage your community, encourage exploration of your local parks, trails and other natural resources, and give your citizens the chance to be modern day, hometown treasure hunters, then it's time to learn about this powerful trend in tech and engagement called geocaching. This recreational, technology-enabled hobby is helping curious treasure seekers to keep the spirit of exploration alive, and what better place to explore than your own home town?
What Is Geocaching?
Geocaching is a real-world, outdoor treasure-hunting activity that uses global positioning system (GPS)-enabled devices to allow participants to navigate a set of coordinates to attempt to find a specific object, or "geocache," that has been hidden in the designated location by game-makers. The "geocache" is the treasure and the prize, but it is not the reason for playing the game. Geocachers are all about the hunt, as it gives outdoor enthusiasts a chance to explore the world, visit new places and explore off-the-beaten-path locations, all while testing their knowledge and skills.
For many geocaching games, when the geocache is found, it's taken by the successful player and another geocache is left in its place in the same location. In this way, the game can be played in perpetuity.
The Origin of the Geocache Hunt
According to geoacaching.com, the first geocaching activity occurred in 2000, the year GPS technology improved significantly. On May 2, 2000, at approximately 12 a.m. Eastern Standard Time, the great blue switch was flipped, and 24 satellites around the world were given new instructions that improved GPS technology exponentially. This resulted in an instant upgrade to tens of thousands of GPS receivers around the world and meant that anyone with a GPS-enabled device could precisely pinpoint his or her location, or the location of a specific item. Internet newsgroups bubbled over with ideas for how the new technology could be used. The very next day, computer consultant Dave Ulmer decided to test the accuracy of GPS technology. He hid a navigational target in the woods near Beavercreek, Oregon, posted the location to an internet GPS user group and challenged group members to find the item, calling his challenge, the "Great American GPS Stash Hunt." Thus, geocaching was born.
Geocaching Opportunities for Local Government Parks and Rec
Even for an activity that already has a strong niche community of its own, the opportunity to tap into the excitement of this trend has powerful implications for local government park and recreation departments. Communities across the nation are constantly looking for creative ways to encourage new and longtime residents to get out and explore their local resources. Finding creative and engaging ways to encourage exploration of parks, trails and other local resources is an ongoing challenge, especially as more and more young people are spending time on their mobile devices, and less time outside. Recent data shows that the average teenager spends more time on digital media every day than many Americans spend sleeping each night.
Geocaching helps to bridge the divide between local outdoor activity and technology use in a meaningful and engaging way. It promotes ecotourism and serves as a lure to motivate digitally minded citizens of all ages to experience their community and connect with fellow citizen tech-lovers. Most importantly, it shows them that there is a beautiful world of easily accessible local resources just beyond their doorstep.
How to Execute a Geocaching Activity in Your Community
If you're ready to build your own communitywide geocaching treasure hunt, follow the tips below to help you get started and to execute a successful activity.
Learn from the Masters
Spend some time researching what other online communities of geocachers are doing to find inspiration for your rules, hidden location and geocache. A quick online search of geocaching activities will reveal plenty of communities from which you can draw inspiration.
Devise a Theme
As with any communitywide event, you'll want to brand it, promote it and make it easy for citizens to get involved. Start by deciding on a theme for your treasure hunt, preferably one that ties to your community's brand, heritage or history. Or, consider associating your hunt with another local event and aligning the two. In Pueblo, Colorado, for example, the city has been annually hosting the Great Pueblo Chili Hunt Contest. The treasure hunt is part of its annual Pueblo Chili & Frijoles Festival. The citizen who finds the hidden prize (a rock decorated with branding that aligns with the Pueblo Chili & Frijoles Festival), receives a cash prize, plus four tickets to attend the festival.
You may also want to consider a Cache In, Trash Out (CITO) theme, especially if you plan to align your event with Earth Day. For these types of events, participants are encouraged to clean up litter that they find in parks and trails along the way while searching for the geocache. Consider focusing on litter cleanup, trail building, revegetation or the removal of invasive species. Not only do such events promote the treasure-hunting spirit, but they also stimulate community activism, nature preservation and foster a shared sense of community pride.
Choose Your Geocache
Whatever you decide to hide as your geocache, make it relevant to your community and/or your treasure hunt theme. It also needs to be small enough to be securely hidden outdoors and be weather resistant. There are four types of geocaches used most frequently by the geocaching community:
Traditional Geocaches — Typically, they consist of a watertight container with a logbook inside. People who have found the cache log their online community username.
Multi-Caches — These activities involve searching for at least two locations, where the first location reveals a physical clue to the next location, and so forth, until a physical container is found at the final destination.
Puzzle Caches — An even more challenging activity, these events require players to solve a puzzle or a mystery to find the final geocache. Typically, the geocache is not located at the exact GPS coordinates provided, but within a one- or two-mile radius, and finding it requires solving a puzzle.
Event Caches — These activities potentially offer the best opportunities for local government park and rec departments to encourage local exploration, as geocaches are hidden that relate to events and festivals.
If you're thinking of leaving a simple object as your geocache, consider a small container with a collection of locally significant items, such as a container of rocks and sand from your local beach, tickets to an upcoming event or a winner's trophy. You can also consider a box of community-branded merchandise, such as T-shirts, stationery items, photos, postcards and other local promotional items.
Decide Where to Stash Your Cache
If your goal is to get citizens out and exploring your natural parks, trails, lakes and other resources, hide your cache in a place that will help promote a key area, a local untapped treasure or new park addition. Consider hiding your cache at the end of a popular and beautiful local trail where successful players can appreciate the beauty of a local vista or waterfall, even if they don't successfully recover the geocache.
Make sure your cache is securely hidden in a way so that it can't be accidentally found and removed by someone not playing the game, but not hidden in a place that will be extremely difficult, or unsafe, for participants to find with the right knowledge and coordinates. Also, depending on the goals of your activity, you may want to involve local businesses, such as tourism offices, excursion guides and other public offices.
Set Ground Rules
The world's community of geocachers live by a code of conduct, and a set of ground rules, to ensure equitable access, a respect for property rights, safety, nature preservation, and to encourage ongoing exploration. One such rule is that geocaches must be hidden on public land, so as not to disrupt personal or commercial property. Ensure your game is devised to enable citizens to respect such rules and focus their exploring in your local parks.
Be sure to provide citizens with safety recommendations as well. Encourage all participants to seek the geocache in teams, wear proper hiking or walking gear, bring water and sun protection, a fully charged GPS or GPS-enabled smartphone, and make sure friends and family know where they are headed, and when they anticipate being back home. Work with your legal team for all the other important rules you'll need to execute a communitywide contest.
Promote via all Available Channels
Generate awareness, interest and excitement for your geocache event by promoting it via all available channels. Use your park and recreation software to streamline your marketing efforts, and make it easier for administrative staff members who are managing the event. Start several weeks in advance and provide information and instructions to citizens about how to sign up and participate, and what they stand to win if they are successful. Choose a designated start day for the event, which should be the first day the geocache is hidden and available to find. Throughout the event, post tips, hints, photos and promotional messages on social media and to your civic website. Encourage participants to use a dedicated hashtag, such as the name of your event, when sharing photos and thoughts to social media.
Ask your local leaders and elected officials to get involved. Ask them to share posts regarding the event, cheer on participants, or even search for the geocache themselves. Such interactions with local leaders will help to promote civic pride and community engagement.
Crowd Source Feedback to Improve the Event in Future Years
After the event has ended and you've crowned your first local winner, ask participants for feedback. Using direct citizen feedback to refine, improve and enhance the event, will allow you to make your event an activity that citizens of all ages will look forward to year after year.
Amy Frank is Product Owner of CivicRec®.