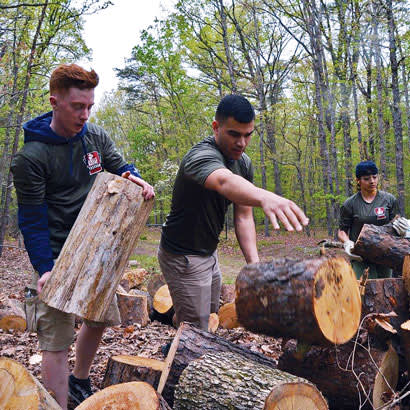 This past April, 60 Marines from Marine Corps Air Station Cherry Point in Havelock, North Carolina, traded in their rifles and PT gear for gardening gloves and trowels. The Marines swept, dug and raked at various places, from schools to veterans' homes, as a part of the Single Marine Program Days of Service, an event that takes place across the country and involves thousands of Marines. But, these acts are only a small part of a program that's integral to Marine morale and quality of life.
In 1995, the Marine Corps established the Single Marine Program (SMP), which was designed to address concerns that many young, single Marines were unhappy with overall Marine Corps life. The idea was to create a place where they could not only get out of the barracks and connect with other single Marines, but could also be empowered to come up with workable solutions to the problems they were experiencing with Marine Corps life.
The SMP provides recreational activities and facilities to single Marines, as well as ample opportunities for volunteerism. What makes this program especially unique is that its members have an opportunity to have their voices heard — members sit on councils at the installations where they are stationed and bring the thoughts and ideas of their comrades to the attention of higher leadership. "Marines join this program because it empowers them," says HQMC Program Manager Michael Brown. "Marines power the program by participating in and offering their ideas, and, in turn, the Marine Corps leadership empowers them."
However, this isn't the only reason the SMP is a hit. The opportunity to volunteer and get out in local communities is hugely popular among participants. Although each installation's program provides opportunities throughout the year, the biggest event is the annual Days of Service. Events can range from beach cleanups and veteran home visits, to more traditional, structured activities, such as Habitat for Humanity builds. This year's Day of Service brought more than 7,000 volunteers together to contribute nearly 29,500 hours of service to their communities.
For Sgt. Daniel Hosch, president of SMP at Marine Corps Base Camp Pendleton, SMP is all about bringing Marines together. He joined as soon as he began his Marine Corps career. "I was stationed in Okinawa, and being over there was a huge culture shock for me," he explains. "Joining the SMP helped me find people to connect to." Hosch says that he's seen the program save lives. Military life is stressful, and getting those Marines who may be introverted or less inclined to form a community to engage is crucial. "I've seen Marines totally open up. They begin to feel like they're part of something," he adds.
Other activities single Marines participate in are largely recreational. Participants go on sponsored trips to places like New York City or play paintball together. The program also provides them with specific recreational facilities on installation sites.
For those interested in creating a similar program, Brown says the most important aspect is to let the participants do the driving. "We're only here to support them. The Marines come together to decide every aspect of the program, from the trips they go on to what they need to bring to the attention of leadership," he says. And, because the program is fully endorsed by the leadership, the single Marines see that their concerns are listened to and that there's follow through. Although the SMP does this by bringing concerns to the attention of the local installation leadership, other non-military institutions may be able to do something similar by voicing concerns through visits to city councils or smaller governing structures such as town halls.
Also, to see success within the program, Brown advises giving it time to settle. There is no marketing campaign to push for Single Marine Program membership. Instead, participation is garnered through word-of-mouth and growth is organic.
Ultimately, however, creating something like the SMP comes down to community. "The SMP really speaks to Marines and brings us together," says Hosch. "These are activities we could do on our own, but instead, we're working as one team, one community."
Meghan Edwards is the Digital Content Editor for Marine Corps Community Services.