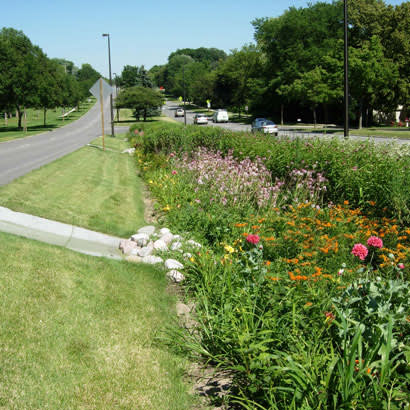 In the world of stormwater, the search continues for a simple solution to its management. That solution will no doubt include partnerships with state and municipal parks, because to effectively manage stormwater, municipalities and other National Pollutant Discharge Elimination System (NPDES) permit holders need open space for storage, groundwater recharge and vegetated filters. In urban areas, open space is in short supply. Parks can provide an opportunity for multi-benefit projects that include stormwater management, as well as active and passive recreation.
The National Municipal Stormwater Alliance (NMSA), a 501c(3) organization, is dedicated to strengthening the Municipal Separate Storm Sewer System (MS4) program at the national, state and local level, in part by forming organizational partnerships to reduce the source of urban runoff-driven pollution, push for greater awareness of stormwater issues through public education efforts, and provide technical and fiscal information to decision makers in an effort to increase funding levels and financing options for stormwater programs.
Parks Need Clean Water
Nationally, the EPA estimates an average impairment by nutrients in rivers at 17 percent: for lakes, it's 27 percent. Nutrients are just one of many pollutants that can limit the value of park resources.
For parks to thrive, receiving water-beneficial uses must be protected. Increasingly, this means controlling pollutant sources — particularly cross-media sources. A recent article in Live Science found that pesticides from California's valley farms were accumulating in tree frogs that live in national parks, including Yosemite and Sequoia. Agriculture remains a significant pollution source but is not the only cross-media stressor.
Improving water quality, particularly groundwater quality, is difficult and expensive. Pollution prevention is by far the better option.
The Public Needs to Be Educated About Clean Water
Since there is not a shortage of high-quality sources of clean drinking water in the United States, water pollution is not seen as a pervasive problem, but this may be changing. Recently, because of public health concerns associated with excessive pollutants from agricultural runoff, Toledo, Ohio, and Des Moines, Iowa, have experienced temporary shutdowns of their drinking water treatment systems. Funding will be needed for programs and projects to improve stormwater quality, and there still is not an effective way to pay for them. Stormwater funding programs cannot continue to compete with public works, public safety and public parks. The following steps are necessary to obtain public funding:
First, change how the public views and values water. Clean water at the tap should be linked to clean water in the environment.
Second, package clean water projects with other improvements that achieve multiple benefits. For example, a stream restoration project in an urban park can be combined with road improvements, bike lanes, street furniture, sports fields and trails.
Third, provide better information on the state of water resources in the environment. In all instances, the value of clean water, and the cost of polluted water, must be quantified and provided in practical terms.
Clean water is in the public interest, as are high-quality recreation areas. Each supports the other, and each depends on the other. The National Municipal Stormwater Alliance (NMSA) will be dedicating a significant portion of its resources to education and awareness targeting both the public and decision makers in local, state and federal government.
Funding and Financing Partnerships
It is not uncommon for an urban stormwater management project to require input from various municipal departments, such as environment/stormwater, streets/roads, parks and recreation, public works, wastewater treatment services, economic development and even public education. Finding solutions that satisfy the competing interests of stakeholders can be challenging, but can also provide opportunities for multiple revenue streams and financing sources at all levels. Groups, such as NRPA and NMSA, should work to shed light on avenues where additional opportunities may exist to develop synergistic approaches.
At the federal level, agencies — such as HUD, FEMA, EPA, USDA, DOT — various military branches and other departments and programs have an interest in stormwater management and associated investments. These investments could be further expanded through coordination between programs at the federal, state and local level. Bringing park-related agencies into the fold would further expand the capacity to leverage additional funds to meet the needs for green space as well as stormwater management.
In addition, there has been an interest in engaging with private partners to enhance overall investment potential. Examples include the use of urban green space to develop and harvest lumber (sustainably) using private investment capital that is repaid based on lumber sales; ecosystem services (carbon sequestration, water quality treatment, etc.), such as being championed in cities like Flint, Michigan, and Youngstown, Ohio; or the use of a public-private partnership (P3) to implement and maintain stormwater infrastructure, as is being done in Prince George's County, Maryland. Prince George's County is currently retrofitting up to 15,000 impervious acres through implementation of green infrastructure on land controlled by churches, schools and parks. In these examples, credits associated with meeting stormwater requirements could be generated on park space and sold to private developers or to other municipal departments that may have regulatory obligations associated with stormwater management.
The Future
The NMSA will be seeking partnerships with park professionals to improve the quality of surface waters and change public perceptions about water. Multi-benefit projects, improved communication with feedback on problems, solutions and costs are needed. Funding and financing will be pivotal — for both parks and stormwater programs. Collectively, we can bring more resources to bear on problems of mutual importance, while demonstrating to the public that such projects offer high-value returns on investment.
Scott Taylor, P.E., is Vice President of Michael Baker International. Seth Brown, P.E., is the Principal/Founder of Storm and Stream Solutions, LLC.