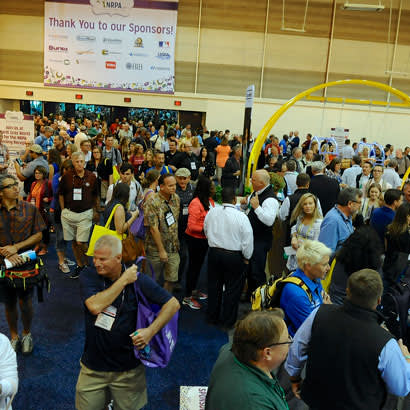 Nearly 8,000 park and recreation professionals gathered in the Big Easy in September for the 2017 NRPA Annual Conference, and it was one for the record books! The various education sessions, speakers, exhibit hall and numerous networking events, coupled with the energy of the great city of New Orleans, was the perfect recipe for an exciting affair — an award-winning bowl of NRPA gumbo, if you will.
A traditional New Orleans second line parade set a celebratory tone for the annual Parks Build Community project unveiling at Lafitte Greenway on Sunday, September 24. Parks Build Community is a national initiative aimed at demonstrating the transformative value of parks on the health and wellness of communities across America. The Lafitte Greenway, which runs several miles from Armstrong Park just outside the historic French Quarter to City Park along Lake Pontchartrain, was devastated by Hurricane Katrina in 2005. NRPA partnered with the New Orleans Recreation Development Commission (NORD) to revamp a section of the greenway with state-of-the-art play structures, exercise equipment, lighting, shade structures, water fountains and other amenities. More music and games followed the playground's dedication ceremony, which was attended by representatives from NRPA, NORD, Mayor Mitch Landrieu and members of the community.
The second annual NRPA Student Recreation Challenge commenced on Monday afternoon, with teams from several colleges and universities competing in various challenges throughout the city. They were tested on their knowledge of parks and recreation, as well as with challenges that included creating a second line parade, reciting a famous soliloquy and even getting a total stranger to perform the Macarena dance with them. For the second year in a row, a team comprised of three students from Texas A&M took home the gold medal!
The customary passing of the torch to the new NRPA board of directors chair took place during Tuesday's Opening General Session as outgoing Chair Stephen Eckelberry, director of the Bartlett Park District in Illinois, introduced the new Chair, Leon T. Andrews, Jr., of the National League of Cities in Washington, D.C. Andrews shared his memories of growing up participating in park and recreation programs and expressed his excitement and commitment to ensuring that every family has access to a quality park. He was followed by NRPA President and CEO Barbara Tulipane, who stressed the need for communities and park and recreation professionals alike to be resilient. Tulipane touched on challenges, such as shrinking budgets, social disparities, climate change, chronic disease, obesity and addiction epidemics that are ravaging communities, and offered insight on what the industry can do to help communities become more resilient and face these challenges.
This year's keynote speaker, American Ninja Warrior host, Matt Iseman, delivered a humorous, yet sincere, address that elicited laughter, tears and probably a few blushes throughout the room. Iseman shared the following recipe for helping others lead a more active, healthy lifestyle and building a nation of Ninja Warriors:
It's all about the story — stories inspire us
Make it fun — convince people they'll have fun
Anyone can do it [overcome obstacles]. But, nobody a it alone!
Create your opportunity — get creative
Falling is not failing — winning can be defined in many different ways
Following the Opening General Session, the doors to the massive, interactive exhibit hall opened and attendees flooded the show floor, eager to learn the latest trends and services available from some of the leading vendors in the industry. This year's conference featured close to 500 industry exhibitors, more than 500 expert speakers and nearly 300 education sessions covering a vast array of topics beneficial to park and recreation professionals.
New to this year's educational lineup was the Director's Corner, a learning area that featured facilitated discussions about the current problems that many agencies face. There also were 60, 20-minute speed sessions as well as a new aquatics learning track for aquatics professionals.
"As a first-time attendee, I was amazed at the size of the conference," says Rob Lewis, director of the Borough of Wyomissing Parks and Recreation in Pennsylvania. "There were so many educational opportunities, and the ones I attended were outstanding. The exhibit hall was massive and a great place to see all the latest and greatest offerings in the parks and recreation field. I was very impressed with how well everything was run."
In keeping with the theme of New Orleans, NRPA's "Member Quarter" in the exhibit hall was a popular stop for attendees looking for information on membership, professional development, partnerships, Parks & Recreation magazine and NRPA's Park Path application. Attendees who visited each booth in the Member Quarter received the highly popular 2017 NRPA Annual Conference hurricane glass as a conference memento.
There were a number of networking opportunities: from the exhibit hall happy hour and the opening reception at Mardi Gras World, to conversations in passing in the exhibit hall, new connections were made and older connections deepened. It was the perfect time to pick the brains of other like-minded professionals who care so deeply about this industry.
"This conference gave me more networking opportunities in one week than I have had in a couple of years. Every agency across the country that was represented was so willing to discuss topics across the board in the parks and recreation profession," says Adam Lockard, fitness program coordinator for Blue Valley Recreation Commission in Kansas.
"This conference is an excellent opportunity to remove yourself from the daily grind of work, step back and learn the multitude of ways to accomplish great things for your community from others doing the same thing around the country," says Dan Jones of the Cary Park District in Illinois.
Planning is already underway for next year's conference in Indianapolis, and we look forward to seeing you there. If you have an idea for an educational session for next year, check out information on how to submit session proposals. If there's a session that you'd like to revisit or that you didn't get to attend, you still have access to the notes. Be sure to explain to your supervisor how beneficial this event is for your organization, and mark your calendars for September 25–27, 2018!
Cort Jones is the Associate Editor of Parks & Recreation magazine.