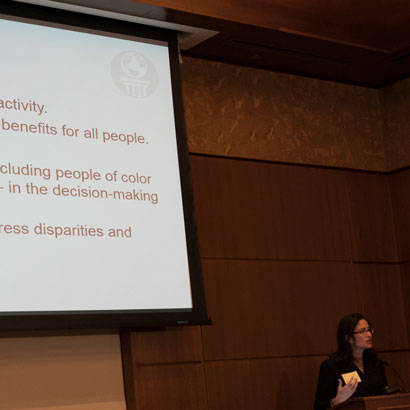 A new report from the National Academies of Sciences, Engineering and Medicine reinforces the importance of NRPA's role and its Three Pillars: Conservation, Health and Wellness, and Social Equity. The report, titled Communities in Action: Pathways to Health Equity, aligns with NRPA's goals and outlines strategies to advance health equity across the country, including increasing access to parks, open spaces and recreation.
We were privileged to be part of the National Academies Committee on Community-Based Solutions to Promote Health Equity, which authored the report. Our Committee explored the root causes of health inequity and health disparities, and the impact that such inequities and disparities have, not just on the individuals and families affected, but also on our nation as a whole. Sadly, in the United States, many communities lack sufficient access to parks and open space, quality education, safe and affordable housing, jobs, adequate transit and healthy food options. These are necessary conditions and opportunities for people to fully thrive.
Our report recommends strategies for communities to consider, and the key action needed to strengthen evidence-based solutions to reduce health disparities and promote health equity. It emphasizes the need to make health equity a shared vision and value, to build trust and capacity in the community, to develop youth leadership, and to foster multisector collaboration to improve social determinants and promote healthier, more equitable communities where people live, learn, play, work and age.
In brief, the committee reports the following:
1. Health equity is crucial for the well-being and vibrancy of communities.
2. Health is a product of multiple social determinants.
3. Health inequities are in large part a result of poverty and disparities in income and wealth, structural racism and discrimination.
4. Communities have the capacity to promote health equity.
5. Supportive public and private policies and programs facilitate community action.
6. Collaboration among diverse partners is essential to promote health equity.
7. Tools and other resources, including civil rights strategies, exist to translate knowledge into action.
The report emphasizes that access to parks, recreation areas and monuments is a social determinant of health. It features community alliances working with the National Park Service, U.S. Army Corps of Engineers with the city of Los Angeles, U.S. Department of Housing and Urban Development, U.S. Environmental Protection Agency, U.S. Forest Service, the L.A. Unified School District, and park and resource funding measures by the state of California and L.A. County.
It is the committee's hope that the report will inform, educate and, ultimately, inspire others to join in efforts across the nation so that people in all communities can enjoy life, liberty and the pursuit of happiness, undeterred by poor health. To that end, the report highlights nine organizations as examples of community solutions to promote health equity: WE ACT for Environmental Justice; Blueprint for Action; Delta Health Center; Eastside Promise Neighborhood; Indianapolis Congregation Action Network; Magnolia Community Initiative; Mandela Marketplace; People United for Sustainable Housing; and the Dudley Street Neighborhood Initiative.
The National Academies published their first-ever comic book to reach out to make the struggle for health equity captivating and accessible to all — especially to younger generations. Comic pages — filled with bright colors, interesting images and striking text — can provoke interest, inspire readers to learn more and direct a wider audience to the full report that it otherwise might never have uncovered.
Using civil rights strategies to promote health equity can guard against unjustified and unnecessary discriminatory impacts and implicit bias in programs that affect health. The report also recognizes that to address health disparities affecting Native Americans, it is essential to understand the unique historical and legal context of Native American communities in the United States.
Among the report's recommendations is one that seeks to make issues of health equity and, particularly, access to parks, recreation, open spaces and healthy environments, a key element of all government agencies' planning around land use, housing, transportation and other areas that affect populations at high risk of health inequity.
The report also recommends that foundations and others support community interventions to promote health equity by:
Supporting community organizing around important social determinants of health
Supporting community capacity building
Supporting education, compliance and enforcement related to civil rights laws.
Prioritizing health equity and equity in the social determinants of health through investments in low-income and minority communities
Click here to see all of the recommendations and key findings, or to download a copy of the complete report or comic.
The report addresses community-based solutions to promote health equity focused on health and wellness, as well as on state and local laws and policies. This is vital in light of current discussions in Washington about cutting back federal safety net protections; eliminating federal funding for data based on race, color or national origin in fair housing determinations; and repealing the Affordable Care Act. We the people, the states and the courts must promote health equity in the face of disarray in the administration and Congress.
James N. Weinstein, M.D., is CEO and President of Dartmouth-Hitchcock Health System, and Chair of the National Academies Committee. Robert García is Founding Director and Counsel of The City Project/Proyecto del Pueblo and a Community Faculty Member at the Charles Drew University of Medicine and Science.