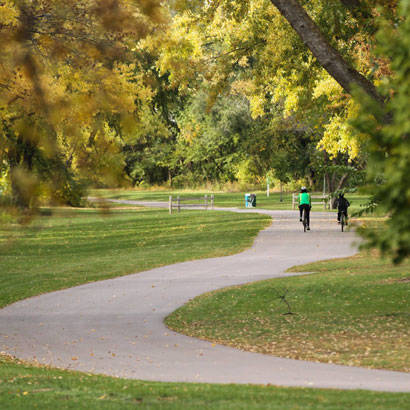 When it comes to managing trails and parks, data matters. Trail user count data can inform a wide range of decisions, from designing trail widths to scheduling maintenance. At the City of Sioux Falls Parks and Recreation Department, trail user data collected by automatic counters has increased the quality of design and provided valuable evidence for making trail planning decisions.
Manual counts, usually performed several times a year, lacked the frequency and duration needed to properly understand year-round trail usage. "In Sioux Falls, we have over 30 miles of shared use trails, including a 20-mile continuous loop that circles the city," explains Mike Patten, park development specialist. "We know the trail system is one of our most popular facilities, but we really wanted to understand the nuts and bolts of how it is utilized." This past year, Sioux Falls recorded approximately 1 million people on the city's trail system after installing six automatic counters.
Continuous year-round counts are utilized to help plan trail reconstruction projects, locate new access points and trails spur expansions, and guide the design for trail widths with greater accuracy. Accurate data on how many cyclists and pedestrians use the trail loop has proved invaluable to trail design and construction. The counters designed by Eco-Counter®, specialists in active transportation monitoring for over 15 years, record the ratio of cyclists to pedestrians and direction of travel.
"Trail counter data helps justify wider widths in an area where we have a lot of usage by both pedestrians and cyclists," states Patten. Detailed data on pedestrian and cyclist traffic is used in models to accurately size the width of trails and avoid conflicts. In combination with the Shared-Use Path Level of Service Calculator provided by the U.S. Department of Transportation, Federal Highway Administration, count data helps to improve safety and user experience.
In the future, count data will continue to help to accurately size and justify when and where to do trail improvements projects in Sioux Falls. "Counts have really allowed us to hone in on the correct size for the trails, it has been very beneficial for us," adds Patten.